[vc_row][vc_column width="2/3″][vc_column_text]
The relaxed environment of Red Door Brewing Company draws in a diverse clientele
By Julian Chavez/ NM News Port
Add another tap to the craft beer boom in Albuquerque. Red Door Brewing Company turned a year old last month and co-owner Frank Holloway is already talking expansion.
"I hope we can eventually expand to three breweries statewide," Holloway said.
Holloway said craft breweries are part of a positive economic trend in New Mexico — attracting a mix of young tech savvy students to business professionals and their clients.
"People flock to breweries because it's not your typical bar scene where people are trying to get as drunk as they can," said David Sisneros, a Red Door regular. "It's a very relaxed environment."
If Red Door Brewing is part of the growing Albuquerque restaurant scene that gives people a casual place to meet and unwind, then the city and state ought to lower the barriers to entry, Holloway said.
"The city and the state are always the hardest to deal with, especially when it comes to small breweries," Holloway said. In addition to start-up costs and excise taxes, there were hoops to jump through like getting plans approved by the city.
"It's scary, especially opening a bar because more bars fail than succeed," Holloway said. "I put my life's savings into this."
Red Door opened for business in September, 2014. Holloway is one of five owners. They have seven other employees who bartend (employees who mix and serve drinks) or work to stock the bar and wash glasses.
About 90 percent of their profit comes from beer sales and the other percent comes from merchandise sales. They sell about 80 barrels monthly.
"Beer is our main focus," Holloway said. "All the merchandise and miscellaneous items are secondary."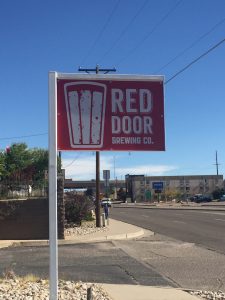 Red Door Brewery, like other breweries across the state, offers a variety of craft beers that range from their Gateway Blonde to their best-seller, Roamer Red Ale. They also offer seasonal beers.
"Our cider is starting to gain popularity, especially with the women," Holloway said.
Red Door's beers are not widely available elsewhere, though they can be found at Geckos Bar and the Draft Station.
He is excited about where he is at, although he is still working at a casino because the money generated by Red Door is getting put back into the business so they can expand.
"I've always wanted to open up a brewery," Holloway said, "I've always loved beer."
Even as a young adult, Holloway said, he preferred craft beers to the more traditional Coors Light or Bud Light.
He started out as a bartender in Las Cruces and found he enjoyed the income.
School wasn't his thing, so he decided to stick with the bar and restaurant business."I could never see myself sitting at a desk working 40 hours a week," Holloway said.
Holloway had aspirations of becoming a teacher or an engineer but didn't think the teachers' salaries are good enough and claims engineers are boring.
"I went to school to become a mechanical engineer," Holloway said. "But I eventually got a decent job and just stopped going to school."
Holloway had been a liquor distributor for five years, which he hated, before deciding to open up a brewery. One of his former colleagues, Joselle Padilla, said Holloway has an exceptional work ethic.
"Frank has a passion for everything he does," Padilla said. "I knew it wouldn't take long for him to venture out and do something on his own."
Padilla encouraged Holloway to break away and start his new job. She told him that he is still young and it would be a perfect opportunity to try something that he has always wanted to.
Holloway said he agreed the timing was right.
Holloway wants to keep expanding over the next five years and hopes that the success keeps coming, not only for his brewery but also for breweries across the state. He says breweries are trending across the state and hopes that they can feed off each other's success.
Follow Julian: @jbone1493.[/vc_column_text][/vc_column][vc_column width="1/3″][vc_column_text]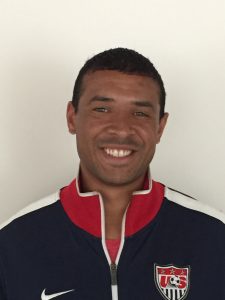 Name:
Frank Holloway
Age:
33
Title:
Co-owner of Red Door Brewery
Background:
Former Bartender/ Bar manager and liquor distributor
What do you think is the most interesting part of the innovation economy in ABQ?
"That there is opportunity for fresh new ideas to thrive."
If you weren't doing this job what would you be doing?
"Be a bar manager elsewhere."[/vc_column_text][/vc_column][/vc_row][vc_row][vc_column][vc_gmaps link="#E-8_JTNDaWZyYW1lJTIwc3JjJTNEJTIyaHR0cHMlM0ElMkYlMkZ3d3cuZ29vZ2xlLmNvbSUyRm1hcHMlMkZkJTJGZW1iZWQlM0ZtaWQlM0R6QnloQkUxeEVoYlkua1czZU1meTBsOVMwJTIyJTIwd2lkdGglM0QlMjI2NDAlMjIlMjBoZWlnaHQlM0QlMjI0ODAlMjIlM0UlM0MlMkZpZnJhbWUlM0U="][/vc_column][/vc_row]