Even at a young age, Ryan Fellows knew he wasn't cut out to be just an employee
At 14, Ryan Fellows knew he wanted to be his own boss after a stint as a busboy at the Monte Vista Fire Station.
"My boss called me into his office one day and said that I had the worst attitude out of anyone he has ever hired," Fellows said. "But he didn't fire me, because I was a good worker."
For as long as he can remember, he had the entrepreneurial itch, Fellows said. He started his first business mowing lawns when he was 18.
"I just couldn't work for other people," he said. "My boss at Monte Vista made me realize that I wasn't cut out for working for someone besides myself."
Fellows, 47, and his wife Vickie, are the owners of a growing chain of local juice bars called Squeezed.
They came up with the idea for a local organic juice bar one night when their family was talking about traveling and the need for fast but healthy food. He says they saw an opportunity in Albuquerque and created the Squeezed brand, menu and logo that night.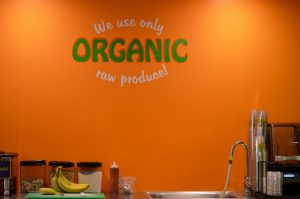 "We were open ten days later," Fellows said. "I enjoyed the risk of it all."
Squeezed is one in a series of enterprises started and run by Fellows. When he was 19, it was a photography studio. Now, as his website boasts, he's also a Action Sports & Portrait Photographer, a Firearms Training Instructor,  and a Self Defense Instructor.
"We see a niche that needs to be filled in Albuquerque and find something that we like," he said.
Fellows says his inspiration for creating businesses comes from being high energy and constantly thinking ahead.
"We find something we are passionate about, something we won't dread doing every day and go off of that."
Next month, Fellows and his wife are planning to open up an artisan liquid nitrogen ice cream shop in Albuquerque that will be called "Chillin."
"Ryan is not like any other boss I have ever had," said Squeezed employee Erin Porter."He is such a creative thinker and business owner."
Porter says working for Fellows is uplifting. She said it's not common to have a boss that inspires you to better not only yourself but also your life.
"He will be up at four in the morning restocking every store with our cold pressed juices and won't complain once about being tired," Porter said."His high energy and positivity make it easy for me to come into work every shift."
Porter calls Ryan and Vickie Fellows a "power couple."
Local entrepreneur Thomas Vodnik, owner of Tenorio Films LLC, did some video work for Fellows when he first opened Squeezed.
"I understand the struggle that's associated with starting a small business," Vodnik said, applauding Fellows for his persistence in using social media. "It's tough getting a small business off the ground and getting the word out."
"The small business scene in Albuquerque is thriving," Vodnik said. "I see more and more local businesses pop up."
Vodnik says he believes that going local is the way to go and does his best to support the small businesses of Albuquerque. "Local businesses are what is going to make this economy have a comeback," Vodnik said.
Vodnik's outlook on life is similar to Fellows. "Taking risks is going to get you a lot further than playing it safe," he said.
Fellows remains committed to the Duke City. He talked about how he plans on opening up many more businesses around Albuquerque in upcoming years. "I'm the fourth generation to live in Albuquerque," Fellows said. "My family loves it here and we don't intend to leave anytime soon."
PROFILE:
Name:
Ryan Fellows
Age:
47
Title:
Entrepreneur
Background:
Entrepreneur since 14 years old
What do you think is the most interesting part of the innovation economy in ABQ?
"I enjoy that there aren't as many red lines that you're not supposed to cross. I like that it allows creativity."
If you weren't doing this job what would you be doing?
"I would be a ski bum."