[vc_row][vc_column][vc_column_text]
Communication major set to head local startup
Standing in front of an eighth grade classroom with the eyes of curious students planted on her, 22-year-old Lexi Palmer prepares to share her life story. As they chatter excitedly, she distributes printing paper, Post-It notes and doughnuts to each student. Seeing the smiles on their faces reminds her that this presentation is, most importantly, about them and not her.
For the past three years, the UNM senior has visited public schools across Albuquerque, helping students build confidence and discover their passions. Palmer's own passion for motivational speaking was something she never imagined having until she connected with the right people, she said.
"I always struggled in school," Palmer said. "When you're in middle school and high school, your (self) worth is based off of grades and sports, and I couldn't kick a ball to save my life."
Now, as she prepares to graduate, Palmer is learning the ropes of entrepreneurship at a new Albuquerque-based company.
The journey begins
Palmer grew up in Rancho Palos Verdes, an affluent city in Los Angeles County, California. She lived in the home her grandfather built on the coast and enjoyed riding horses. But besides excelling at horseback riding, she said she felt like she lacked a sense of purpose and direction.
Working with children was the one thing that brought her joy during school, she said.
"I used to run a horse camp and would watch these super exuberant, happy-go-lucky kids turn self-conscious," she said. "I used to be really self-conscious, so it got me thinking that maybe I should try motivational speaking."
During her sophomore year at Palos Verdes High School, Palmer joined AVID—Advancement via Individual Determination—a nationwide college preparation program. It was there that she met Jim Whalen, a math instructor and AVID coordinator.
Whalen said the "individual' part of AVID is ironic, as the program is very teamwork-oriented. He said although the kids involved weren't necessarily ignored in classrooms, they weren't really thriving, either.
"The idea is to mentor kids and show them that with the right tools and the right motivation, they can compete with other students in the school," Whalen said.
Through the program, Palmer worked with struggling students that she found herself resonating with. Her interest in children soared while tutoring and holding fundraisers.
Speaking in public was something Palmer said she used to hate, but she quickly found that when she wasn't being graded on the way she spoke, she didn't mind having a microphone in her hand. All that mattered was using her words to make a difference.
"Senior year was more of, 'how can I share a story that's going to inspire other people?'" she said.
A different path
Palmer's desire for a fresh start is what brought her to UNM. Originally, she was keen on attending college in Sonoma, California, but she said it didn't "sit right" with her.
She said her parents suggested moving to New Mexico, as it was an affordable option. While Palmer agreed to the idea of reinventing herself in a place where she knew no one, the move would initially prove challenging.
"When I first came, I hated the school," she said. "I arrived in the middle of February and it was cold and everything was dead and I was thinking, 'never in a million years will I stay here.'"
Traveling to New Mexico meant taking on new goals, as well as a new identity.
"My full name is Alexandra and everyone back in California knows me as Alex, so then I just came out here thinking, 'Who do I want to be and what do I want to do?" she said. "(The name) 'Lexi' sounds cool and so I went for it."
Palmer decided to focus on strategic communications at UNM. She said her parents were not sold on the idea of pursuing a broad field and preferred her to fall back on a job at a rental car company, Enterprise, where she interned in high school.
"I worked for them for about a year, " she said. "It's great for people who want to make money, but I have to pursue a passion."
As an intern, she ran the front desk and learned about entrepreneurship through a training program. Regardless of the benefits she would receive if she chose work full-time, it wasn't a place she wanted to continue working at. Enterprise meant stability, but she said she wasn't planning to go the traditional route.
"I didn't even see it as an option," she said. "My parents saw it as Plan B and I said no, Plan Z is Enterprise."
A leap of faith
When she told her friends about her endeavor to be a motivational speaker, Palmer said she they rejected her. Despite the lack of support, Palmer pressed on. Just as she had done in high school, Palmer continued tutoring as a part of the AVID program over a year ago. It wasn't long before she was speaking to students in the Albuquerque Public School district.
According to an APS report, the program was initiated in 2009 in three middle schools and two high schools. Since then, the numbers of schools adopting AVID has increased dramatically to 20 middle and eight high schools in New Mexico. Students in the first AVID programs at Manzano and Highland High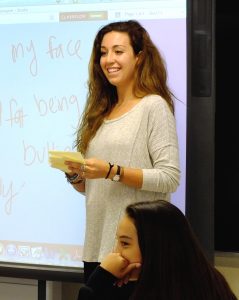 earned their diplomas in 2012.
The public schools Palmer has visited include Albuquerque High, Valley High, Truman Middle School and Jimmy Carter Middle School. Additionally, she has been invited to speak in UNM's Anderson School of Management.
Palmer has visited Jimmy Carter Middle School for the past two years.
Priscilla Doyle, the school's AVID instructor, has taught for six years. She said she believes the work Palmer is doing is a great confidence-booster for the students Doyle has known for a long time.
"She has made a connection with the students by showing them what it's like to be an AVID student, tutor and then an actual college student," Doyle said. "By sharing her life story with the kids, it's really drawn them into thinking that they can do it."
One of the most rewarding experiences is receiving special messages from students who admire you, Palmer said.
"I did a workshop at Jimmy Carter and this kid had written me a love letter," she said. "It was the cutest thing in the world."
With graduation around the corner, Palmer said she has big plans.
Next month, she will intertwine her love of horses and communications by becoming CEO of EquiSeq, a company that analyzes horse genetics to improve breeding. While her goal is to continue speaking professionally, the job will provide her with financial stability and lots of networking opportunities.
"I was in a bad place before I ended up meeting the founder, Paul Szauter," she said. "He pulled me on and told me that I'd be able to step up and take over the company, which was really cool."
One way that Palmer has prepared is through StartUp School, a program in UNM's Innovation Academy. Students interested in entrepreneurship attend weekly sessions at FatPipeABQ to learn about strategies for running a business.
Her next speaking arrangement is taking place next month at El Segundo High School in Los Angeles, also where Jim Whalen currently teaches.
Whalen said he's proud of what she has accomplished so far.
"I'm just so happy that she ended up going to a different school and thriving there," Whalen said. "I think for some people college is so much better than high school."
Palmer tells students that no matter what challenges are in the way,, achieving dreams is possible.
"You're going to get older and there's always going to be bullies," she said. "There's going to be people and insecurities which are the bricks being thrown at you, but you can either let them weigh you down, or hold onto them so that you can build your dream house."
[/vc_column_text][/vc_column][/vc_row]