In the same way social media allows some people to see photos from their aunt's cruise or friend's baby shower, it allows others to advertise, buy and sell drugs undetected.

Twitter, Snapchat, Instagram, WhatsApp, even Tinder; these apps are downloaded onto smartphones everyday, and most people use them as they are intended. But in growing parts of the internet that are no longer hard to find, (you don't have to hack into the dark web or the black market) illegal drug sales are booming.

Local Growth
Albuquerque Police Department spokesman Simon Drobik said as the sales of drugs have moved online, it is harder for officers to track down dealers unless they are arrested for another crime.

"Even 25-30 years ago, it was a hand-to-hand deal," Drobik said.

"You knew where to go in a neighborhood to buy drugs, you knew who the dope man was – who sold – but with the advent of the internet, of course, and with social media, it's just so much easier to market."


Simon Drobik, Albuquerque Police Department
When APD arrests someone for a violent or gun-related crime, he said they start digging into the person's social media accounts and often find a connection to narcotics — either the selling, advertising, or buying of them.

In December of 2018 two kidnapped boys were violently murdered on the mesa west of Albuquerque. Drobik said investigators now know the killings were related to a low-level drug deal gone wrong.

One of the suspects in the murder of the two boys was arrested for robbery, and when officers began to search his social media, they found several snapchat videos tying him to the drug sale and killings.

Drobik said social media is "definitely an avenue for dope dealers to branch off when it comes to illegal drugs," and it is a challenge for law enforcement to go after.

Marijuana is more commonly dealt, he said, because in his experience it is a gateway drug, but online dealers sell everything from ecstasy to heroin and methamphetamines.

A recent study found that social media "can provide an easily accessible platform that connects buyers with commercial drug suppliers and substances that may otherwise remain elusive."

One service that both Snapchat and Instagram tout is the "stories" feature. Users can post an image, text, or video that will only be visible for 24 hours, and can only seen by people the user allows to view their content. On Snapchat the stories can't be screenshotted without the originator being notified, and on Instagram the stories can't be saved without the originator being notified.

This "visual economy" allows buyers to see the product before they meet up with the dealer, and provides an intermediary between traditional "street dealing" and cryptocurrency.

Our reporter used several social media accounts, including Tinder, Snapchat and WhatsApp to try and connect with a local dealer and ask for an interview.

Tinder banned the profile within a few hours, on the grounds that it violated their terms of service.

The News Port made multiple attempts to contact Tinder. A spokesperson replied to an email request for an interview stating, "profiles (or Tinder users) promoting illegal substances violate our terms of service, and we have a system in place to remove these profiles from the app. If a user encounters a profile violating our terms, we encourage them to report it in within the app."

While on the app, our reporter attempted to connect with several profiles – which were obviously operational and had been seen advertising illegal drug sales.

The News Port has also reached out multiple times to Instagram, Snapchat and WhatsApp with requests for interview, but at the time of publication none of the outlets had responded.

Snapchat's Terms of Service state they do not allow illegal activity on their platforms, and that they do not want their services "put to bad uses" but "because we do not review all content, we cannot guarantee that content on the Services will always conform to our Terms or Guidelines."

Instagram and WhatsApp include similar clauses in their Terms of Use agreements.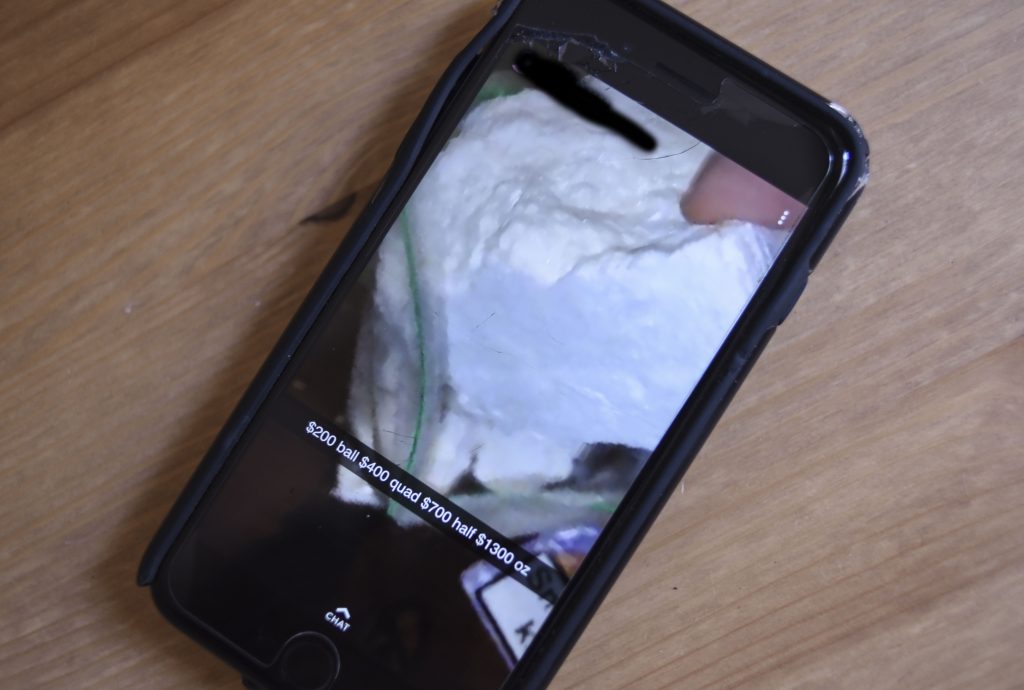 Designed To Deal
Social media is an almost perfect way for dealers to advertise their product and find new clients with minimal effort.

In September of last year, the Washington Post reported, Instagram, which is owned by Facebook, was cracking down on drug related content shared through the platform, but was struggling to keep up with it's own design.

Algorithms built into these apps gather information on the user based on the hashtags they follow, the posts they like or share and the content they post. Similar content is then prioritized on the user's feed.

Since the publication of the Post's article, no results populate on Instagram for the tag #oxy.

News Port searched other popular hashtags used by dealers on Instagram. At the time of publication, the tag #painkillers was used on more than 152,000 posts, many of them advertising illegally marketed and often expired prescription drugs. The tag #painpills was used on more than 341,000 posts, #pluglove appeared on 372,000 posts and #kush appeared on more than 9.1 million posts.

Out of 100 drug-related Instagram posts we looked at, an average of 20 hashtags referencing drugs were used.

On many of the posts, other accounts had left comments sharing their phone number and WhatsApp contact information, and advertising they had product to sell.

The Spread
Social media hasn't killed the word of mouth spread of dealer information – it has strengthened it.

University of New Mexico senior Amanda Byres was approached by a Snapchat-using dealer at a UNM sponsored event last month.

"A guy came up to my friends and I at Fiestas and asked us if we wanted some 'white girl,'" Byres said.

White girl is a street name for cocaine.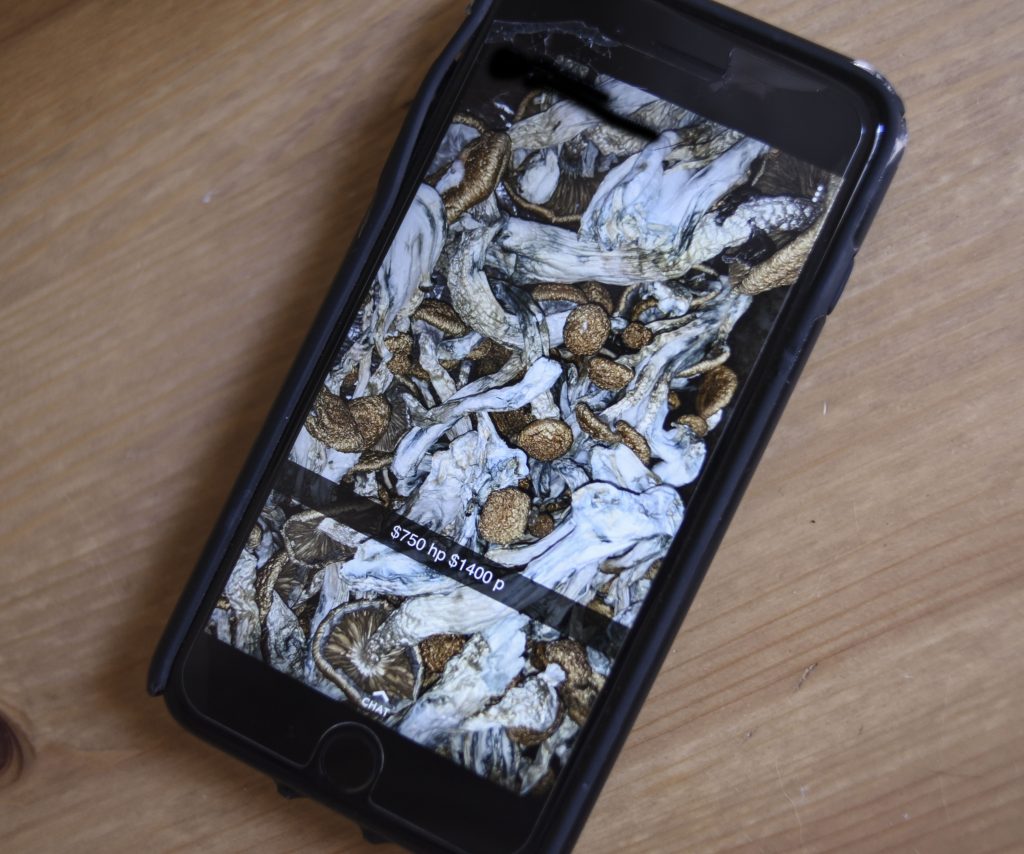 She and her friends declined the offer, but the man gave them his snapchat where they saw posts on his story about marijuana and other drugs.

On April 4, 2019, New Mexico Governor Michelle Lujan Grisham signed into law a bill that decriminalizes up to one-half ounce of marijuana.

The state is in a very different place than it was 20 years ago when it comes to laws on drug control according to an Albuquerque Police Department spokesperson, but the internet has allowed a new drug market to boom.

Celia Raney is a reporter for the New Mexico News Port. She can be contacted on Twitter @Celia_Raney.