By Gabrielle Hockstra-Johnson / NM News Port 
Serene, silent and green. The Rio Grande Nature Center, along the Bosque in Albuquerque's North Valley, has enjoyed a slow summer thanks to changes forced by COVID-19. The state park, like many around New Mexico, is open only three days a week.
The visitor center is closed as are large group areas. Few visitors roam the main grounds and opt to hit the trails outside of the park, since the access from inside is closed. 
Bird watching still attracts visitors, though as road runners dash through the nearly empty parking lot, it's the park rangers you mostly see, as they quiz you on whether you're a state resident. 
Albuquerque native Bianka Serrano visits state parks about ten times a year and doesn't particularly like the closures, but says it could be worse.
"They could be closed down completely," Serrano said. "I get that they're trying to limit the amount of people, which is smart. I think people need to respect that."
New Mexico state parks have been one of the many subjects of Governor Michelle Lujan Grisham's public health order. Currently they are only open for day use, and only for residents of New Mexico. Large facilities, like visitor centers and large family picnic pavilions, are still closed.
Some parks are only operating for a few days of the week. Overnight camping is still prohibited. Playgrounds are closed as well and any large activity is prohibited; groups must be kept to ten people or less. 
Also, park visitors are required to wear face coverings unless swimming, eating, or drinking. This includes wearing a mask while participating in recreational activities, like hiking and biking. 
"I think it's kind of ridiculous. I think they should be open," said New Mexico resident and avid fisherman John Garcia. "I don't understand because it's outdoors, so why not? It'd be nice to camp."
Many expected parks to open up for overnight use with the updated health order issued Aug. 27, but the governor's public health team decided to postpone opening. 
Christina Cordova, State Parks public relations coordinator, said New Mexico is being cautious about reopening and a big part of that is having enough staff on hand.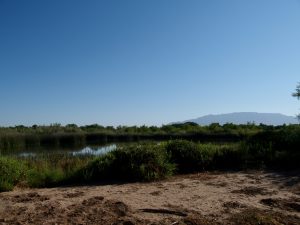 "State Parks needs to ensure that all parks have enough staff in place to handle visitation and maintain the parks to the highest degree of cleanliness," Cordova said.
She said parks have had to adapt to changing health orders and must react quickly when faced with COVID exposure. 
In mid-August, Ute Lake State Park employees tested positive for the virus after being routinely screened, and the park closed four days later for cleaning and staff quarantine. 
New Mexico State Parks reports that staff are wearing masks, gloves and employing social distancing. During holiday weekends, state police have been at popular parks to enforce social distancing.
Staffing has been cut to compensate for the reduced hours, and park employees that are still on staff have had their duties expanded to educating visitors and enforcing entrance requirements. 
According to Cordova, most park visitors comply with mask and social distance requirements when requested, but there have been citations served to those who refused to comply.
Staff also have to prevent out-of-state visitors that attempt to enter the parks. In addition to signage posted at park entrances, rangers have been stopping visitors to check for state identification cards. 
As hunting season has started, rangers have been patrolling throughout the parks and are working with the New Mexico Department of Game and Fish to prevent hunters from setting up overnight camping sites.
State park visitation has decreased as the pandemic has progressed.
"In the beginning of COVID-19, we were seeing an influx of visitors and many first-time visitors to our parks," Cordova said. "However, visitation is down overall due to reduced in-state travel and the public health order's restriction on camping and out-of-state visitors."
State parks will remain open with restrictions through at least Sept. 18, at which time the next public health order will be issued by Governor Lujan Grisham.
Gabrielle Hockstra-Johnson is a reporter for the New Mexico News Port. She can be reached on Twitter @GHockstraJ or at nmnewsport@gmail.com.