By Justine Collister / NM News Port
It took Jay Garcia a while to figure out a schedule that would allow him to go to his job as a part-time cook, attend classes for his business major, and take care of his 5-year-old daughter. That meant for several weeks he was late and missed classes until he could fit all three things into a solid plan.
"In the beginning, I had to choose between attending class and going to work to be able to support myself and my child," said Garcia, a sophomore business major. "I got behind in a few of my classes and it took a while to find a schedule that fit both my job and my study time."
His everyday routine involves dropping off his daughter at elementary school, heading to work and then coming to campus for classes in the evening. He relies on his parents, who also live in Albuquerque, for help picking up their granddaughter after school and watching her until his day is over.
Garcia said he gets overwhelmed trying to find some way to check off everything on his to-do list each day.
"It takes a lot of hard work and dedication, but I know it will be worth it in the end," he said.
UNM has made an effort to accommodate students, offering more than 20 online degree completion programs. Money is tight for many and 74.2% of all students receive financial aid.
One of the most popular programs, the New Mexico Lottery Scholarship, isn't very flexible. To be eligible, you must be a full-time student, maintain a 2.5 grade point average and be enrolled in consecutive semesters up to 18 months after graduating high school. But students who take time off for the birth of a child often can't go to school for consecutive semesters.
Leslie Ramzel, 29, left college and started a family before returning to school at UNM Valencia campus. It's been hard to fit those in with raising her 2- and 3-year-old kids.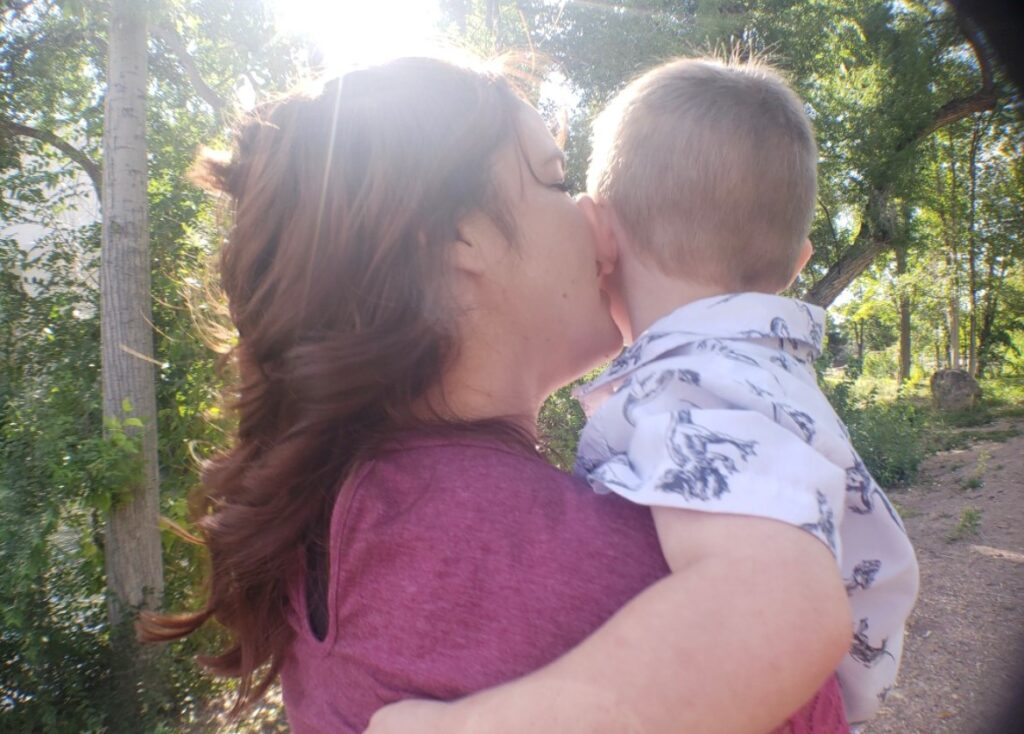 Ramzel said her biggest struggle is finding time for homework after working her full-time job at Natural Resources Conservation Services in Socorro.
The hour-long commute to the Valencia Campus in Los Lunas squeezed her work schedule and shrank the time she was able to spend with her kids.
Although she wanted to take classes in person, she wasn't always able to get there and she was disappointed to find that few of her instructors would record the lectures and post them online.
"Sometimes life just happens and there is no way you can make it to class on time." She has since switched to online classes.
And although they may prefer online classes, often some required courses are only offered in person. "With two kids, a full-time job, and a commute to campus, remote is more feasible. It is easier to balance," Ramzel said. She doesn't qualify for the Lottery Scholarship, so the money she earns is essential to supporting her family and paying tuition.
Recent graduate Miquella Padilla, 20, took classes online and in-person while pursuing a nursing degree at Carrington College in Albuquerque. "When I did online, I felt like I worked on my own time and not the school's time," she said. She would work around her baby's schedule and have her online lecture on the weekend when her husband was home.
For in-person learning, the commute from her home in Socorro to school in Albuquerque took an hour and a half several days a week. With a new baby, every hour in the car seemed wasted.
"In person, I did not feel like there was enough time for my family. This was the main and most important reason I knew that in-person learning was not working out for me."
You can find resources for childcare and family housing at https://www.affordablecollegesonline.org/student-parents-guide/
Justine Collister can be reached on twitter @justinecollist