It is Friday night at The Box Performance Space and player Fill Jeantete is on-stage hosting a party, celebrating his recent amputation while conversing with a butterfly therapist and Chicken Little. You just had to be there.

Albuquerque's longest running improv troupe The Show has been cooking up unpredictable comedic performances for around eight years. Improv comedy is a form of live theatre in which the entire performance is made up in the moment. Using audience suggestions, improvisers create scenes on the spot meaning that audiences will never see the same show twice (Improv explained).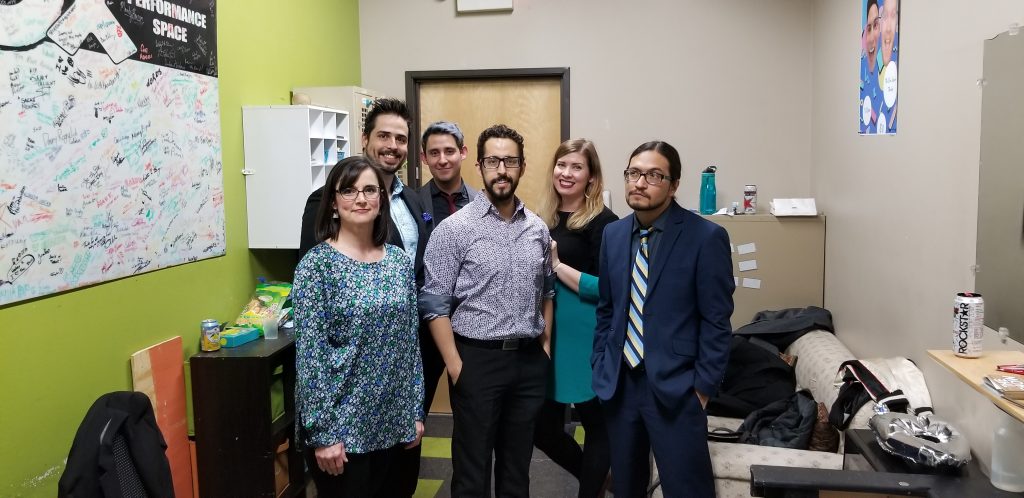 "I don't think when any of us started this we imagined that eight years later we would still be getting to do it… like perform on the regular," said The Show member Heather Yeocero.

Friday's, Feb. 1, 2019, cast included Heather Yeocero, her husband Steve Yeocero, Eric Weiss, Kevin Bransford, Fill Jeantete, and Jamie Frye.

The Show was organized by The Box Performance Space owners Doug Montoya and Kristin Berg, and started performing in August 2011. Over the years, the cast has been constantly evolving and the Yeocero couple are the veterans.

"We have complete creative control of everything that we get to do and we get to perform as much as we want to," Heather said. "That is such a gift as a comedian, to own your craft," She added.

During the day, Heather runs a nonprofit playwriting program while her husband Steve works as an associate attorney.

"Improv has definitely helped me be a better lawyer but lawyering has not helped me be better at improv," said Steve. "I do it because it's fun."

The Yeocero's met during the earlier years of The Show, while Steve was performing with another improv troupe called The One Night Stanleys. After they joined The Show, they spent every Friday and Saturday together, and considered those performances "cheap dates."
On top of performing, they teach improv at the Box Performance Space. They say performing weekly and teaching allows them to grow and perfect their art.

They also get the opportunity to work with many notable guests, including members of the cast of the AMC cable network hit, Better Call Saul.

"We have built a really cool community, and have so much cool people come up through classes," Heather said.

Fill Jeantete has recently joined The Show. He was cast in 2018 after studying improv at The Box Performance Space for five years.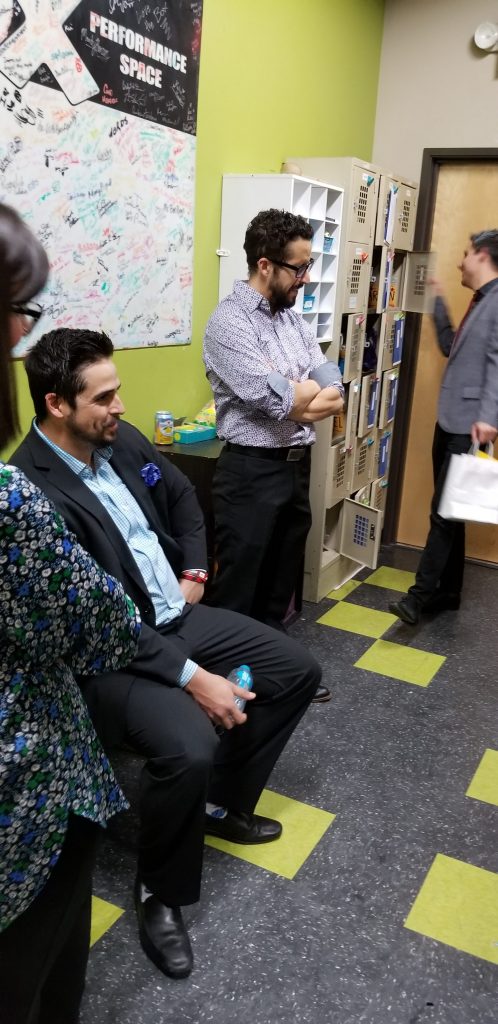 Jeantete said improv is a unique form of comedy that involves the audience..

"They do not know what to expect and what they are getting themselves in to," Jeantete said. "Then they get it and it's fun. It is very different from standup."

According to Jeantete, great improvisers do not crack jokes, and do not try to be funny. Daily life inspires improvisers, and they translate daily life onto the stage.

"I take insurance claims for a living or I'll get something to eat and you'll notice notice a weird way that someone says something or a particular swagger a person has, and it imprints into your mind," said Jeantete. "Everyone has a very unique story."

The goal of improv, Jeantete said, is be truthful on stage and let the humour arise from discovery not invention.

Heather Yeocero agreed, adding, "the weird thing about improv is that it does not translate well because when I say something funny that happened in a show it sounds weird but when you watch it live it is really funny,"

The February 1 performance featured scenes based on Martin Luther, a coral reef for a shoulder, and a pet reptile. The part that caused the most laughs was when member Eric Weiss was an adult baby, and delivered an oscar-winning, yet threatening, speech to get the dean to accept him to the school for gifted babies.

"I just want to make people laugh all over the country because that is all I feel that I am good at," said Jeantete.

The Show has won many local awards, including Best Comedy Troupe by Albuquerque the Magazine's Best of City and the Weekly Alibi's Best of Burque. The Show performs every Friday and Saturday at 9:00 p.m. Tickets can be purchased at The Box Performance Space website or in person ranging from $8-$10.

Daniel Zuniga is a reporter for the New Mexico News Port. He can be contacted on Twitter @DanTheManj12.
Editors note: A previous version of this article quoted Steve Yeocero:"Being a lawyer has definitely helped me with improv but improv has not helped me be a better lawyer." It was later correctly quoted as "Improv has definitely helped me be a better lawyer but lawyering has not helped me be better at improv."