There's a new startup downtown Albuquerque, called Story Lab Interactive that mixes art and "projective AR" technology to create an immersive experience for people, mostly through private dinners or special events.

"I worked at Sandia Labs doing data visualization for high performance competing groups but the work wasn't public facing, there wasn't a lot of interaction with people using the software," said John-Mark Collins, a graduate of The University of New Mexico, and creative director and owner of Story Lab Interactive.

This video provided by Storylab Studio Director Theresa Kitt promotes a dining event in San Francisco in partnership with One Dome and Monarch Catering. The video shows how human movements trigger motion sensors that alter software projections.

Collins creates events for people using projectors that are adapted with depth and motion sensors that map the physical space. That data is correlated with projected images generated by the software. When people move within the space, the computer reacts in real time, changing the patterns accordingly.
With advancements in virtual and augmented reality, one person devices like Oculus Rift and Google Daydream are becoming common. But Collin's goal is to remove the device and allow people to be social while experiencing a virtual environment.

Photo courtesy of Storylab
"We started thinking about ways to engage a larger audience and that's where I started my own company," Collins said.

With a background in hospitality, Collins began putting together dinners in various locations across Albuquerque, such as Sandia Resort and Casino and Torino's and has gone as far as Washington D.C. for an engagement. These small scale events became the gateway for StoryLab.

This month's ArtWalk feature Story Lab as one of its destinations. ArtWalk is like an open house for art galleries. It takes place the first Friday of each month in downtown Albuquerque,
"This is the first time I have ever done an Art Walk in town and I had no idea this place existed," Stephanie Orozco, a local artist said. "As soon as you walk in… the ground moves with your step… you touch the walls and they also move… it's insane."

Collins said that after experimenting with private dinners for Story Lab clients, he wanted to build something directly for the consumer. Collins and his team are in the middle of constructing a West Side location, Electric Playhouse, to open by the end of the year.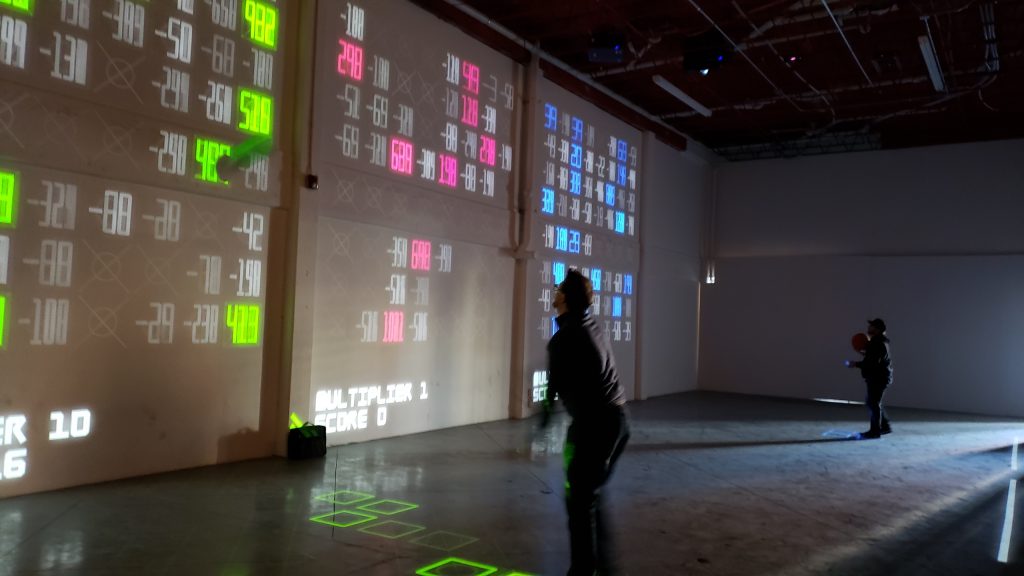 "We're gonna have three rooms. We'll be doing educational content that will engage school groups," Collins said. "You know we're really active and our goal is to get people more active so we have some games being created."

Collins hopes to have a soft-opening during The Balloon Fiesta if construction goes as planned.

Editors Note: A previous YouTube video in this story was replaced at Storylab's request because it was not originated by Storylab and did not accurately depict the Storylab dining experience.