By Joey Wagner/ NM News Port
As travel restrictions and mask mandates faded, tourism in New Mexico has not only bounced back, it has increased to levels even higher than they were before the pandemic.
The latest data from the state shows New Mexico welcomed 39 million visitors in 2021 – generating an estimated $7.2 billion in direct spending.
The number of visitors is a record high for the state, according to Cody Johnson, Communications Director for the New Mexico Tourism Department.
"Since around June 2021, we've seen an all time high for average daily rates, and that essentially just means hotel rates, but that is one key performance indicator that we're seeing performed higher than in 2019," he said.
Johnson says the direct spending figure of $7.2 billion comes close to matching the record set in 2019 of $7.4 billion.
Tourism is a major driver of employment in New Mexico, accounting for almost 84,000 jobs – about 8% of the state labor force.
Brenna Moore, Communications Director for Visit Albuquerque, says some of the big tourist draws to her city are the ABQ Biopark and the Sandia Mountain Tramway.
The Sandia Peak website says that the Tramway makes, on average, 10,500 trips in a year, and more than 12 million people have ridden the tram.
Another well known event is the Albuquerque International Balloon Fiesta, held yearly at Balloon Fiesta Park. According to numbers from BalloonFiesta.com, over 820,000 people attended the 2022 Fiesta,, even with weather restrictions causing eight of the 14 sessions to be cancelled.
Tourism in Albuquerque alone is a major booster for the economy of the city and the state. With around six million annual visitors coming to Albuquerque, they generate around $2 billion in tourism spending for the local economy.
Tourism had dropped sharply in New Mexico during the pandemic – to 35.2 million visitors in 2020. Revenues that year dipped to $5.8 billion.
In a study from Tourism Economics, the most tourism spending is on lodging – accounting for $2.4 billion in 2021. The next biggest targets are restaurants and bars, accounting for $1.7 billion, and retail sales, accounting for $1.3 billion. Transportation draws some $1.1 billion in spending .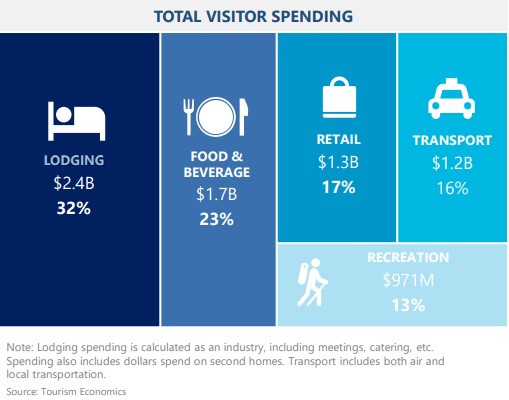 "Albuquerque's hotel occupancy rate for fiscal year 2022 averaged almost 65.6%, up from an average rate of 59% the previous year, when travel was still limited by the pandemic," Moore said. "Our average occupancy rate exceeded the national average of 61.5%."
The state tourism department is hoping the NM Legislature will increase its marketing budget by tens of millions of dollars in the future, to grow the industry, target new markets and keep ahead of inflation. According to the New Mexico True website, the New Mexico Tourism Department had their budget put their request for the 2024 fiscal year.
Including a $3 million increase for media inflation, a $4 million increase to sustain investments in the department's growing cooperative programs and a $1.2 million increase to fund the department's full-time employees.
"If we continue to spend on marketing and advertising at the same level year over year, while the cost of media increases, we're going to run into a challenge of not being able to penetrate the markets as successfully as unless we continue to appropriately accommodate and adjust to inflation," Johnson said.
Follow Joey Wagner on Twitter @/JdwUnmCj