A UNM business professor has created an app for people who want to have more privacy as they socialize on the internet.
The app, called Sociabile, was created in 2014 and is a lot like Facebook. But, unlike the popular social media platform, it allows users to choose exactly who sees their posts.
"Younger generations are leaving Facebook, they're going to private networks so that way they can interact with their close friends, say what they want to say, just to who they want to say it to," French said.
French, who lived in South Korea for more than three years, saw the popularity and success of private social media apps in the Asian markets. These types of social media apps are rare in the United States, and French sensed an opportunity.
"I got a lot of ideas of how to shape Sociabile from a privacy aspect when I lived in South Korea, but really this stems from research I have been doing since 2009," French said.
According to French's research, selling advertisement space on social media platforms isn't the best way for social media companies to make money.
"The current revenue model for social networking companies isn't sustainable because it is based solely on advertisements," French said.
One of the social media companies French consulted with in 2009 was successful, but their revenue was based solely on advertising. When the recession hit, they started loosing a lot of that money and eventually they closed down.
Emoticons as revenue
Instead of relying on ad revenue, Sociabile makes a profit by selling users custom animated emoticons, which they can message to friends.
Animated emoticons are like emojis, which are small images that represent the emotions a person wants to express when chatting on social media. However, animated emoticons are larger and more complicated than your average emoji.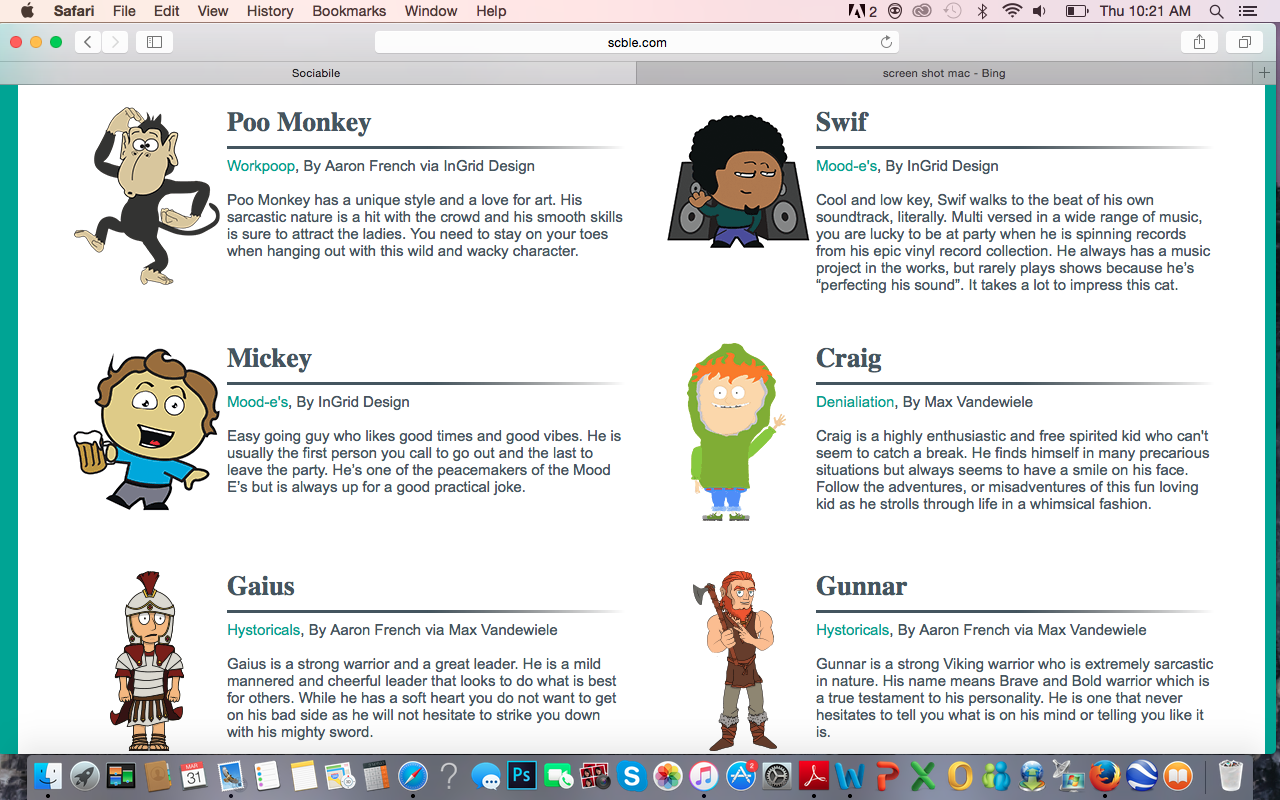 When a user purchases an animated emoticon set, they get 18 images of a specific character for 99 cents.
French got the idea for emoticons from Asia as well, where companies that employed this method have been successful.
"A lot of companies in Asia are reporting over $20 million in sales a month just off of the animated emoticons alone," French said.
Another unique feature of Sociabile is a "time capsule", which allows a user to send a message to a friend that can only be opened at specific date and time. According to French, the time capsule messages allow the sender to be creative and also spark curiosity in the receiver, making for more interesting messaging.
Sociabile is still in its initial version, but its current features haven't come without trial and error. French has received community input and suggestions from his students, which he says he has taken to heart.
"When I first started I had the idea of what I wanted, but then I met with students and focus groups. The idea started with the privacy aspect and the animated emoticons and has slowly evolved and shaped based on user feedback. This is really a user driven technology," French said.
Lots of local support
French says Albuquerque is a good place to come up with business ideas and a good starting point for aspiring entrepreneurs.
"There is a strong entrepreneurial focus and innovation that's going on in Albuquerque, so there are a lot of resources for people on how to start a business," French said.
Still, launching a brand-new social media platform, has not been without its difficulties.
"One of the challenging things with this company is getting started without funding," French said.
The lack of funding, according to French, is due to investor skepticism when it comes to social media startups.
"There are a lot of people who have invested in social networking in the past six years, but the majority of businesses are going out of business because the only revenue model exists in advertising. So, investors are reluctant to invest in a company until they've reached a certain threshold," French said.
French has had to self-fund himself, which was the first obstacle. The next obstacle was developing the emoticons, which he also did himself.
"Graphic designers want to charge between $2,000 to $10,000 for each emoticon set to develop, so what I did was spend about six months self-learning how to create the animations," French said.
But, perhaps the biggest challenge for French is working without a full staff of employees. Currently, French is the only person working for the company, and he has been the main developer. He does have some partners he works with and some people he is paying to do programming and other work.
Although French says Albuquerque is a good place for entrepreneurs, he also says it depends on the industry. He has found that starting a company based on computer technologies in Albuquerque can be quite difficult.
"From a technology perspective it is very challenging, because a lot of your really good programmers and IT (internal technology) people leave and go to California, Arizona or Denver. So it's hard to find good local talent that stays here in Albuquerque," French said.
Now he is focusing on advertisement. He says that getting the word out about his product may prove to be the most difficult part of the process. He hopes to install a sharing feature in the Sociabile app, so users can invite other friends to join.
But, like other social networks that took time to become popular, French expects it to take time before his product becomes successful as well.
Follow Luke on Twitter.
Name:
Aaron French
Age:
38
Title:
Assistant professor at Anderson School of Management
Background:
Social media consulting and research 
What do you think is the most interesting part of the innovation economy in ABQ?
"I think there are a lot of creative ideas and many people collaborating and working together. Several meetings such as 1 Million Cups and various other entrepreneur meetings is great for facilitating brainstorming and knowledge generation."
If you weren't doing this job what would you be doing?
"I would probably be looking for another company to start. I had an IT consulting company many years ago that was very successful. If I wasn't working on Sociabile I would have likely started my IT consulting company again and based in here in Albuquerque."