UNM students' pitches for a popcorn company, a virtual reality app and a platform to help save on textbooks were big winners in the 3rd annual New Mexico Student Pitch Competition late last month.
Students from around New Mexico showed off their latest business ideas at the competition hosted by the UNM Innovation Academy and UNM.STC.
The NM Student Pitch Competition was open to any student attending school at the University of New Mexico, New Mexico State University or New Mexico Tech.
To join the competition, students submitted a 60 – to 90-second video pitch that outlined their product. A panel of successful entrepreneurs and business leaders from the community then judged and narrowed them down to the top 10 most innovative and thought out, said UNM Innovation Academy Director Rob DelCampo.
In the live, final round of the competition, the top 10 students or teams were required to pitch their business plan to the audience in less than 90 seconds. Voting was done online, through an Albuquerque startup company called Wyrd, which won prize money from last year's pitch competition. The top five winners were decided by the audience members' votes.
The competition's first-place winner, Robert Mendez, went home with a brand-new Canon camera, as well as $1,400 in prize money. Mendez pitched and provided samples from his startup company, The Cornivore, which sells all-natural popcorn that comes in untraditional flavors. Read more about his company here.
The four runner-ups were each given prizes of $1,400. This prize money was donated specifically to the competition, and equalled $7,000 in total. To come up with this money, the UNM Innovation Academy and UNM.STC created a GoFundMe page, a crowdfunding campaign that allowed people to donate money to the competition in any amount they desired.
Delcampo said they received funding from not only community members, like local entrepreneurs, but from several special UNM faculty members who donated the patent money they earned from developing their own technologies instead of taking it for themselves.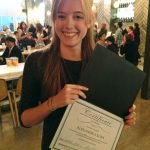 App would allow students to look around in their lessons
UNM junior Alexandra Luna won second place for her proposed virtual reality app called Cosmos, which would allow students to take online classes using virtual reality. She says this would immerse students into the topics of their studies and help them learn much more effectively than the online classes that UNM currently offers.
"Imagine you show up to a class, ready to learn about science, history or art, and having your professor guide you through a tour of the Louvre in Paris, or the Acropolis in Greece, or shrinking down so small that you could see with your own two eyes that the mitochondrion really is the powerhouse of the cell…that is the power of virtual reality, and that's what I hope to bring to schools and universities with Cosmos," Luna said in her pitch Monday night.
Luna also won a prize of $2,500 in last semester's pitch competition, where she proposed an app that would help people with food allergens and specialty diets find restaurants they could eat at in Albuquerque. With help from the additional money she won this semester, she hopes to make that app a reality by hiring an an app designer with her money. She also hopes to start her own business down the line.
She attributes her success to the entrepreneurial classes she's taken through UNM, and recommends them to anyone else wanting to create their own business.
"Find a mentor, it helps immensely," Luna said. "You can even approach one of your professors and say 'Hey, I'm interested in this, I really want to present, what are your ideas on this?' Try to get as many viewpoints of your pitch as possible."
Platform would help students save on books
UNM seniors Brenda Macias and Edith Castellanos took third place in the competition with their app called Book Spot, which they say they will market to UNM students by allowing them to buy and sell their used textbooks.
"Sometimes you'll go on Facebook, especially at the beginning of the semester, and you'll see a friend post 'Oh, does anybody have this book?' or 'Oh, I'm trying to sell this book.' So the market is already there, people are already trying to do this," Macias said. "What our app does is fill in that gap, and create a bridge between these students."
The pair said they've had this idea forever, but never found the right way to publicize it. Then Macias decided to take an entrepreneurial class at the UNM Innovation Academy, which she said really helped her and Castellanos develop their idea.
"This is the first entrepreneurial class I've ever taken, and I'm super happy with the results," Macias said. "I never thought I'd be participating in anything like this."
The pair say that the best advice they can give is to "fail fast and fail often," a phrase that Macias often hears at the UNM Innovation Academy. They say that, as entrepreneurs, they often made mistakes, yet learned something new from every one.
"There are not dumb ideas. Period," Castellanos said. "Your idea can help somebody, and for that somebody it's worth it. Just go for it, try your best, put your talents to work, and just do it!"
DelCampo encourages other students to try working in teams for next semester's pitch competition.
"This is just a fun event for these folks who have different ideas to get together, and find opportunities to work together," DelCampo said. "I think that the more teams we have, the better. It's a good learning experience, because you're not only learning how to develop your business and your idea, but you're also learning collaborative skills as well."
Follow Brenna on Twitter