By William Jennings / NM News Port
With COVID-19 cases hitting record numbers in November, the University of New Mexico (UNM) is back to fully online classes and is planning to continue virtual learning next January.
Senior Alex McCausland is one of many students attending UNM online who is frustrated with the experience. 
"It's just awful," McCausland said. "I don't know if I've really ever had a day since the pandemic started where I felt like 'gee I really love learning right now.'"  
When the pandemic first hit New Mexico in the spring, UNM moved classes online. Classes that had been in person were now using teleconferencing service Zoom to convene.
For the fall semester, UNM moved to a hybrid model, with some classes having in-person components. Still, most classes were either live on Zoom or asynchronous online.
McCausland said these classes aren't a good substitute for his education. 
"In normal circumstances I struggle a tremendous amount," McCausland, who struggles with attention deficit disorder, said. "With the way that things are with Zoom and online classes, I don't even know if I will be able to get through my classes this semester."
McCausland is not the only student frustrated with how the semester has been going.
Senior Ally Wiesel, who attended high school online, said she disliked online school then and dislikes it now. 
"You have to be ready to teach yourself a lot," Wiesel said. "With online they kind of just throw the material at you and you have to figure it out yourself." 
One of the main reasons students like McCausland and Wiesel said they dislike online is the lack of personal connection and increase in busy work that they said doesn't actually teach the material.
"A lot of what I benefited from in in-person lectures is that people actually felt comfortable participating," McCausland said. "When we have lectures over Zoom everyone is silent. No one talks."
McCausland said he is also struggling in one of his classes because it feels like the professor hasn't made any changes in the move from the classroom to Zoom.
"It doesn't feel like they've modified their curriculum at all," McCausland said. "I really resent the class because of that."
Wiesel, a biology and psychology student, said it is especially disappointing to not be able to do labs in person.
"We just watch the professors do it, which is kind of heartbreaking as a person who really loves lab work," Wiesel said.
UNM tries to bridge the gap
UNM Provost Dr. James Holloway said he is aware there is a learning curve when moving to online and that this learning curve exists for faculty as well. 
"We trained 748 faculty over the summer in remote learning pedagogies,"  Holloway said. "Those training programs are ongoing now so we can get more faculty into those sessions to learn different approaches on how to do education online."
He said UNM has also begun focusing more on services for students to use to help them adapt to online classes.
"We've increased the number of peer tutors and increased the attention that advising is paying the students," Holloway said. "I think those kinds of supports are what are key for keeping students engaged."
UNM has also removed online course fees from asynchronous classes so that students can register based on what will best serve them. 
Even with these changes, Holloway said UNM is concerned about student learning outcomes but has been pleasantly surprised with the results they've seen so far.
"The number of students dropping is a little lower this fall than it was last fall, so that's a good sign," Holloway said. "If you look at the K-12 system they've had, I think it's 21,000 drop out of the K-12 system in New Mexico…but we're not seeing that."
"Because of this pandemic there are going to be a lot of students who are experiencing grief. I don't know how you fix that because you can't put things on hold for people to recuperate but there are enough of us that it has to be taken into consideration."

— Mabry Jantz, UNM senior
But for many students, these changes and the assurance that things are looking good isn't enough.
"Every day is just 'how can I get through my classes just by doing the minimum effort,' not because I don't care, but because I'm just checked out," McCausland said. 
Outside factors are making it harder to focus on school
Housing and technology issues are another area making it difficult for students to prioritize education. 
McCausland, who lived at the UNM-affiliated Lobo Rainforest in the spring, said trying to find an apartment right before the semester began made it difficult to get in the right headspace.
"The terms and conditions of the contract I had at Lobo Rainforest changed so that at any point in time they could kick us all out of the dorms," McCausland said. "I pulled out of my fall contract and had to scramble to find an apartment in a month." 
Mabry Jantz is another student whose living situation made it initially difficult to get in the right mindset to begin school. 
"I live off campus with my significant other," Jantz said. "We did have to move into a different apartment because we were evicted from our last one."
Moreover, Jantz said, her technology situation has made it difficult to do school online.
"My Wi-Fi cuts out all the time," Jantz said. "I'm constantly having to email professors while we're in class and be like 'I'll be back as soon as possible. I'm sorry.'"
Jantz also said her Wi-Fi is worse during synchronous Zoom classes because of buffering.
Wiesel said she agrees that outside factors pose some difficulties but said even with a solid living situation and good Wi-Fi, it is easy to get distracted from schoolwork.
"I find it extremely distracting working from home," Wiesel said. "I can hear the TV playing when my folks are doing that, the radio is on, they're always talking…It's so easy to not be focused."
The pandemic is taking its toll on students' mental health
Students are also struggling with trying to succeed in class while maintaining their mental health.
Wiesel said she is the type of person to schedule everything, but didn't consider her emotional stability until her schedule was already full. 
"I have two jobs. I have an internship and a fellowship this semester and then 17 credit hours so I'm busy," Wiesel said. "But you know what I'm not doing? I'm not taking time for my mental health."
Wiesel wishes she had thought about this earlier, especially considering that her normal coping methods aren't available.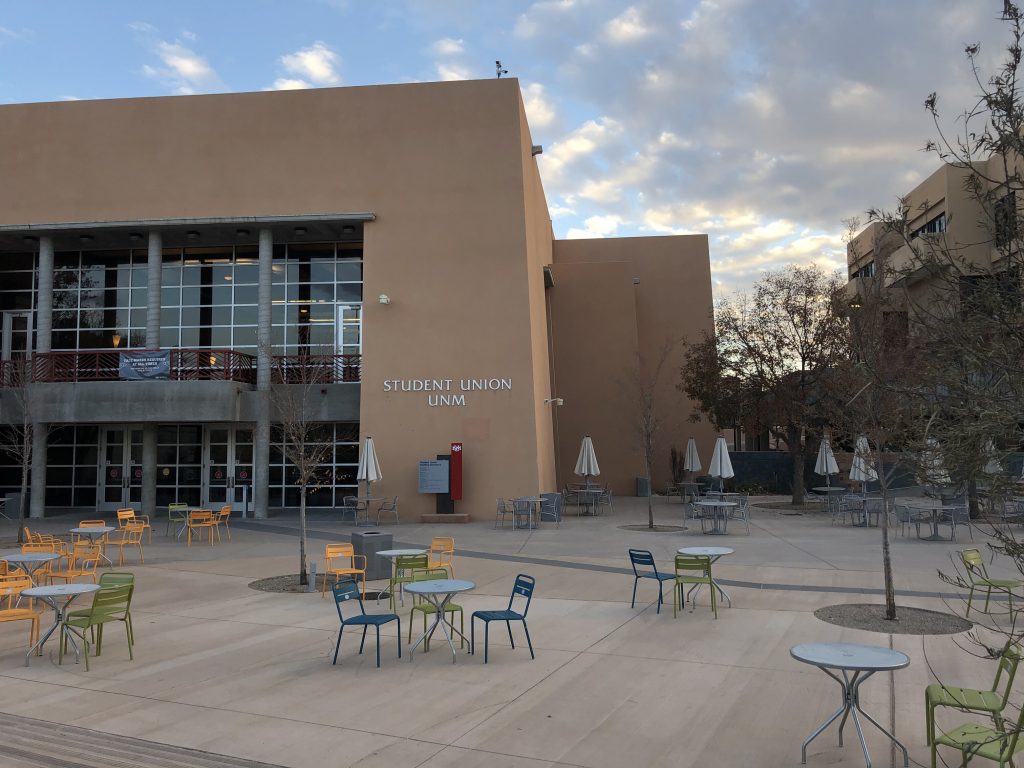 "Now you can't go out with friends, now you can't go out to a coffee shop to study and chat," Wiesel said. "I didn't consider that and now…my mental health is just sitting on the back burner." 
Jantz, who has struggled with bipolar disorder, said the added stress of the pandemic hasn't made things any easier. 
"Despite the fact that I'm on the best medication I've had in a long time, I still can't quite get stable," Jantz said. "For those of us who have mental illness already that stress gets amped up by ten." 
One of the factors upping many students' stress is worrying about the well-being of their friends and loved ones because of the pandemic. 
Jantz has already dealt with the death of two loved ones in a single month, a good friend and her grandmother.
"I know my professors are doing their best to accommodate that, but there's just not time in the semester to give me time to grieve," Jantz said.
Jantz wishes there was a way UNM could be there for students struggling but admits she doesn't know how they can reasonably do it. 
"Because of this pandemic there are going to be a lot of students who are experiencing grief," Jantz said. "I don't know how you fix that because you can't put things on hold for people to recuperate but there are enough of us that it has to be taken into consideration."
Holloway said he is aware of the added stress the pandemic has caused and that UNM has increased their focus on mental health resources and has assembled a task force to figure out what they can do differently in the spring to help students struggling.
Still, he said he knows it is difficult right now and urges students to stick together.
"This is a moment for us all to look out for each other," Holloway. "I would ask of our student body: if you know someone who is alone or isolated, if you could watch out and be a friendly voice or a helping hand, it could be really helpful at this moment."
William Jennings is a reporter for the New Mexico News Port. He can be reached on Twitter @WillJenningsUNM.