Andrew Gunn is a philosophy student at UNM. He is experiencing homelessness.

On February 19, when the University was closed for a snow day, Gunn was found sleeping in a practice room in Popejoy Hall by two UNM Police Department officers.

Most universities, including the University of New Mexico, have strict no camping policies on campus.

UNM's policy states that no individual may sleep on campus or in a vehicle on campus that is outside the designated student sleeping areas between the hours of 10 p.m. and 8 a.m., but the rules get blurry when a student experiencing homelessness is found sleeping on campus during a snow day.

"I wake up with a cop and his partner standing over me" Gunn said. "They gave me a bruise with a sternum rub."

When the officers found Gunn and tried to wake him up, they employed something that is called a sternum rub — the running of one's knuckles down the sternum of a person to trigger a painful response. Police officers use this to wake people up when they are not responding to verbal stimuli.

Gunn said he showed them his student ID and tried to explain that he was not aware campus was closed, he thought the two hour delay was still in effect, and that because he is a student, he was allowed to be in the building.

The officers told him he was violating policy by exhibiting unauthorized residence in a university building and not complying with lawful order. They escorted him from the building.

A UNMPD spokesman remembers the incident with Gunn, and said this isn't the first time officers found him on campus when he wasn't supposed to be there.

Lieutenant Trace Peck said that because campus was closed, Gunn was not allowed to sleep on campus, even though the officers found him around 10 a.m.

Peck also said that the officers responded in the way that they did because it looked as though Gunn was establishing a temporary residence in the building.

"I talked to the officer about it and he said it looked like a dorm room – [Gunn] had his food laid out everywhere and he had laundry hanging," Peck said.

In the last six months, UNMPD has received seven calls from students, staff, and faculty involving Gunn.

"It's gotten to the point where he is going to get arrested for criminal trespassing, even though he is a student and he has access he can not be hiding out and doing that," Peck said.

Officers have reported finding Gunn in bathrooms taking showers and on couches in offices not open to students when responding to calls.

UNMPD does allow some leniency with Gunn, which he said is great.

"We know he lives in a van in south lot that isn't registered or licensed, but we're not messing with him there," Peck said. "At least he's safe, at least he's off campus when he is not coming to class, so that's kind of his little safe haven and that's fine."

The frustrating thing, said Peck, is that the people experiencing homelessness that UNMPD encounters don't seem to want help.

UNMPD hands out a flyer with information of the shelters and resources throughout the city made available to the homeless population.

"They don't seem to want these resources until things get really bad," he said.

Gunn is the only homeless student that UNMPD knows of and have interacted with according to Peck, but they know at least 30 individuals by name who they have repeatedly had to remove from campus.

"In the first two hours every morning, that's all my officers deal with," Peck said. "I mean literally 25-50 homeless people every single day," he said.

Peck said calls to remove homeless persons from campus every morning usually utilize all four officers on duty, which taxes the University and the city.

The UNM Hospital Emergency Room, across Lomas Boulevard from the main campus, has become a sobering station for many homeless people, said Peck, and he thinks they are heading to campus after being released from the ER.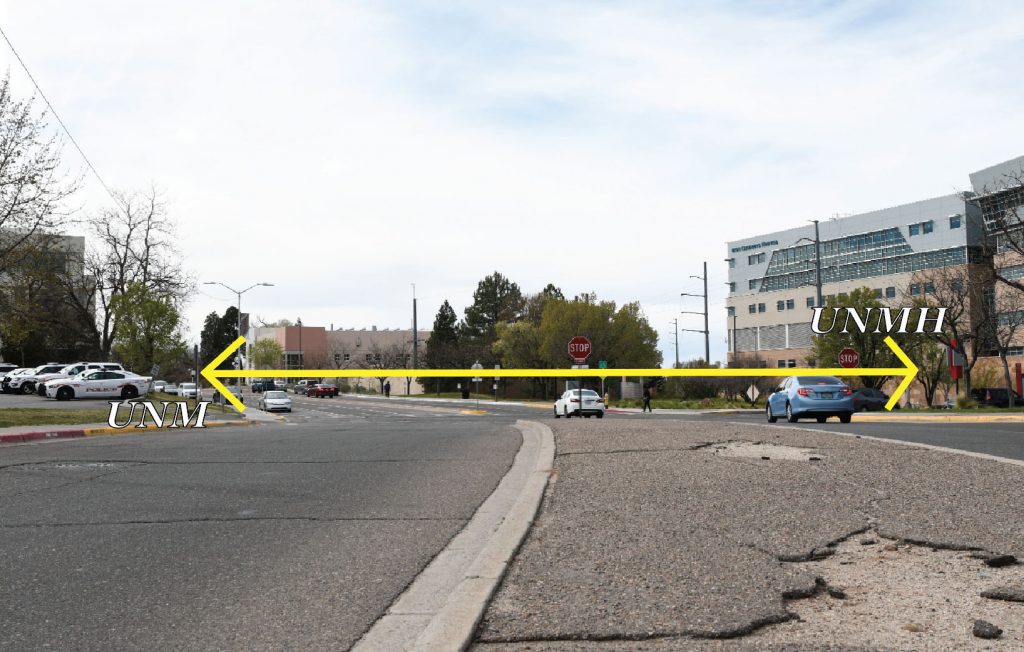 "They know there are warm vents, and there are buildings they can possibly get into," he said.

"It would be great if we had time to be proactive and to be going through buildings that were already locked and closed but we don't," Peck said.
The University offers a few resources to people experiencing homelessness, including a recent program by the Associated Students of New Mexico.

The student group gathered donations and put together hygiene kits that include toothpaste, soap, deodorant and feminine products.

Gunn said the packs were great, "but I can't eat toothpaste."

UNM also runs a food pantry once a month where any student who presents a UNM ID receives free groceries. The Lobo Food Pantry is held in South Lot on Avenida Cesar Chavez, where Gunn's van is.

He said even though he is grateful for the space he is allowed in his van, he can't cook in it, so most of the food given out by the Lobo Pantry is useless to him.

It is estimated that there are 1,543 unaccompanied homeless students in New Mexico. Almost 850 of those students are unsheltered, meaning they spend their nights outside, under bus stops, in cars, or any other place not meant for sleeping.

Celia Raney is a reporter for the New Mexico News Port. She can be contacted on Twitter @Celia_Raney