Dogs and cats are pouring into the Valencia County Animal Shelter at a overwhelming rate.

Pet overpopulation in the rural Valencia communities is becoming costly to the residents. The problem has gotten worse due to a lack of funding from the county towards animal care and control services.

Currently, the Animal Welfare department gets about 2 percent of the county's $40 million dollar annual budget.

Patty Mugan, Valencia County Animal Shelter supervisor, said they've seen an increase of dogs and cats coming into the shelter that they can not house.

"We don't have the room for them so we end up partnering with other shelters that have the space to take them," Mugan said

The shelter takes in 100 to 125 pets a week, about 500 pets a month.

The shelter partners with rescue groups to transport animals to other shelters that have the room or to put the animals in foster homes until they are adopted.

"We have different rescues that we work with between here in New Mexico, and in Texas, Arizona, and Utah," Mugan said.

As to what is causing the increase of pets pouring into the shelters, the shelter staff said the residents in the county are not spaying and neutering their pets.

"We have people in the county who don't believe in getting their animals fixed," she said,"whether its a cost issue or not."

Currently, the shelter does not have a full-time veterinarian that can perform spay and neuter in the shelter, but the $92 adoption fee gives the owner the option to get their pet fixed. The fee covers two veterinarian visits where the owner can choose to get their pet microchipped, vaccinated and the option to spay or neuter their pet.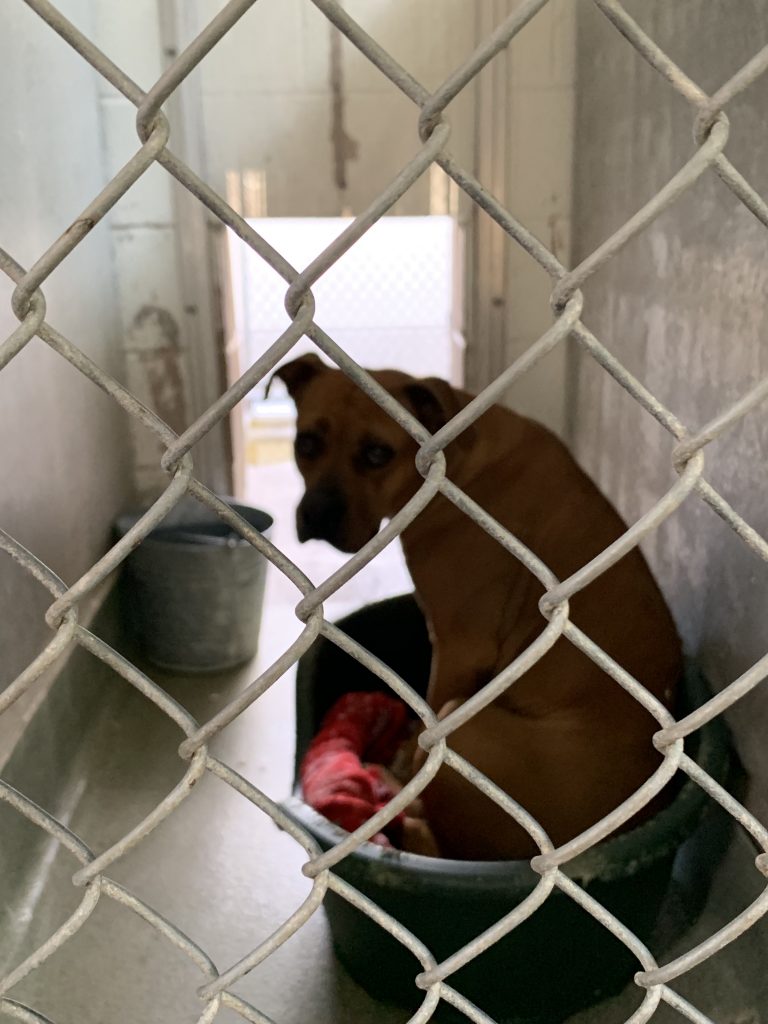 It is not required by Valencia County for the residents to spay or neuter their pets.

"Dogs are definitely more of what we have a problem with," she said. "We get a lot of cats as well, but a lot of them are feral and we can't place them anywhere so we do end up putting them down."

The rescues that the shelter works with will sometimes transport feral cats, but most often nobody wants to take them.

The shelter tries to focus on transporting their animals to other shelters rather than euthanizing them.

"The amount of animals that we euthanize for space is actually really low," Mugan said.

Others in the community are also offering their support to help alleviate the problem. **

The Spay-Neuter Coalition of the New Mexico provides Valencia County residents with low-cost spay and neuter vouchers for dogs only.

Sharon Bice, vice president of the coalition said that they started because they saw the cycle of pets circling back into the shelter

"The dogs that leave shelter have puppies and then their puppies are back in the shelter," Bice said.

While the Spay-Neuter Coalition of New Mexico only provides vouchers for dogs, organizations like the Zimmer Feline Foundation offer spay and neuter services to felines in 16 counties in New Mexico.

Lisa Jennings, executive director of Animal Protection of New Mexico, said counties like Valencia that don't provide spay and neutering services are actually costing taxpayers more.

"Our state spends over 40 million dollars a year to address animal overpopulation," Jennings said.

This issue was addressed at the recent 2019 Legislative Session.

Senate Bill 367, would require large pet food manufacturers to annually pay an additional $100 fee per type of dog or cat food or treats in order to sell their products in New Mexico. The additional funds would be used to provide more spay and neuter resources in rural communities like Valencia County.

The bill was endorsed by Animal Protection of New Mexico. It did not pass.

"It's important for rural legislators to examine their votes on this because if they're not supporting it, they're not supporting their rural constituents who need these services the most," Jennings said.

To adopt a pet from the Valencia County Animal Shelter, you can view their current pets here or contact them at 505-866-2479.

You can follow Vanessa on Twitter @vanessarmartin