Some voters had better experiences than others while voting in Bernalillo County this Election Day, but overall, county officials say, the ballot-casting process has gone relatively smoothly.
Joey Keefe, spokesperson for the Bernalillo County County Clerk's Office, said voter turnout was steady since polls opened at 7:00 a.m. in New Mexico. But, Keefe says, there has been a lower than expected voter turnout for Election Day.
"I think today has been different than we anticipated — we had a lot of traffic for early voting, and that typically indicates a heavy traffic load for Election Day," Keefe said "But so far we haven't had as many as we anticipated so we are eager to see what the next few hours hold."
Keefe said that as of 4:00 Tuesday, 50,624 voters had turned out at polling locations across Bernalillo County.
"It's been an exciting day, overall, and the general buzz of the office has been relatively calm," Keefe said.
Some New Mexicans satisfied with their voting experience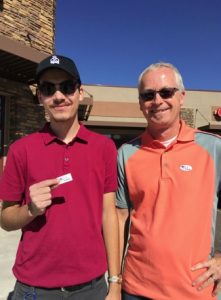 In northeast Albuquerque, Damon Kletecka, 43, and his son, Matthew Kletecka, 19, left the voting booths with smiles on their faces, saying their voting experience was pleasant.
"I didn't have any problems with voting today, it was easy and organized." said Damon, 43. "I think we are both pretty confident in our decision."
Kletecka says he voted today because he has never seen a reason not to vote in the presidential elections.
Another voter, Sophia Gettis, 32, says she thought the voting process was well managed.
"I had an easy time coming here, and I had an easy time voting. Everything was very organized," Gettis said.
Gettis said she was confident in voting for her candidate of choice this election season.
But, not everyone was so confident.
A voter who wishes to remain anonymous talked about her voting history. "I've voted in the last three elections, and each I've been very confident in," she said. But when asked if she felt confident this voting period, she replied, "Heck no, anyone who believes they are 100 percent confident is out of their mind."
Some voters dissatisfied with polling locations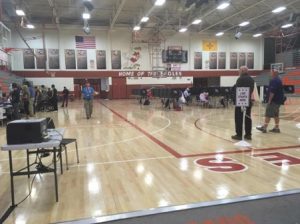 New Mexico resident Niva Lund, 39, went to Eldorado High School to vote. She said her time voting was confusing and unpleasant. "There wasn't enough signage to know where to go, I got lost," Lund said. "Another thing was the workers didn't explain to me anything. I didn't know the voting paper was double-sided. So thank God I flipped it around to see."
Lund says she also didn't like the amount of sound in the gymnasium. "The workers didn't even tell people to quiet their phones. How am I supposed to read with all those distractions?" Lund said.
Students have been turning out to vote at UNM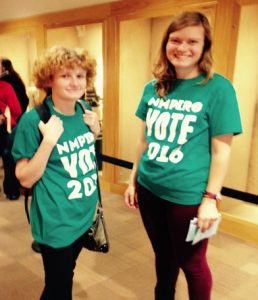 Election day has been attracting students to take breaks from their classes and study sessions to go vote.
Marissa Archuleta, a student at the University of New Mexico, stood in line with other students in the Student Union Building.  Archuleta said campus voting is a "good idea and very convenient."
UNM students Rodrigo Llanes and his friend Mica Montoya expressed a similar sentiment. Montoya said the UNM voting location was on his way home from his dance class. He said this was much easier than walking to the voting location at Lyndon B. Johnson middle school, where he had considered voting
Hannah Perkins, a campaign organizer for NMPIRG, a public interest advocacy group, has been working to get the word out about where to vote. Perkins and fellow volunteers were posted around campus to encourage student turnout… and to spread the word to their friends.
"There's a lot more people than I thought!" Perkins said.
Follow Brittany Perez, Maya Holt and Kyra Begay on Twitter.