By Joseph Buck and Jake Schwanitz / NM News Port
As the polls closed in New Mexico and early results favored Hillary Clinton the mood inside the Albuquerque Convention Center went from cautious optimism to jubilation as Trump picked off state after state.
Hillary Clinton won 48 percent of New Mexico's vote to take the state's five electoral votes. Republican Donald Trump received 40 percent and former New Mexico Governor Gary Johnson, the Libertarian candidate, pulled in 9 percent.
Nationally Trump lead the race with 232 electoral votes to Clinton's 209 as the final results started to pile up.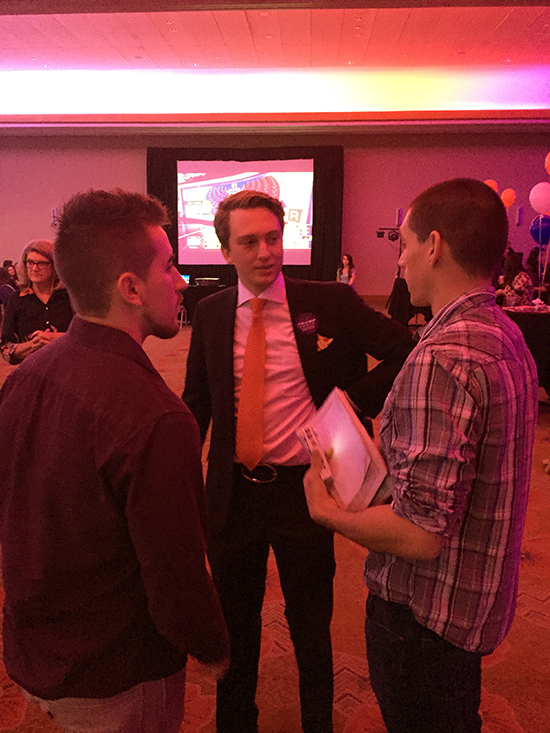 Republicans gathered at the Convention Center to watch the results of the Presidential election along with state wide senate and representative races. The doors opened at 7 p.m. local time and the crowd continued to grow as the night went on.
"We've closed the gap here a lot. We were very competitive," said Tucker Keene, communications director Republican Party of New Mexico, about Trump's voter turnout in New Mexico.
"I understand that it's been called for Hillary (Clinton)," Keene said. "We were very happy with what we did. Again a year ago who would have expected New Mexico to be competitive."
The big screen inside Ballroom C of the Convention Center was the source of cheers as Fox News announced which states Trump won.
"The races that I've seen the different states, he's leading in all the right swing states right now," Keene said about his thoughts on what the rest of the election night could hold for Trump.
Tucker pointed out he felt Trump needed to excel among rural voters to offset Clinton's gains with urban voters.
New Mexico voters made up their minds early in record setting fashion during a tenuous Presidential race. According to the New Mexico Secretary of State office more than 524,506 voters casted early and absentee votes. That's just more than 40 percent of registered voters in New Mexico. That eclipses the 2012 and 2008 early voting totals in the state, which were 463,422 and 519,295 respectively.
"So far it's intense, it is very intense. Trump's won Ohio but it doesn't mean we are out of the woods yet," said Marchand Macdermot-Roe, fire safety officer for the state of New Mexico and Republican voter.
The tension of the race was not lost on Macdermot-Roe.
"What I will say is that I've never in my life seen an election where so much has hinged on fundamentally so few," Macdermot-Roe said. "Because it just hinges on a few key districts but the fate of our nation, the very direction we are going to go is going to be dictated in the next few hours."
As results continued to be shown on the screen the level of excitement grew amongst the crowd. The Florida projections of Trump's win drew the loudest crowd reaction as people took to the floor clapping their hands and some were even dancing.