[vc_row][vc_column width="1/1″][text_output]
ANSWERED QUESTION
50 Miles on N.M. 14
With nice weather most of the year, many New Mexicans enjoy an occasional motorcycle ride. With a plethora of great routes, it's natural to wonder which one is king. As part of our Curious New Mexico project, Scott Rollins, a chemistry student at New Mexico Tech, wondered which ride is best. New Mexico News Port reporters Emily Ediger, Brianna Gallegos, Nick Fojud and Melody Daskalos investigated the Turquoise Trail, which Rollins recommended.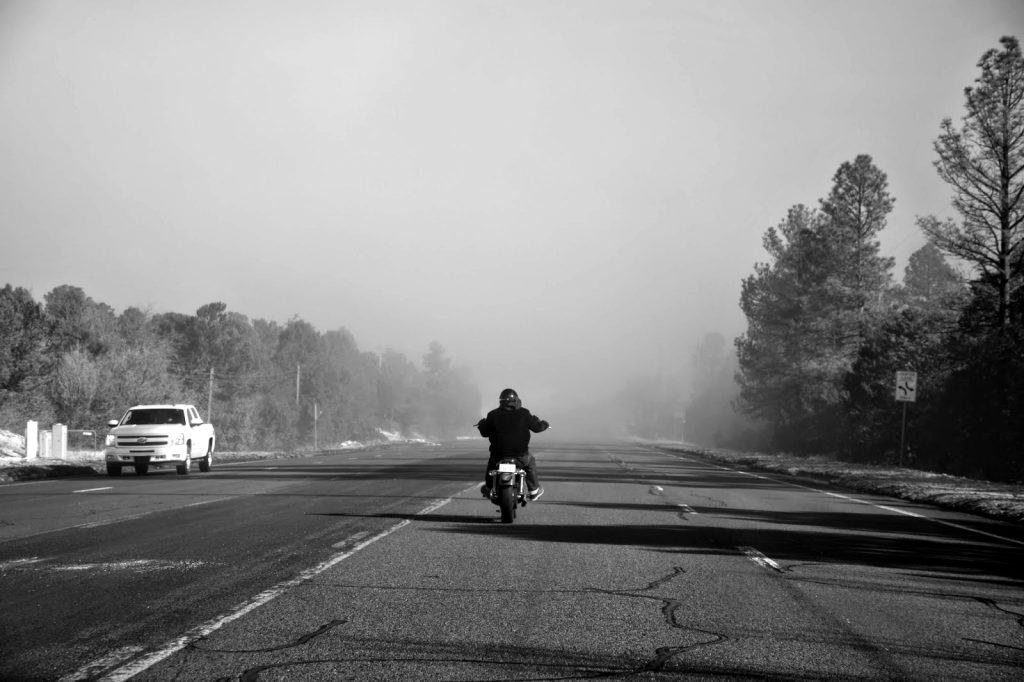 Growing up around motorcycles and dirt bikes led Scott Rollins, a chemistry student at New Mexico Tech, to become an avid biker. But after selling his motorcycle for some extra cash for school, Rollins went two years without being on a bike. Now as he hunts for a new bike Rollins is also studying up on the greatest New Mexico motorcycle routes so he can be ready to set out again.
"New Mexico has a vast spectrum of different environments and scenery, what better way to experience them than with your hair in the wind?" Rollins said. He knew that when he got back out there, he didn't want just any ordinary motorcycle ride. What he wanted was for one of the best routes in the state to bring him back into biking, leading him to the question: "What is the most scenic motorcycle route in New Mexico?" After all there are more than 40 motorcycle routes in New Mexico, but which one reigns supreme?
Out of these 40 routes, the one called the Turquoise Trail can also be counted as a historic "National Scenic Byway" and an "American Byway." There are 25 scenic byways in New Mexico, eight of which are also counted as "America's Byways." The Turquoise Trail makes that short list. The trail goes through several towns and woodland areas with great views of wildlife and mountain ranges, but is this trail the most scenic motorcycle route in all of New Mexico?
The trail starts in Albuquerque and ends in Santa Fe, running about 50 miles and passing through the historic town of Madrid. The trail offers scenic views of nature and spacious sky all while traveling the open road. If the weather permits, the trail is perfect for bikers, cyclists, and motorists alike.
A biker will turn off Interstate 40 and onto State Road 14. As a rider goes from the crest to the heart of the trail, they will pass through the town of Madrid. Located a few miles west of Santa Fe, the once-abandoned, coal-mining town Madrid, New Mexico is now home to several art galleries.
The town is a famous stop for bikers despite a dangerous turn at the edge of the town that, according to the locals, is fatal for some motorcyclists. We contacted the Santa Fe County Sheriff's Office, which reported that only two out of nine motor vehicle accidents they responded to in the last year were fatal incidents. So fear not bikers and motorists–just be careful on the turn off NM 14 into Madrid.
Dangerous turn or not, Madrid's pubs, diners and restaurants make it perfect for a pit-stop along the route. The Mine Shaft Tavern, a Madrid restaurant, even sports a large sign near their entrance that reads, "Bikers park here."
"The Turquoise Trail Scenic Byway is a beautiful drive, it's interesting," Mine Shaft Tavern owner Lori Lindsey said. According to Lindsey, Saturdays and Sundays are most popular for riders passing through Madrid while they ride the Turquoise Trail.
In addition to the biker-friendly food joints, the town also hosts several motorcycle tours and rallies bike. Joshua Novak, owner of The Hollar, another restaurant in Madrid said there are four biker rallies in Madrid a year.
"The tours bring the most people to town, coming all the way from California, even New York sometimes,"Novak said.
"It's amazing the flat area just before you turn off to Edgewood," he said. "There's not a better view."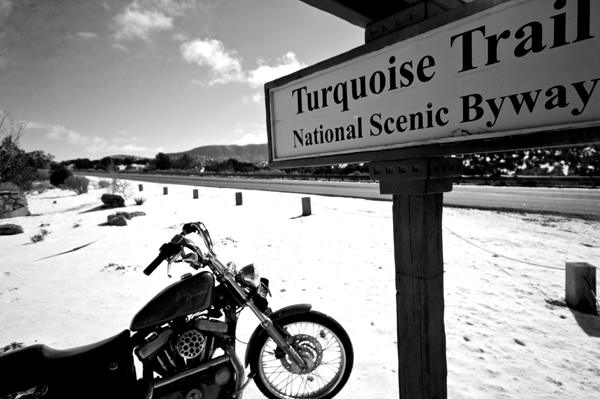 "To throw your knees in the breeze, it's just a kick ass feeling…there is nothing like it," said Shawn Shields, an employee of five years at the Chicks Harley Davidson dealership in Albuquerque. When Shields gets a chance to ride out of town for pleasure, the Turquoise Trail is still one of his favorites. He chooses either the road to Acoma Pueblo, Jemez Pueblo , or the Turquoise Trail.
Madrid is only part of the reason that the Turquoise Trail is popular Shields grew up around motorcycles because his father owned a motorcycle repair shop in Grants, New Mexico.
"It has always been my lifestyle," Shields said. "I've never not had a bike ever since I was a kid." Shields furthered his understanding and passion for bikes when he went to The Motorcycle Mechanic Institute in Phoenix, Arizona. But even after moving out of state, Shields still finds the Turquoise Trail to be one of his top three routes.
Shields said the same things keep drawing him back to the Madrid route and that they are exactly what make the route so appealing.
"It's way fun, the foods great, the bands are kick ass," he said "It's just a lot of cool people that have the same interests, and the same laid back feeling."
So is the Turquoise Trail the most scenic motorcycle route in New Mexico? The stunning views and positive opinions of the people who travel it certainly have us convinced. But if you think another route is the answer, tweet us at @nmnewsport. Be sure to use the hashtag #curiousNM.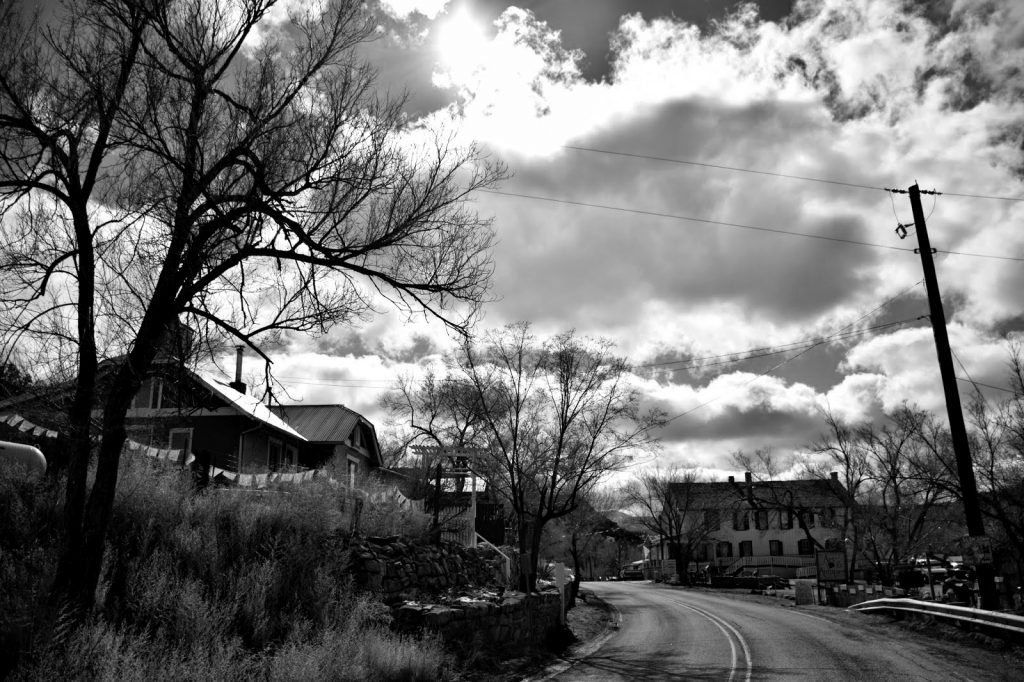 The Turquoise Trail
[/text_output][share title="Share this post" facebook="true" twitter="true" google_plus="true" linkedin="true" pinterest="true"][/vc_column][/vc_row]