[vc_row][vc_column width="1/1″][text_output]
ANSWERED QUESTION
New Mexico's dunes of gypsum
As part of our Curious New Mexico project, resident Tres Chaires asked about the White Sands National Monument, wanting to know what makes the sand white. Reporter Kenneth Ferguson went there to look into it.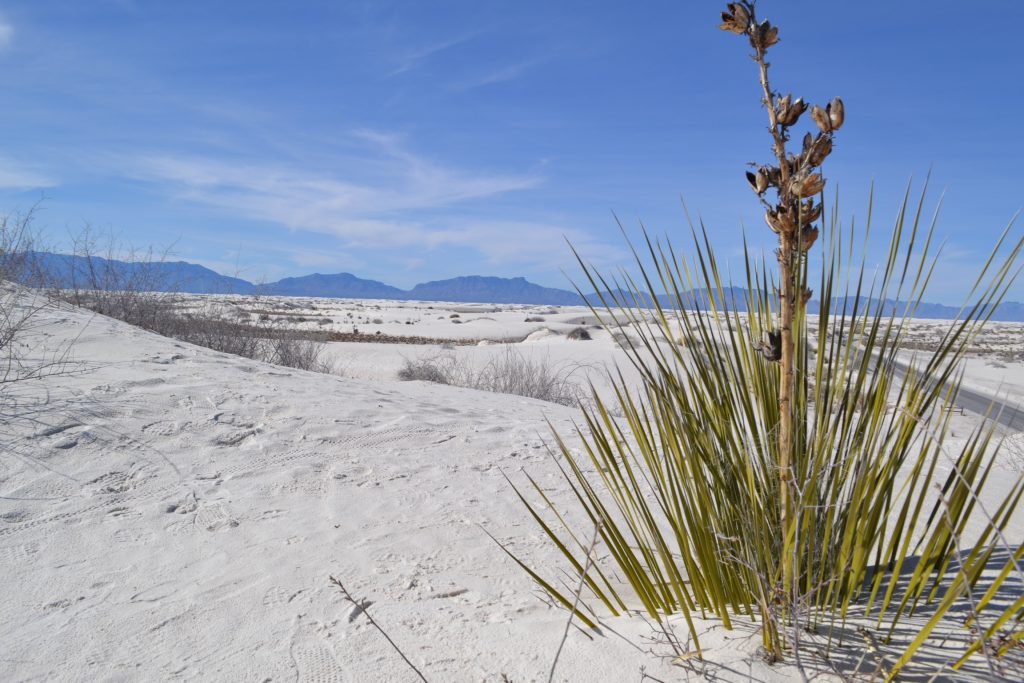 From its green chile to its annual balloon fiesta, New Mexico has some unique offerings. One of its biggest draws is the White Sands National Monument, located in the south central area of the state. Attracting more than half a million visitors last year, the monument includes 275 square miles of high dunes of broken down gypsum that gives the appearance of a pristine white desert.
The sand is gypsum that was at the bottom of a deep lake millions of years ago. The water was known as Lake Lucero.
Gary Smith, who teaches earth history and environmental geology courses at UNM, said "gypsum is an unusual mineral to find in dunes because it can be soluble."
Rebecca Burghart, program manager of visitor services of White Sands, said the gypsum remained at the bottom of the lake because it at times was created more quickly than it could be dissolved.
"It is believed that while this area was under water, gypsum was being created at a faster rate than the water could dissolve it," she said. "This is why, despite being soluble, the gypsum survived at the bottom of the lake bed and was left behind after the water evaporated."
Over millions of years, the lake dried up and wind erosion slowly broke down the large pieces of gypsum into selenite, which is what gypsum is referred to when it is broken down. Selenite is actually clear but as it is eroded and damaged by the wind scratches form on the surface. This damage is what makes it appear white to the human eye.
The national monument section of the white sand dunes is the world's largest gypsum dune field. The dunes became a national monument in 1933 and opened to the public in 1934. A small section of the sand is also used at the Holloman Air Force Base missile range.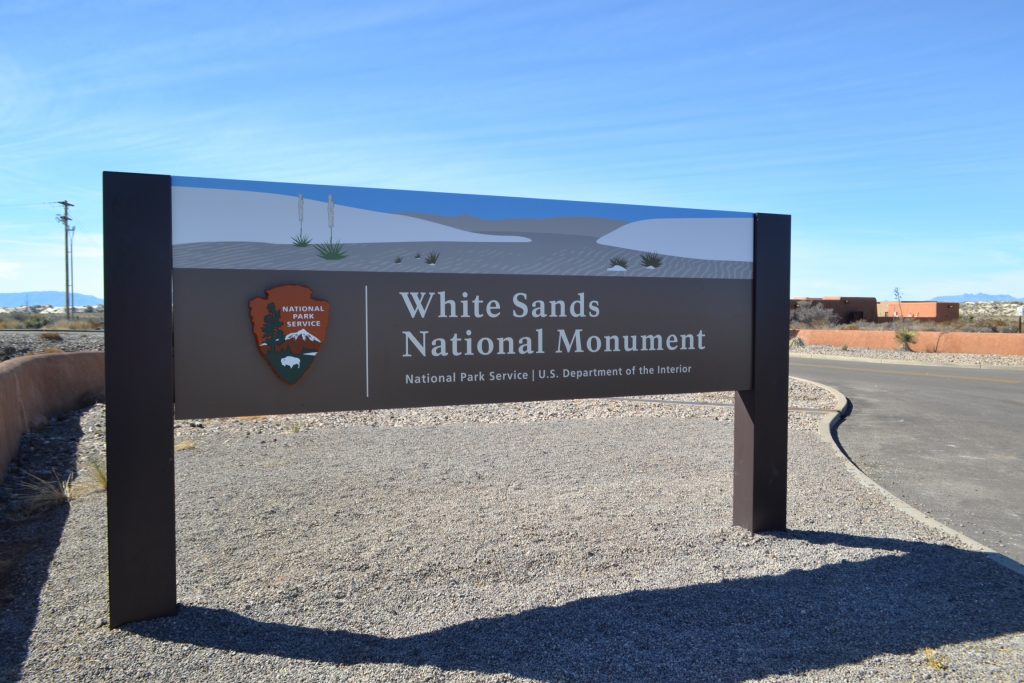 If you go
The dunes are open to the general public year round and offer everything from daily events like a sunset stroll to longer stay camping.
The full moon nights are among the most popular attractions at the dunes.
"There are seven of them this year because of a blue moon in June," Burghart said. The full moon nights are offered May through October, "the brightness of full moons makes the white dunes light up, making other light sources unnecessary," she said.
Extended stay camping is also an option. "I camped here as a kid and teenager and I wanted to come back." Said Derek Dahl, a 27-year-old Albuquerque resident who was at the dunes by himself.
Driving among the dunes is only allowed on the roads but walking on the dunes is allowed anywhere.
A sunset stroll is offered daily and lasts approximately 45 minutes.
For more information on White Sands National Monument, visit the website here.[/text_output][share title="Share this Post" facebook="true" twitter="true" google_plus="true" linkedin="true" pinterest="true"][/vc_column][/vc_row]