This month, the new Albuquerque Rapid Transit, or ART, will begin providing partial service along Central Avenue. But if random interviews with UNM students are any indication, the bus system still has some convincing to do to attract doubtful riders.
Joanie Griffin, spokesperson for Albuquerque Rapid Transit, says the UNM main campus on Central Avenue is one of the main beneficiaries of the ART system — and will be served by two new stops.
Griffin said they plan to educate Albuquerque residents about the changes that will be coming with ART by sharing how to buy tickets and how to ride the bus. Streets around ART will also be changing, so ABQ Transit department will be talking to drivers to help them get around easier.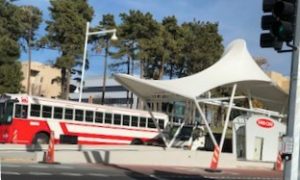 "The city of Albuquerque will run television and radio ads that start through Thanksgiving to the end of the year," said Griffin. "It'll be an educational PSA since it's a new thing. ART is a different animal from what we've had."
Griffin said one of the big changes made during the ART construction is the creation of designated bus lanes along Central. She says that should allow buses to  arrive every seven to eight minutes.
Lanes designated specifically for buses will help improve traffic speed across the 9-mile system for commuters.  
"Specifically for Westside residents, dealing with traffic will be much easier since the ART bus will go much faster than the (current) public buses," said Griffin.
While Griffin says students attending UNM can look forward to an updated, faster form of transportation, some students are not too excited.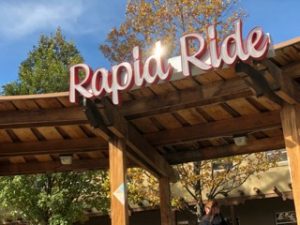 "I am not a big fan of ART because I think it is a waste of taxpayers money and they already have bus systems going up and down Central," said Daniel Zuniga, a student at UNM. "Why do all of this construction? Why do all of this to install a system? I enjoy the 790, and I enjoy using the buses."
According to planners, ART will feature brand-new, quiet electric buses.
Freshman Ayia Awad has never taken the bus because, she says, of everything she's heard from friends and fellow students.
"I ride to school with my cousins, but they finish much later than me. I would rather wait for them for a few hours in the library and finish my homework than deal with the bus systems," Awad said.
Awad said she's excited to see how ART will change commutes for other students, including herself.
While students won't know exactly what to expect until the project is up and running, some are hopeful. Grad student Cody Kasten says he hopes the new system will attract more passengers, instead of losing them.
Griffin says one benefit of ART to students is it gives them a fast path to campus without having to worry about driving or parking.
Griffin says ART construction has resulted in other improvements near campus, as well. Sidewalks have been widened up to 90 percent so it's more pedestrian friendly. There are also security cameras and LED lighting for safety. And, she says, state of the art landscaping will give Central Avenue a new and refreshing look.
The ART system arrives after a period of controversy. Local businesses have widely objected to the year-long disruption along Central Avenue. At one point they tried but failed to sue the city to stop the  ART project.
Costing around $119 million dollars, the ART project is mostly funded by the federal Government.
"Details are being worked out for partial services starting Thanksgiving weekend," said Griffin.