By: Madison Spratto / NM News Port 
Music, art, culture, food and drink came together at SOMOS Albuquerque,  an annual Burque festival. 
Civic Plaza in Downtown was filled with food trucks, vendors, performers and more Saturday afternoon, until late in the evening.
All senses were necessary to experience what the festival had to offer. It didn't take long after walking in to smell the food, hear the laughter of children discovering the interactive art and hearing the various styles of music scattered throughout the plaza. 
The best cuisine in the city was lined up in food trucks, bumper-to-bumper along the street ready for customers; fighting for every festival-goers attention. 
There were plenty of local thirst-quenching options, including Ex Novo Brewing, Marble Brewery, Safe House Distillery and more. For those looking for something sweet, a vendor laid out an array of horchatas and agua frescas, the various flavors creating a vibrant rainbow. 
A line of white tents housed local local art, clothes, food and more all for sale. Information booths from businesses were also spread out, hoping to draw in some attention.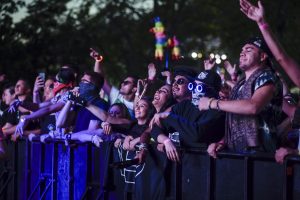 As the night crept in performers such as Leah Leyva, Chicano Batman and Whipped Cream warmed up the main stage for headliner Black Tiger Sex Machine (BTSM). The electronic trio from Quebec, Canada wrapped up the festival with some irresistible dance music.
Throughout the day performers were scattered among the crowd. Stilt walkers tip-toed their way around the plaza as jugglers captured children's and adult's attention alike. 
Cortney Baca, an aerial artist with AirDance New Mexico, flipped and twirled through the air on an aerial hoop.She said the creativity behind SOMOS was her favorite part of the festival.
 "Albuquerque is such a great hub for arts and creating and incubating cool art thoughts, and I really like that that was sort of the thought process that went into SOMOS," she said. Being able to see and experience something she hasn't done before was a highlight for Baca. 
If Baca wasn't aweing people with her tricks in the air she said she would have been standing in line all day at every food truck at the festival.
"I love to eat," Baca said. "I think one of the best things we have in New Mexico are these amazing dishes." 
Gus Predrotty of Qworks, a community-based group aimed at promoting civic engagement, was at the event getting Burqueñoes connected with the city through the Qworks Boardwalk—a hexagon of oversized sandwich boards covered with information about city officials, districts and departments. 
At last year's SOMOS festival Qworks featured 10 doors lining the street, each had information about Albuquerque districts. The motivation was to inspire people to learn more about the city in hopes they will want to participate was shown through this years exhibit as well. 
Boards featured questions about the city, such as "what district are you in?" accompanied by a map, with the answers displayed on another color-coordinating board. 
Predrotty's favorite board was "OneFeed." He said the board was like an in-person BuzzFeed quiz. People worked their way down the map answering questions like "do you like to have fun?" and "what's your horoscope?" These questions all led to a city office that someone would excel at based on the questions. All fun and laughs put aside, Pedrotty said it's a great display to get people thinking about where they could fit into city work. 
"There's a place for everybody in the city departments and that's one of the reasons why we have a mirrored center on the exhibit—wherever you are, you have to see yourself in city government," he said. 
His favorite performer of the festival? Burque Revolt. His favorite aspect of the festival? 
"There is literally something from every corner of Albuquerque here," Predrotty said. "And everyone gets their own space to make it exactly what it needs to be."
Yellow and black stood out from all of the neon colors that were featured in the art and performers, all in the name of soccer. New Mexico United was one sponsor of the festival, which was enough to get some fans out to the plaza before the team took on a team from Arizona later that evening.
Amberle Davis is a self-proclaimed New Mexico United fan and came to the festival because of their role in the event.  
"I have actually never come to this event before and I'm just really big into what the community is doing and just how it comes together," she said. "It's really inspiring." 
Davis said she enjoyed the various art exhibits, and was looking forward to cheering on United. 
Albuquerque's festival aimed to illuminate the positive and creative parts of the city, and it hit its mark. Now the question remains—what will they cook up for next year? 
Madison Spratto is a reporter for the New Mexico News Port. She can be reached on Twitter @madi_spratto or at nmnewsport@gmail.com.