By: Solana Cummings and Dannelle Kirven / NM News Port
Queneesha Meyers, owner of Q's Cakes and Sweets Boutique, creates her own unique spin on traditional desserts and gives back to her community through drives, fundraisers, scholarships, and classes.
"I started baking when I was about 11 years old," Meyers said, "My grandmother had a bag of flour that had a recipe for chocolate chip cookies on the back of it, so I got my allowance and bought whatever [ingredients] she didn't have, and I baked chocolate chip cookies."  Meyers then shared the treats with her friends in her hometown of Brooklyn, NY. "That's when it started," she said.
Meyers has gained national recognition through a feature story in The Wall Street Journal this year and is currently featured in Food Network's "50 States of Cakes," for her layered red velvet cheesecake-cake. 
Q's Cakes is located across from the University of New Mexico on Central between Princeton and Vassar. 
Meyers opened the shop in 2014. Customers can watch the baker from the counter or inspect her cakes and awards that adorn the bakery.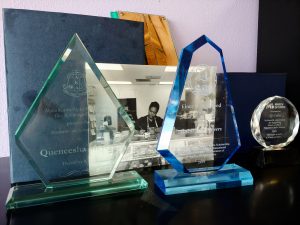 On Sundays, when the bakery is closed, Meyers uses her space to host fundraisers. Earlier this month, Q's Cakes raised money for the New Mexico chapter of the All African People's Revolutionary Party to help fund their trip to South Africa. Fifteen percent of all cupcake and dessert proceeds from her "comfort food line," were donated to the organization.  
"We try to tailor our fundraisers, so it can help you reach your goals," Meyers said. "So whatever it is that you're trying to raise the money for, whether it's uniforms or a trip, we kinda give you an idea of what you need to do, [and] how much money we can help you raise."
Devon Fleming met Meyers at the church they both attend, and has known her for about four years. 
"Queneesha is an all-around person—unique, open-hearted, kind," she said.  
Meyers handles stress well, Fleming said, but she will occasionally help Meyers during busy times. 
"You would not know she was stressed unless you were actually in the moment and knew the situation," she said.  
Meyers has befriended many people in the Albuquerque community, including the local UPS worker who drops off her packages and buys red velvet brownies weekly.  She calls him, "UPS Boo, Dominic," and plans on naming the brownies after him.
As well as hosting fundraisers for local organizations, the bakery hosts charity drives such as Meyers' annual drive every February for Distributing Dignity, an organization that provides homeless women with new bras and feminine hygiene products. 
"I always do that, in conjunction with a sale here, so we could have a little box at the store for when people come in to drop off their donations," she said, "but you don't have to buy anything, you can just drop off items."  
Meyers is also planning to launch a scholarship for students interested in the culinary arts.  
"I want to give a student help, either by buying their books or pay for their classes, because I know how hard it is to be in school and to pay for stuff," she said. "I want to encourage and inspire the next generation."  
So far, Meyers has helped one woman pay off some of her student debt, and wants to help more students in the future.
This year at Balloon Fiesta, Q's Cakes will have a booth to fundraise for the local  junior chapter of the National Society of Black Engineers.
"All three of my daughters went through NSBE," Meyers said, "It's a great program."
Q's Cakes offers a wide array of cakes, including a few that reinvent guilty-pleasure treats in cake-form, like biscochitos, chocolate chip cookies, and churros.  Meyers takes her New Mexico influence a step further in a red chile cake called the Howie Wowie.
Meyers' favorite dessert to make also happens to be her most popular cake. She calls it "the chocolate motherload," but it's official name is "Michael B. Jordan."
"Whenever I make it, I tag him in [a picture online] because my goal is to meet him, and to get him to try my cake," Meyers said.
Solana Cummings is a reporter for the New Mexico News Port. She can be reached on Twitter @CummingsSolana and at nmnewsport@gmail.com.  
Dannelle Kirven is a reporter for the New Mexico News Port. She can be reached on Twitter @KirvenDannelle and at nmnewsport@gmail.com.