By: Ellie Aikman, Sevia Gonzales, and Joe Rull
Hundreds of students and activists of all ages gathered at Robinson Park in Downtown Albuquerque Friday afternoon to bring awareness to climate issues and fight for policy changes as part of a global Climate Strike movement. 
Protests were scheduled in over 150 countries and millions of people were expected to participate worldwide. In the United States alone, more than 800 individual protests took place. 
According to the movement's stated mission, the main goal is to push for an end to climate change with an approach emphasizing "human rights, equity, and justice" by urging policy makers to end fossil fuel usage.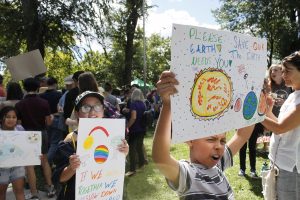 The protests come in the wake of the most recent Intergovernmental Panel on Climate Change special report, which found that humankind has less than twelve years to avoid causing irreversible climate-related damage to the Earth's atmosphere. 
The global Climate Strike movement, started by 16-year-old Swedish environmental activist Greta Thunberg, prompted hundreds of walkouts, protests, and marches which took place just three days before the opening of the United Nations General Assembly and the Climate Summit, scheduled for Sept. 23. 
Maggie Mazer, a 17-year-old senior from Albuquerque Academy, said she credits Thunberg for drawing her attention to the issues and giving her confidence in the power of speaking up.
"It makes me proud to be a young person and associate myself with her in that regard, and it's empowering to see another young woman do that," Mazer said. "I also think it helps empower all of us because we feel like adults are actually listening to one of us, and that it's a reachable goal for us to make a difference." 
Official protests took place in Albuquerque, Las Cruces, Santa Fe, Silver City, and beyond. In Albuquerque, activists and students who walked out of classes met at Robinson Park. Albuquerque Mayor Tim Keller and other public figures addressed an energetic and diverse crowd. 
The group then marched down Central Avenue in downtown Albuquerque to protest at the offices of Senators Martin Heinrich, D-N.M. and Tom Udall, D-N.M.
Holding signs and chanting along the way, protesters asked for immediate reforms to energy, food waste, and climate policies in New Mexico. They also called for the City of Albuquerque to declare a climate emergency while resetting a state goal to reach 100% renewable energy by 2030—15 years earlier than planned—and urged the state to place a four-year moratorium on new fracking.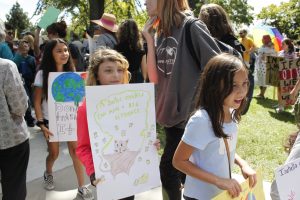 Students in Albuquerque Public Schools were informed they did not have permission to exit their campuses for the Climate Strike and would receive an unexcused absence if they chose to leave. School staff could not, however, physically prevent students from leaving campus. 
Hiyab Abraha, a 17-year-old senior at Albuquerque Academy, said she decided to miss school to make sure her voice was heard and to help bring attention to a global climate issue. 
"The reason why this is so important for me is that I lived in a place where air pollution prevented kids from going to school," Abraha said. She recently lived in Beijing, China, for a year.
Abraha said living in one of the most heavily polluted environments on the planet inspired her to take action.  
"I come from Albuquerque, where we have beautiful clean air," she said, "and moving to a place like that and seeing the real effect of a lack of thought for the people, it really affected how I perceived my role in making change."
Some protesters, like NextGen Academy junior Kacie Carpenter, 17, noted that their teachers were supportive of the protest and even encouraged students to attend. 
"A lot of our teachers kind of told us to come without actually telling us to come because they legally can't tell us to ditch class," Carpenter said "They wanted us to come."
Among the crowds at Friday's Climate Strike protest were dozens of University of New Mexico students fighting for environmental reform. 
"It's important to take care of our environment and to take care of our earth because it's the one earth that we have," said  Lauren Gomez, a graduate student studying environmental engineering at UNM . "I feel like it's important to get the word out."
The overarching attitude of students involved in Friday's protest seemed to be that combating climate change begins with taking direct action. 
Albuquerque High School student Zachary Biggerstaff, 17, said being informed and getting involved in movements like these at an early age is crucial in bringing about lasting change.
"It's very important to take an active role in your community so you can have that knowledge firsthand of what's going on and not just being told  'oh this is happening, this is what you should think about it,'" Biggerstaff said.
According to an estimate from anti fossil-fuel advocacy group 350.org, more than 4 million people took to the streets on Friday, brought to a boil by Thunberg's demands for government action. 
"We are doing this to wake the leaders up. We are doing this to get them to act," Thunberg said at a protest in New York City on Friday. "We deserve a safe future and we demand a safe future. Is that really too much to ask." 
The event kicked off a week of climate action events taking place in the community. Local event information can be found at New Mexico Climate Strike. 
Joe Rull is a reporter for the New Mexico News Port. He can be reached on Twitter @rulljoe or at nmnewsport@gmail.com.
Sevia Gonzales is a reporter for the New Mexico News Port. She can be reached on Twitter @GonzalesSevia or at nmnewsport@gmail.com.
Ellie Aikman is a reporter for the New Mexico News Port. She can be reached on Twitter @eaikman1230 or at nmnewsport@gmail.com.