It's a new year and 83-year-old author Carolyn Meyer decided to pursue a comedy career. Improv is what got her here.

"I have an expiration date stamped on my butt now and how much more time do I have? Maybe three years?" Meyer said. "So, I am going to do as I damn well please and there is no one that is going to tell me I can't, and that is very freeing."

Improv is becoming more than theatre sport, and is showing up in training programs for education, businesses and human relationships (Check out these articles from Forbes or Fast Company). While improv comedy is a form of theatre that can benefit an actor's technique, improv also teaches essential life skills that go well beyond the stage.

Meyer started taking improv classes at Albuquerque's Box Performance Space in 2016 after the death of her husband, University of New Mexico Professor E.A. 'Tony' Mares.
"I am not good at playing a grieving widow," Meyer said. "Six months of it and I was done."

Improv introduced Meyer to a completely new world, and she embraced it.

"With the 'yes, and' you take what you're given and add to it," Meyer said. "I unfortunately don't like to do things if I am not good at them, which is a stupid. How do you get good? You start bad, probably, and get better."

'Yes, and,' is one of the principle guidelines in improv. It requires improvisers to accept what a another improviser has said in the scene (the yes), and then expand on that (the and).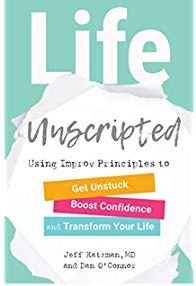 Human interaction skills are good for everyone, according to UNM Psychiatrist Dr. Jeff Katzman, M.D. He is no stranger to improv, and has studied its applications for over 30 years. According to Kazman, most people do not have the social skills to fully do their job, and improv training can correct those skills.

"When we talk to people, rather than add to and say 'yes' to it, we think about maybe what we know better or a different perspective and we obliterate their reality," Katzman said.

Katzman took his first improv class at The Second City in Los Angeles, and quickly saw that the lessons expanded beyond the stage.

"I was really never interested in going up on stage," Katzman said. "It was never about that. For me it was about the skills, it was about what I can bring to life from improv." he said.
Katzman, along with Improviser Dan O'Connor, wrote Life Unscripted: Using Improv Principles to Get Unstuck, Boost Confidence, and Transform Your Life. The book teaches its readers to collaborate with others, think on their feet, develop relationships, commit to 'yes, and,' listen, and celebrate mistakes using the skills of improv.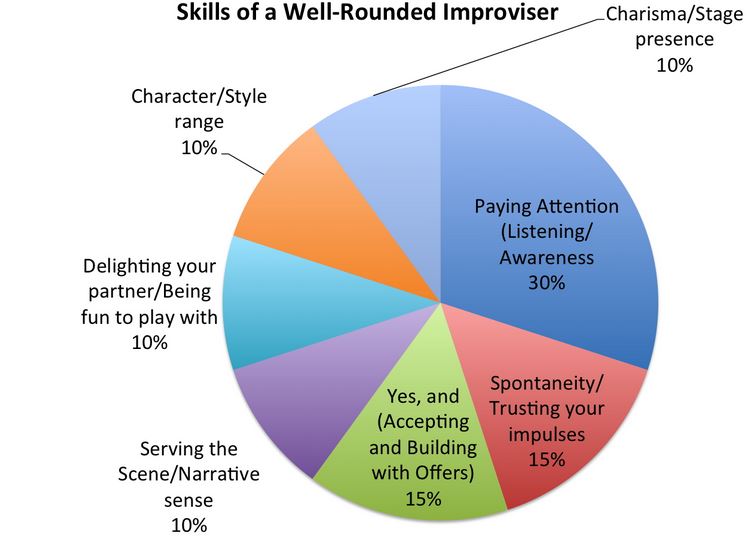 "Most of us are in relationships all day long but nobody ever teaches us how to actually be in a relationship," Katzman said. "Improv is really the one place where you get to practice being in relation to somebody."

An improv theatre is a space to learn to work with others, think on the spot, and to listen.

"First of all, you have to think on your feet– but you also have to listen," Meyer said. He said that most of us don't listen.
"People wind up talking over each other when actually the whole point of being alive really is to collaborate and build something together," Katzman said.

Actress Rachel Michaela has been studying improv at The Box Performance Space for two years, and believes that improv has a greater purpose.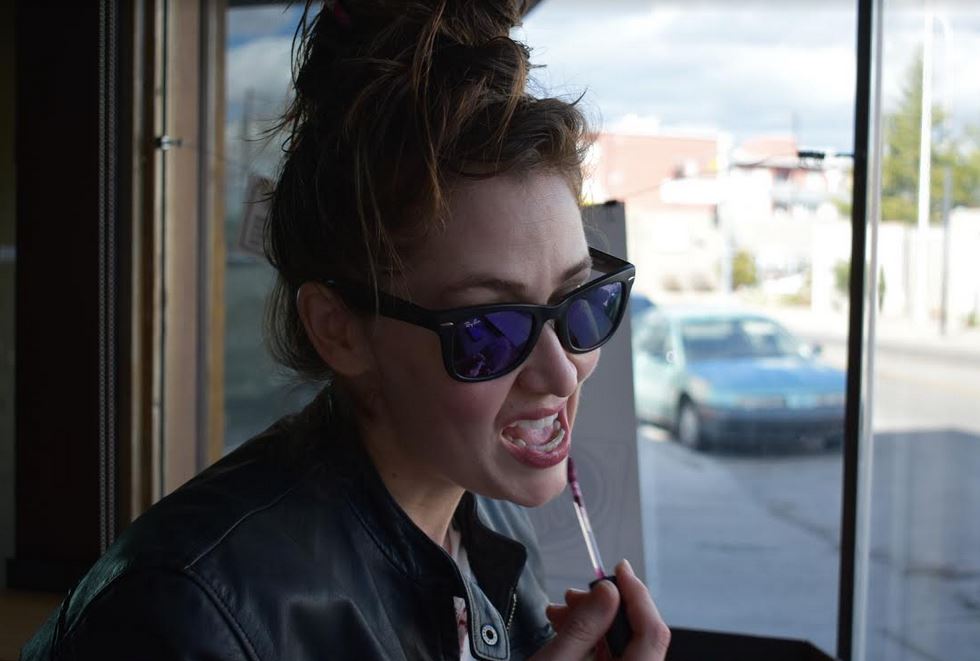 "It has probably brought me closer to God because it's taught me to pay attention to the small building blocks that make up a larger picture," Michaela said.

"Improv has really helped me to learn how to put my focus on something other than myself," Michaela said. "Improv is the skill of paying attention to the moment that you are in as you are in it."

She credits The Santa Fe School of Improv for helping her be grateful for the tiny things that make up the larger things in life.

"I would not say that I am religious but I would say that I have a good and strong relationship with God," Michaela said. "Improv framed everything differently for me."

She said that if you are ready to look at parts of yourself that you are not fond of, improv is a great place to do that because it makes it safe and fun.

"Not going to say it's like counseling or therapy because it's not, but it has very therapeutic qualities that can wipe away all the B.S.," she said.

Daniel Zuniga is a reporter for the New Mexico News Port. He can be followed on Twitter @DanTheManj12