New Mexico legislator Sen. Joseph Cervantes (D-Las Cruces) sponsored a bill decreasing marijuana penalties but the Albuquerque Police Department (APD) says the new legislation might interfere with their work.
Senate Bill 258, which the NM senate passed by a vote of 33-9  on Thursday, March 2, is Sen. Cervantes' second attempt at making legislative changes to New Mexico's criminal justice system's handling of marijuana arrests. His previous bill was similarly approved during the Senate's 2015 legislative session, but was vetoed by Gov. Susana Martinez. The bill was moved to the NM House of Representatives. Two different House committees both recommended the bill with a "Do Pass" vote. The bill is now awaiting further legal action and remains to be seen if Gov. Martinez will veto it again.
If enacted, the new bill would make possession of up to half an ounce of marijuana a penalty assessment of $50, a violation very similar to getting a speeding ticket.
Although Cervantes' original bill also proposed additional penalty decreases, the Senate's floor substitute decided to keep with the original jurisdiction for those caught with over a half-ounce of marijuana (see chart below). The penalties for the possession of synthetic cannabinoids would also remain unchanged, but the current penalties regarding drug paraphernalia would be replaced with a penalty assessment and fine of $50.

The primary function of the bill would be lessening the workload of court employees through the introduction of penalty assessments, according to the bill's fiscal impact report (FIR). Violators caught with under a half an ounce of marijuana would no longer be required to attend a court hearing (unless the charges are contested).
In the bill's FIR, Cervantes wrote that there were 2,100 possession of marijuana (one ounce or less) cases and just over 3,600 possession of drug paraphernalia cases filed in the magistrate and metropolitan courts in 2016, which were not related to any DWI, domestic violence, or felony charges.
Cervantes says the numbers show that "even a moderate reduction in these types of criminal charges would have a significant impact on the court's workload."
In a series of online Facebook and Twitter posts, Cervantes wrote that this change in legislation would allow law enforcement officials to focus on more violent offenses.
"Legislators are increasingly recognizing that the efforts of law enforcement and criminal justice need to be focused on fighting violent crime," Cervantes wrote. "(New Mexico) has had a very sharp rise in violent crime in Albuquerque, and we need to take back control of our communities."
However, APD Public Information Officer (PIO) Fred Duran says Albuquerque's police officers' jobs would actually be more difficult if SB 258 was passed.
"Law enforcement nationwide is concerned with any drug being legalized for use," Duran said. "One of these concerns would be the DWI problem that we know New Mexico already has."
According to the 2015 Albuquerque Community Report, the number of driving while intoxicated (DWI) arrests dropped from approximately 4,000 in 2011 to just over 2,200 in 2015. Duran says the number of arrests may actually continue to fall if SB 258 passes, since police officers have a harder time testing for drugs than alcohol.
"We feel (DWI rates) would increase, especially as we do not have a way to test for impairment as we do alcohol," Duran said. "We are afraid this would take more innocent lives and lead to less DWI prosecutions, due to the lack of evidence of impairment."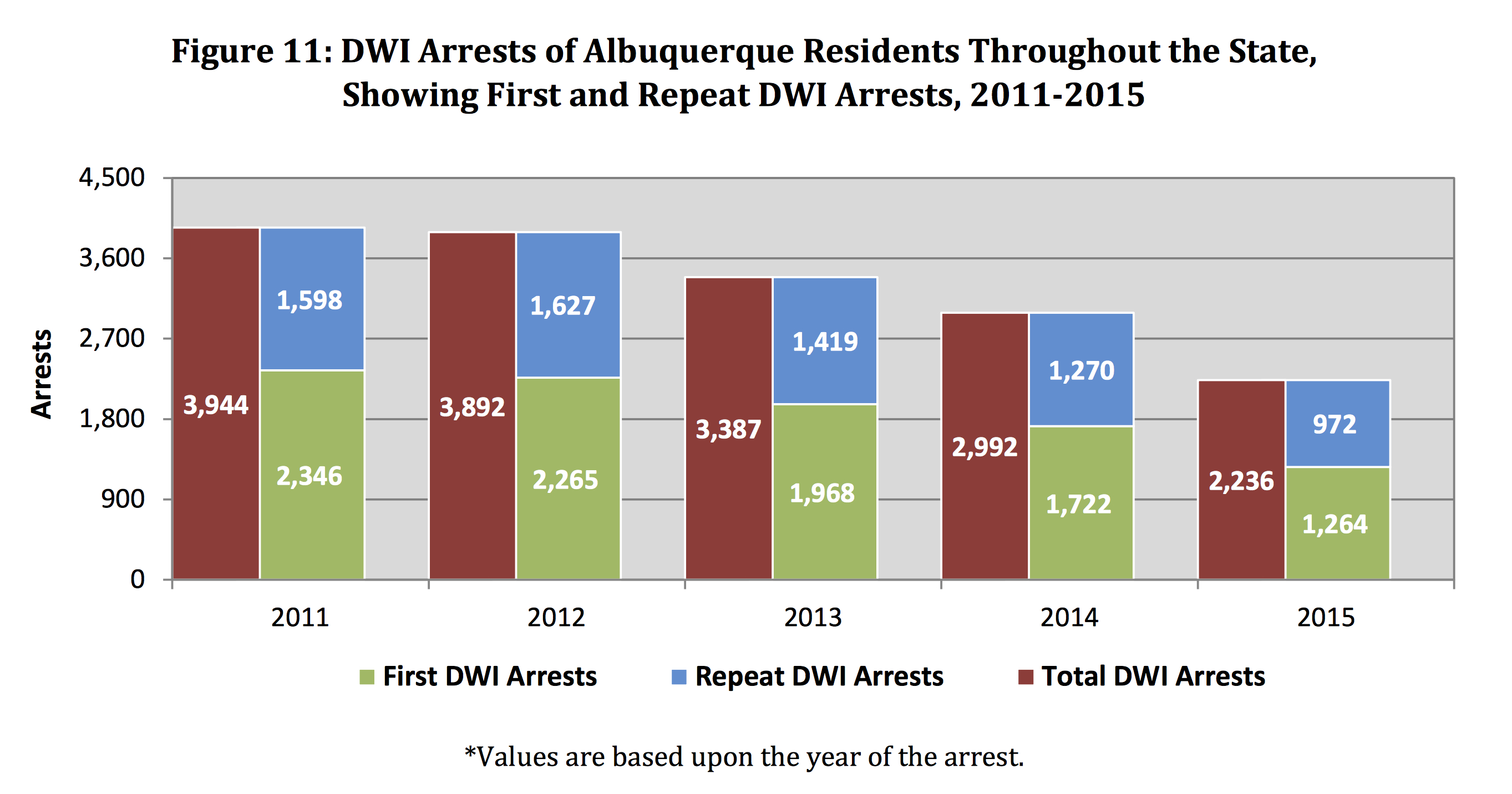 Duran says there are tools currently being developed which help police officers test for drugs like marijuana. However, these new, unproven tools are very expensive, and in some cases would be impossible for departments to pay for to equip an entire agency, Duran said.
Liam Sotelo, UNM student and medical marijuana cardholder, says that though the bill will decrease penalties, it will not necessarily lead to a spike in the use of marijuana.
"I think, especially now, people who are purchasing this will continue to purchase it…This is not necessarily making it more accessible," Sotelo said. "Some people argue that drug use is going to escalate with (lower penalties). That may be the case—but Colorado gave us numbers, an indication that drug use rose marginally after it was legalized, and then it sort of tapered off. So the people who were doing it continued to do it."
As a frequent marijuana user, Sotelo sees how the bill could resonate positively in the cannabis community. He says the current legislation for people caught with under an ounce of marijuana is much too harsh.
"I think that this is going to make things better. I mean, I don't think anyone wants a misdemeanor," Sotelo said. "Could you imagine, you get caught with a joint and you have to go sit in front of a court for it?"
However, Sotelo says he does have some reservations about the bill. He is concerned police officers' attitudes could lax if the bill is passed, and says that officers may be less apt to engage marijuana users if they believe their time could be better spent elsewhere.
Officer Duran says this is not the case, and that the jobs of APD officers will remain unchanged.
Lt. Timothy Stump from the UNM Police Department says it is too early to see how the UNM community could be affected by this bill. However, he says his department would have to adapt to the new law if the bill were passed, and that UNM PD officers' roles would be taken just as seriously.
"Basically any policy, any law, that changes, we still have to uphold the law," Lt. Stump said. "It doesn't matter what it is, it doesn't matter what our opinions are, one way or another we follow the cover of law."
Lt. Stump says he thinks a lot of students are already smoking marijuana on campus, and find ways to do it without getting caught. Like Sotelo, Stump says he does not think the bill would change much, and that people who use marijuana now will continue to use it, regardless of the law.
Follow Brenna on Twitter