Tess Coats always wanted to open her own retail store, but the tough economy for small boutiques in Albuquerque gave her pause.
"I was seeing successful businesses, primarily local boutiques closing down. I guess I didn't really have the why or the reason that I thought I could succeed at it," Coats said.
Still, her dream persisted, and eventually Coats came up with a way to avoid the failures of other store owners. About a year ago, she decided to start a mobile boutique out of a vintage Airstream van. She calls it Spectacle Caravan.
Starting up a 'mobile mercantile'
Spectacle Caravan's concept is not a new one, but it is the first of its kind in Albuquerque. Coats saw that mobile mercantiles were popular and successful in other larger cities, and decided she wanted to open one herself.
Once she had her idea, Coats, a 30-year-old graduate of the Fashion Institute of Design & Merchandising in Los Angeles, attended  Women's Startup Weekend last year at Fat Pipe ABQ. She pitched her business to judges at the event for the opportunity to develop a team that would help her grow her business. She was selected as a finalist and met many incredible women who helped her get started.
The first step was purchasing the "store" itself. Coats needed $5,000 to acquire a 29-foot Airstream van. With the help of a friend from Women's Startup weekend, she started a crowdfunding campaign on Indiegogo, a site which helps fund entrepreneurial projects. Much to her surprise, she raised the money she needed in just one month.
"Your life, styled"
Coats wants Spectacle Caravan to be a space where customers can shop and hang out. She said that it will be a reimagined shopping experience; from the way it looks to the products offered. The store, located inside the Airstream van, will sell high-quality lifestyle pieces, and the tagline is,"Your life, styled."
The van is being completely remodeled, and Coats says it will be totally transformed when it's done. The remodel will be finished May 1, and Coats will make her big debut at the Rail Yards Market.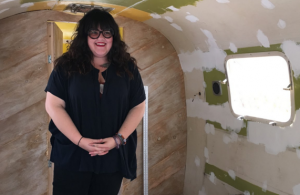 Prepping for takeoff
Coats has appeared at several pop up events recently to examine how customers would respond to what she is selling. She said that she has been quite successful and has seen a positive response from consumers.
All of the inventory is locally-made and hand-picked by Coats. She says she plans to sell only American-made products from her vintage van.
In between marketing for her Spectacle Caravan and being a mother to her 4-year-old, Coats continues to raise funds for the Airstream. She said that whenever she comes across extra money, it usually goes toward the renovating the vintage van. She is also trying to purchase a truck to pull the van, in place of her current, less cost-effective, U-Haul rental.
This isn't Coats' only job; she also works as a merchandiser for multiple companies around the city. In this position, she helps develop displays and decides how merchandise will look on the shelves. In the future, she hopes to be able to make Spectacle Caravan her main priority and a full-time job.
Coats is currently spreading the word about her startup company and says marketing has been a key factor in her success. Her favorite way to reach customers is the old-fashioned method of getting out there and meeting people. She can usually be found around the Innovation District in Downtown Albuquerque, and she especially likes attending women's events in the city.
"It's actually gotten to the point where you have to kind of pick and choose what you'll show up to. Which is great because it didn't used to be like that here," Coats said, "Things are very available now. You just have to show up and make it happen."
Coats said her biggest roadblocks so far have been getting funding for the project and holding people to commitments.
"Contracts are important. Whether it's your friend or someone's going to do work for you, get a contract," she said.
Coats said that starting her own business and learning about the importance of contracts has taught her how to be professional. She said it's all about, "really making sure that you act like a CEO at all times."
What lies ahead
When it comes to customer service, Coats is an expert. She's been working in retail for years.
"[Good customer service is] going over and beyond and providing them with the experience they may not know they can have," she says.
Coats said that the customers are the ones who are making her dream happen.
Coats' goal after completing the renovation of the Airstream, is to make this a full-time job for herself by building on the business. She plans to do this by building partnerships and creating a web presence within the next year. She hopes to extend her reach by travelling to other big cities, both New Mexico and outside the state.
Name: Tess Coats
Age:30
Title: Founder and CEO of Spectacle Caravan
Background: Attended the Fashion Institute of Design and Merchandising in Los Angeles and has held several positions in retail
What do you think is the most interesting part of the innovation economy in ABQ?
"We are at the ground floor of something that is just about to take off. We literally have the opportunity to build it from the ground up. Unlike bigger cities the market might already be saturated… There's so much opportunity."
If you weren't doing this job what would you be doing?
"I would continue to do merchandising at Anthropologie, The Grove Café, both of the Marble Breweries, and Betty's Bath and Day Spa."