Locker #505 isn't your average clothing bank.
Clothes, toys, books and shoes are stuffed into every nook and cranny of this small office space. Shirts are piled up to the ceiling on shelves that are hand-numbered with sizes, and racks of pants, dresses, and jackets separate girls clothing from boys. On one side of the room are three handmade dressing rooms, where children go to try on what they've picked out.
This space is Kim Kerschen's dream.
Kerschen opened the non-profit organization Locker #505 by herself in September of 2014. It is a place where schoolchildren can go if they are in need of clothes, shoes, toys, and general school supplies.
Kerschen was the director of the Bernalillo County Chapter PTA Clothing Bank during the last ten years it existed, before it was turned over to APS in the spring of 2013. Locker #505 was ultimately inspired by the business model behind the PTA Clothing Bank, which provided a judgement-free place for students to shop for free clothes they would feel comfortable wearing to school.
"I liked what I was doing so much at the PTA Clothing Bank that I stayed away for only a year and I couldn't stand it, so I opened Locker #505," she said.
Growing need
Every semester, Locker #505 opens its doors to hundreds of children from kindergarten through 12th grade, who attend schools throughout Bernalillo County. Last school year they helped 422 kids.
Kerschen says that the number of students who visit grows every semester, as more and more APS educators learn about Locker #505.
"This year we've seen over a thousand kids, and our year's not over," she said. "We still have some of our busiest times coming up."
In order to choose and try on clothing, the student must bring in a Locker #505 referral form that has been filled out by a school principal, teacher, counselor or nurse who is familiar with the student. After doing so, the student is free to pick out whatever they'd like to try on and take home, with the help of Locker #505 staff and volunteers.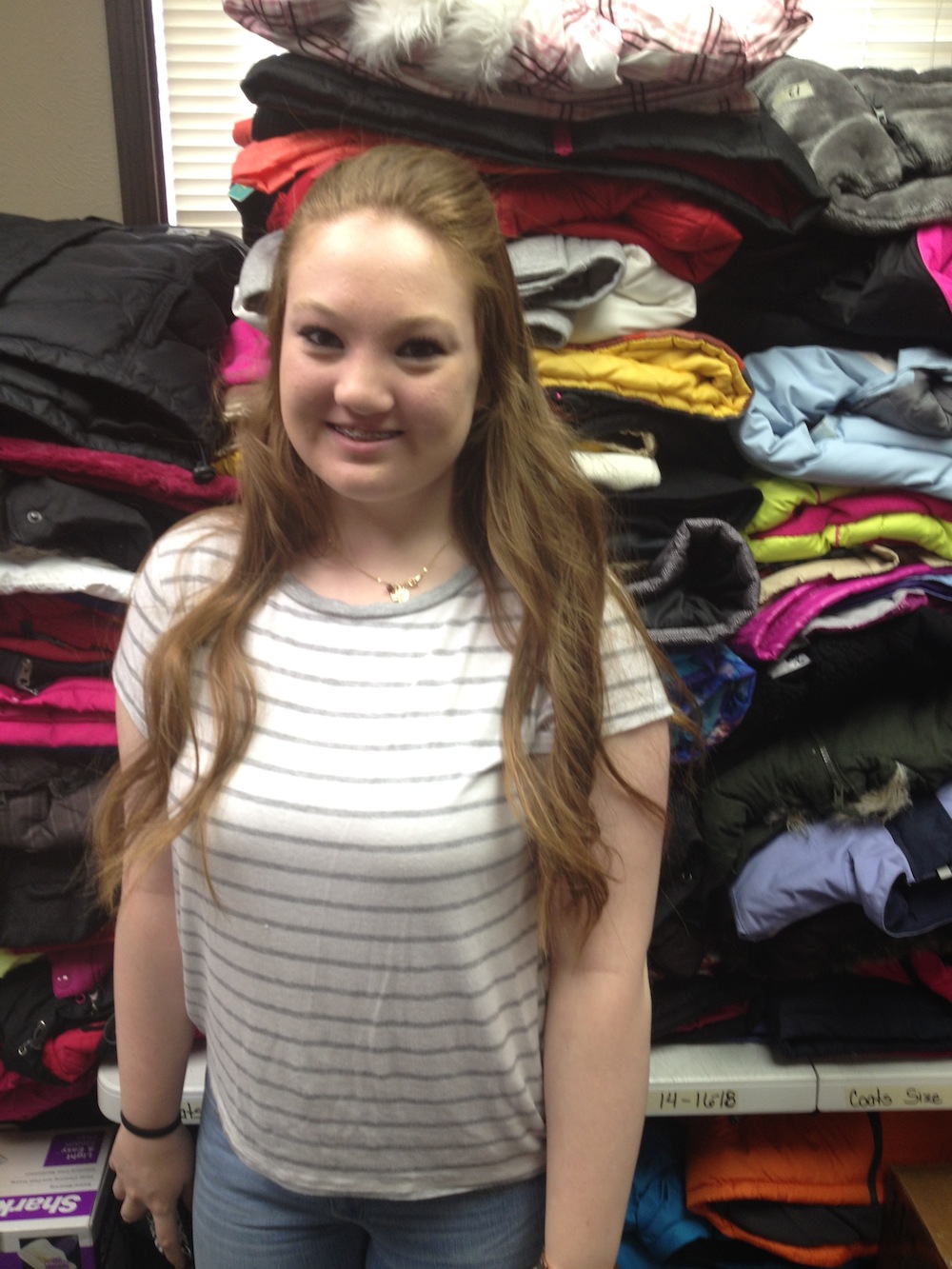 Students are able to take home at least two outfits per visit, along with brand-new socks and underwear. The students may also receive a jacket and a new pair of shoes, depending on availability and need.
Although Locker #505 typically limits students to two visits each academic year (one in the spring and one in the fall), Kerschen says there are exceptions to that rule, based on every child's situation.
"Believe me, I've heard things that I couldn't have imagined in my wildest nightmares about the kids," Kerschen said. "In that case we look at [each child] individually. We've had children walk in in their pajamas, and that's all they have. So obviously that kiddo is going to get a little bit more."
Her clothing collection may look large, but Kerschen said the clothing often goes quickly, especially during back-to-school week.
"A lot of people say 'You have plenty of clothes,'" Kerschen said. "But really, if you look, if you saw five or six kids in this size, everything would be gone pretty quickly."
The majority of clothing Locker #505 gives away is donated to them, but sometimes particular sizes are rarely seen. If she runs low on a certain type of clothing or size of shoes, Kerschen goes bargain shopping for items that need to be restocked using donated money. This way, there are multiple options for every child to choose from.
"Some people think that something's better than nothing, and that's not always true for our kids," Kerschen said. "Our kids really want to look like everybody else. If we send them out looking like a 50-year-old woman or a 30-year-old guy, that totally defeats the purpose. Then they'd be sticking out in a whole different way, and that's not our goal. It's for them to feel comfortable in what they're wearing…and to feel in style."
Keeping kids comfortable
Along with volunteers who come sort and fold clothes, Kerschen has two part-time employees who help each student choose sizes that fit them. They are asked to help maintain a welcoming environment, and make sure every student leaves Locker #505 feeling happy and excited about their new outfits.
"However the child wants to dress, that's how we want them to dress. We want them to feel comfortable with their style," Kerschen said.
When shopping at Locker #505, students are given a brown paper bag to store their clothes in while they shop.
"[This way] they can either show everybody what they've got, or they can choose to keep to themselves," Kerschen said.
Her employees also make sure that shoppers receive the proper seasonal wear, such as sandals in the summer and thick coats in the winter, if available.
Parents are asked to wait in their cars while their children are inside, and all tags are removed from each piece of clothing after the student is done shopping. This way parents cannot return what their students have picked out, in order to buy something for themselves, which Kerschen says has happened in the past.
APS social worker Jessie Macfarland said she supports the way Kerschen handles what could be a tough situation.
"When I take students to Locker 505, I know they will leave with a smile on their faces and no shame in their hearts. The last high school student that I took to Locker 505 told me, in response to my comment that he looked like $100, that he felt "like a million dollars." And that's what they do there…help these children feel like a million bucks," Macfarland said.
In the near future, Kerschen hopes to expand Locker #505 to make it resemble a traditional retail store, with more room for even more clothing. However, she says this is difficult because it would have to be located near a bus stop, and would have to be in her price range.
She is applying to grants in order to come up with the money to expand. With help from Albuquerque Involved, an organization that recognizes and awards influential non-profits within the Albuquerque community, she is getting closer to reaching that goal.
Getting grants to give more help
Last month, Locker #505 won a $1,955 grant from Albuquerque Involved.
Kerschen said the grant not only allowed her to spread the word about Locker #505 and raise awareness about poverty within New Mexico, but the money will allow her to purchase more shoes for the children. Shoes are one of the most expensive and least donated items she gives away. She also said she would like to save up for the move to a new location.
"I could tell you stories about kids who have come in here wearing things that are too big, too small, uncomfortable, with holes, shivering because they are too cold and they don't have a coat, and those types of things," Kerschen said. "So we're letting those kids know that somebody does care about them…and that we want to be there to help them."
Margaret Matteucci, a school counselor at Desert Ridge Middle School, said Kerschen's enthusiasm for helping students is key to the program.
"Locker #505 is such a blessing to our students. Students are treated with the utmost care and respect by her hand-picked staff at Locker #505; they walk out a little taller, a little prouder, and not a bit embarrassed. This is due to Kerschen's passion to help those who are less fortunate…with not a shred of judgment."
Name:
Kim Kerschen
Age:
55
Title:
Executive Director and Founder of Locker #505
Background:
Kerschen received her master's degree in special education from UNM, and then worked as a speech pathologist for APS for 15 years. She quickly became involved with the PTA after her children started school. After several years in PTA, Kerschen became the president of the board that governed the Bernalillo County Council of PTAs, and later became the director for more than 10 years. She later resigned, and the BCCPTA Clothing Bank dissolved shortly after, giving her the idea to open Locker #505 in its place.
What do you think is the most interesting part of the innovation economy in ABQ?
"Albuquerque has many opportunities for innovation with many businesses such as Intel and Sandia National Laboratories both encouraging and providing opportunities for individuals to make their dreams come true.  Also with UNM and CNM promoting innovative economics  in various programs it is encouraging students to explore more innovative paths.  Locker # 505 plays a small part in the innovative economics with assisting students with continuing in school with a strong self-esteem by having appropriate clothing that fits and is in good repair.  Having a strong self-esteem provides students with the will to do succeed in school and later to be innovative in their own ways."
If you weren't doing this job what would you be doing?
She says she would probably continue to work at APS as a speech therapist.[/vc_column_text][vc_column_text]
"Believe me, I've heard things that I couldn't have imagined in my wildest nightmares about the kids," Kerschen said.
"In that case we look at [each child] individually. We've had children walk in in their pajamas, and that's all they have. So obviously that kiddo is going to get a little bit more."
— Kim Kerschen, director of Locker #505