By: Elizabeth Secor
As the second Sunday of May fast approaches, so does Mother's Day. Anyone at a loss on what to give their mother on this special day needs to look no further than these recipes. 
One comes from Aldo Jurado's mother, Mishelle Jurado, whose shared the recipe for her favorite chocolate cake.
"You guys celebrate me twice. And so that's cool," she said. Her family also celebrates Mother's Day on May 10, when it's celebrated in Mexico. "Dad gets jealous because he only gets one day."
Is that not what Mother's Day is for? To celebrate and give thanks to those in our lives we view as mothers who have helped us throughout life? Before this, I sat down and talked to my mother, Lydia Secor
"You don't realize how much your mother sacrificed for you until you become a mother," Secor said. "And so when you all are sad, I'm sad. When all of you are happy, I'm very happy."
Mom said she has two favorite treats she likes on Mother's Day: a lemon bundt cake and a raspberry bundt cake. So I combined them into cake balls (my favorite dessert). When talking with her, she discussed her favorite Mother's Day memories and how special it is for her to be a mom.
On a personal note, I grew up with three sisters and my mom working full time as a nurse practitioner. She even went back to university when I was in middle school to get her doctorate.
She's always been one of the most hardworking women I know, and that is why I am quite excited to be home in time for Mother's Day this year.
 "I've always had the best of both worlds," Secor said. "Even though I worked, I still got to be the room mom going on field trips and all of that. And I like to think… I have a uterus and a brain."
Join us in the kitchen
Listen to my friend Aldo Jurado and me as we bake and discuss the mothers that inspired these recipes.
White Chocolate Lemon Raspberry Cake Balls
Makes about 18-20 cake balls (depending on size, I tend to go bigger, about golf ball size).
Every year we buy my mom a lemon or a raspberry cheesecake from Nothing Bundt Cakes. One of my favorite desserts to bake is cake balls, so this year, even though I might not be home in time for Mother's Day, I decided to combine her favorite cakes into a delectable cake ball.
For the coating I use the Great Value Make-Your-Own Almond Bark Vanilla Flavored Candy Coating from Wal-Mart but any white chocolate will do.
1 cup butter, softened
2 1/4 cups sugar
3 large eggs
1 cup full-fat sour cream
1/4 cup vanilla pudding mix
2 tbsp. lemon zest (from 2 lemons)
2 tbsp. lemon juice
2 1/4 cups all-purpose flour
1 tsp. baking powder
1 tsp. salt
1/2 tub vanilla frosting (store-bought)
1 package vanilla candy coating
Instructions
Preheat oven to 350°F
In a mixer, using the beater attachment, cream together the butter and sugar until it is smooth. It will take 5 to 6 minutes. 
With the mixer still on, add in eggs one at a time until mixed in, then remove the bowl from the mixer. Set aside.
Zest a lemon using a zester or fine cheese grater. Then juice it.
Use a sturdy spatula to add the sour cream, dry pudding mix, lemon zest and lemon juice to the mixing bowl.
Fold in flour, baking powder and salt. 
Pour into two 9-inch baking pans.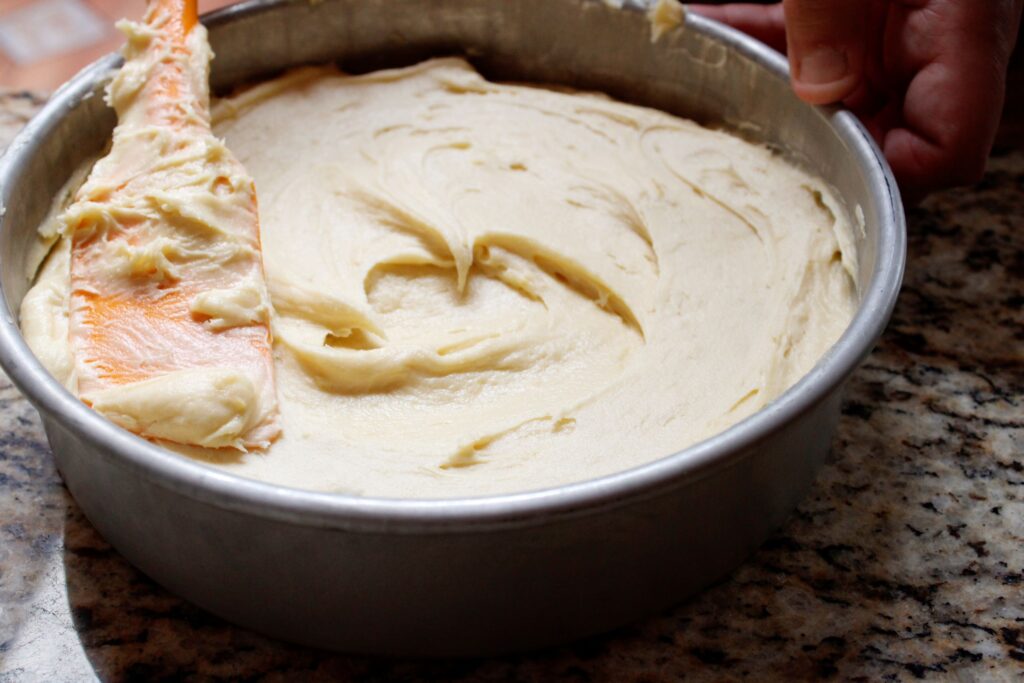 9. Bake at 350°F for 45 minutes.
9. Once done baking, take out and let the cake cool completely.
10. Once the cake is completely cooled, crush the cake into a fine crumble. In a large bowl, mix together the cake crumbles and vanilla frosting.
11. Use your hands to roll the mixture into about 18-20 balls. Put them on a cookie sheet and freeze for 10 minutes.
12. Put the candy coating in a microwave-safe bowl and cook on low for 30 seconds at a time, stirring between each. Use a skewer or fork to dip the cake balls into the coating. Rest the balls on parchment paper until the coating hardens.
13. Enjoy!
Chocolate Cake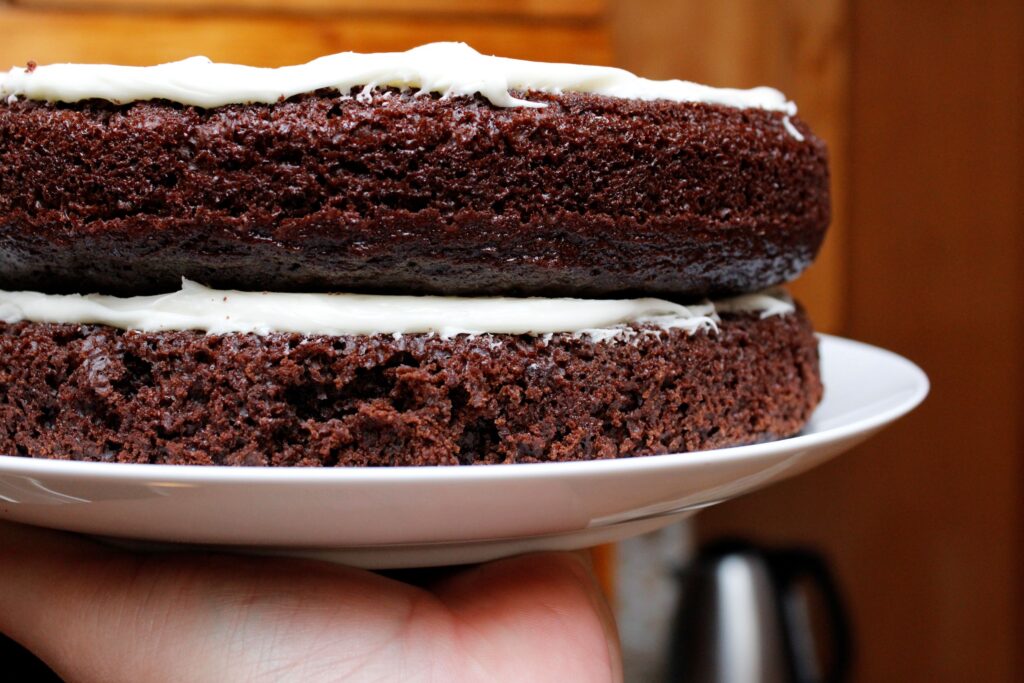 Chocolate cake is a fairly simple dessert which is what makes it a general favorite. However, a chocolate cake is a bit deceiving in its simplicity to bake since, while it is generally easier, the cocoa addition had me second-guessing if I put in too much or, even worse, too little. In the end, the cake came out with the perfect amount of chocolate and was dolloped with a nice layer of cream cheese frosting.
2 cups sugar
1 3/4 cups all-purpose flour
3/4 cup cocoa powder
1 1/2 tsp. baking powder
2 tsp. baking soda
1/2 tsp. sea salt
2 eggs
1 cup milk
1/2 cup vegetable oil
1 tsp. pure vanilla extract
1 cup boiling water
Instructions
Preheat oven to 350°F.
Use scissors to cut two 9-inch circles of parchment paper. Place one in the bottom of a 9-inch cake pan and repeat with the second pan. This will help with removal later. 
Add the sugar, flour, cocoa, baking powder, baking soda and salt to a mixing bowl or the bowl of a standing mixer. Beat on low speed until combined.
Add the eggs, milk, oil and vanilla and mix on low.
Carefully pour the boiling water into the bowl and mix until combined. 
Divide the batter evenly between the two 9-inch baking pans. 
Bake at 350°F for 30 minutes.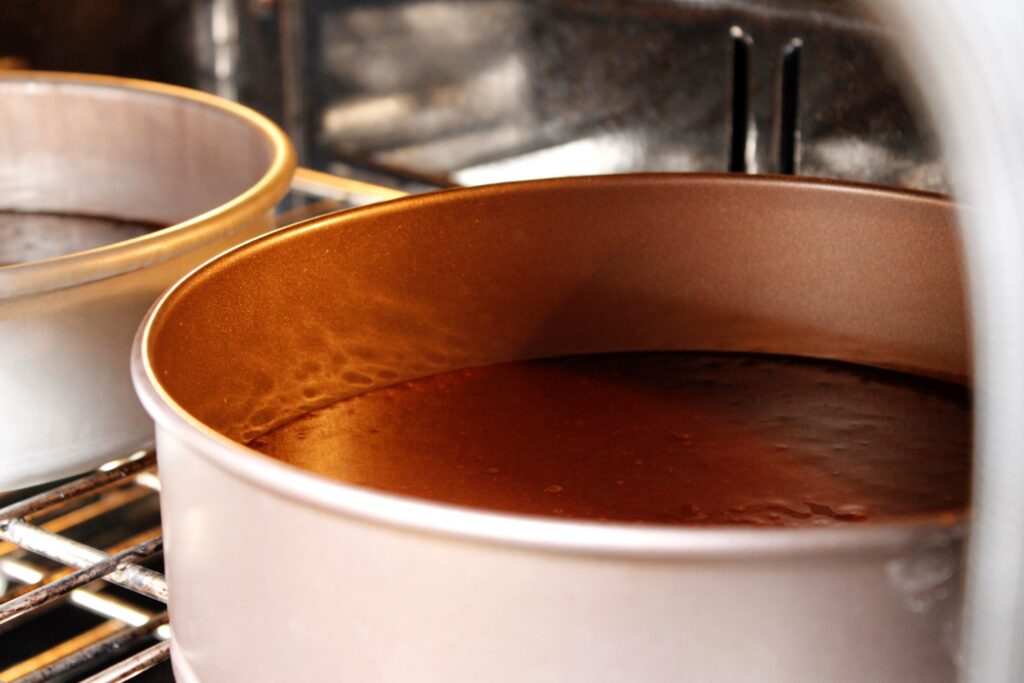 8. When done, let cool completely, then frost.