A Las Cruces police officer faces a manslaughter charge for killing an unarmed Black man, allegedly over a stolen beer.
by Joshua Bowling/ Searchlight New Mexico
A Las Cruces police officer will face criminal charges for shooting and killing 36-year-old Presley Eze, an unarmed Black man, at a gas station last year, New Mexico Attorney General Raúl Torrez announced Tuesday. The charges mark the first time in nearly a decade that a police officer in New Mexico will stand trial for fatally shooting someone.
Las Cruces Police Officer Brad Lunsford will be charged with voluntary manslaughter, Torrez announced at a morning press conference at the Las Cruces Convention Center, flanked by Eze's family, the family's attorneys and the president of the Doña Ana County NAACP. The charge includes a "firearm enhancement" that would increase the penalty from six to 11 years if Lunsford is convicted.
The AG's Office said that a Las Cruces gas station clerk last August called 911 to report a man stealing beer from the convenience store. Lunsford and Officer Keegan Arbogast responded to the call and, when they arrived, ordered Eze to step out of his car. A struggle ensued and the officers pinned Eze to the ground, authorities say, before Lunsford shot him once in the back of the head. Torrez said his office's review of evidence, including body-camera footage and police reports, clearly showed the deadly force was "unjustifiable."
"This was somebody's son, this is somebody's brother, this is somebody's father. He deserves dignity," Torrez said. The killing has people "rightly concerned about whether or not justice is equal in this country."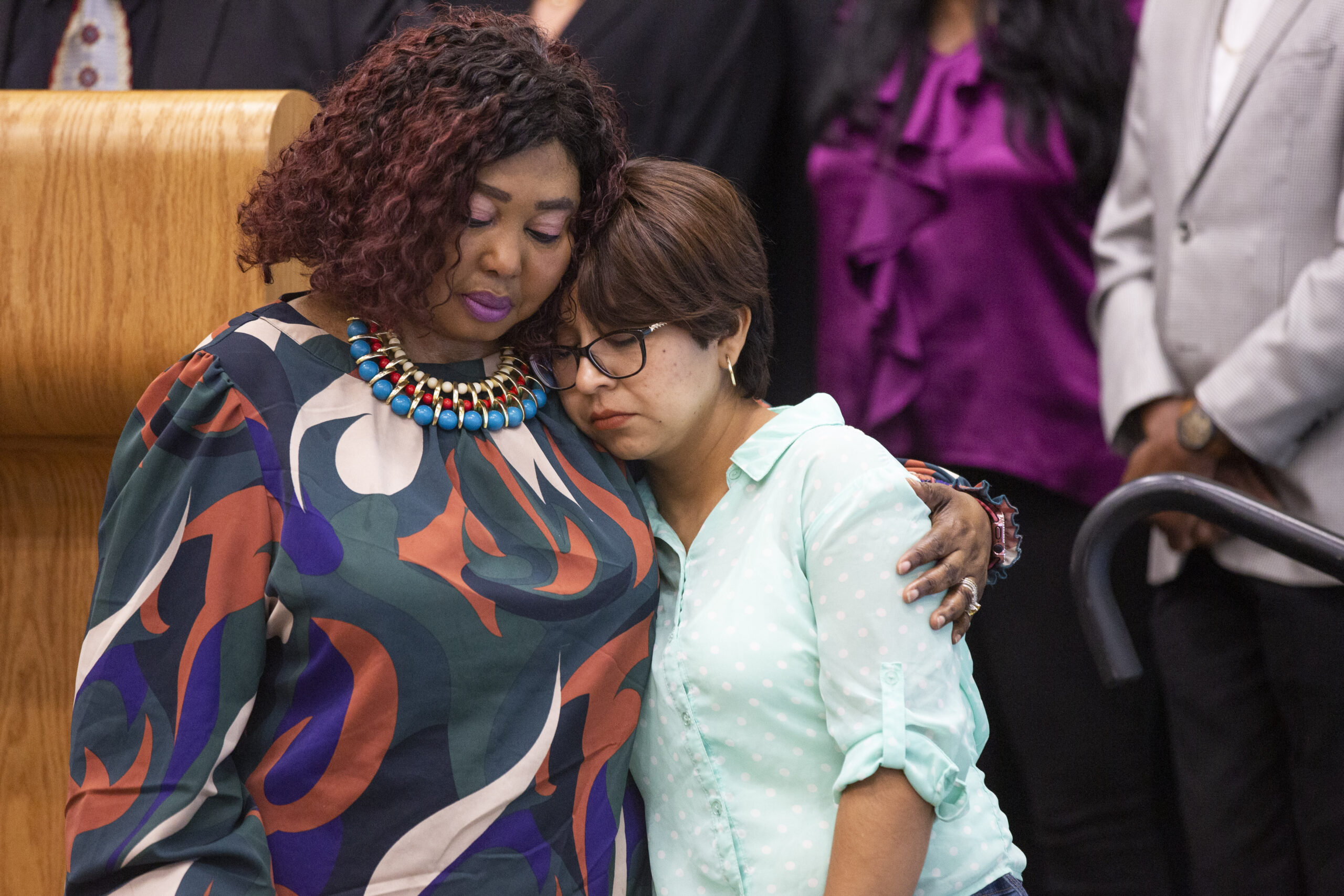 Lunsford peacefully surrendered to agents with the New Mexico Attorney General's Office Tuesday morning. Lunsford was released after being booked and is not currently held in jail, Torrez said.
Torrez's announcement came just weeks after Searchlight New Mexico published an investigation revealing that virtually no police shootings in the state are ever prosecuted, despite the disproportionate number of such incidents statewide.
From 2013 to 2022, only one of the 357 police shootings in the state has led to criminal charges filed against law enforcement officers — a fraction of one percent. In that one case, murder charges were brought against two Albuquerque Police officers who shot and killed James Boyd in the Sandia foothills in 2014. The case ended in a mistrial.
Eze's family filed a civil lawsuit against Las Cruces in May, claiming the city intentionally "hid" information about the incident that was contained in public records, including police documents and video recordings. The lawsuit alleges that the other responding officer, Arbogast, was the one who shot and killed Eze. Torrez clarified Tuesday that Lunsford fired the fatal shot.
Joe Kennedy, a civil rights attorney representing Eze's family, said the city's messy record-keeping presented "a real missed opportunity" to give the family and the public an honest look at how a routine 911 call escalated into a tragic police killing.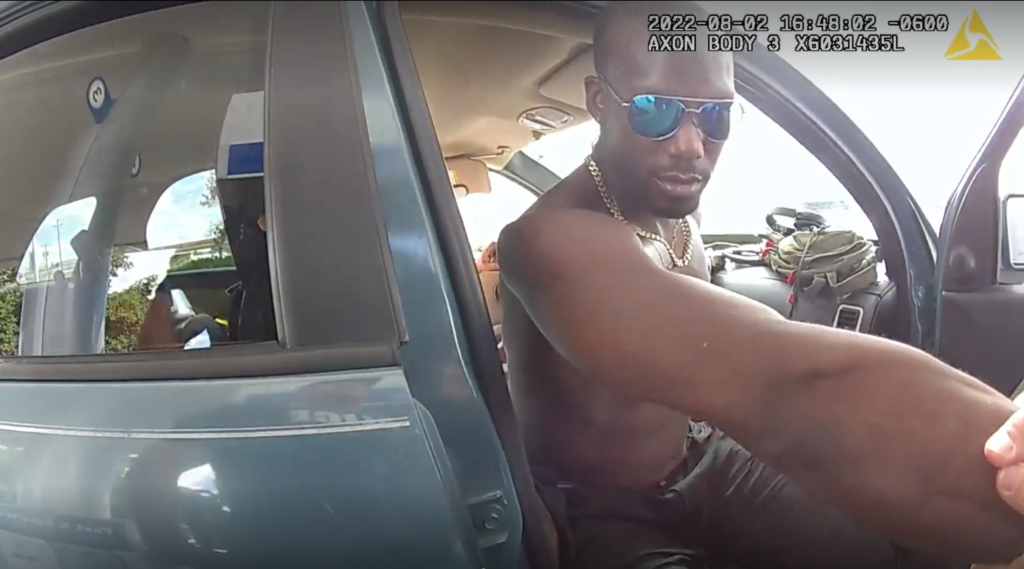 A gas station police shooting
It was about 4:45 p.m. on Aug. 2, 2022, when a clerk at the Chevron gas station called the police, saying Eze was stealing beer.
When police arrived, they told Eze, a passenger in a parked car, to step out of the vehicle. Eze, who was shirtless and unarmed, asked the officers why they needed him out of the vehicle, according to the AG's office. In response, officers forcibly pulled him out of the car, the family's lawsuit says.
"Suddenly and without warning," the suit asserts, "police lifted Eze from his feet into the air and body slammed Eze onto the asphalt pavement."
Eze began to resist. He was pinned to the ground, on top of one of the officers, and put his hand on the officer's Taser, authorities say. Lunsford then grabbed his handgun and shot Eze once in the back of the head, a killing the family refers to as an "execution."
"You shoot somebody in the head, you want him dead," Isaac Eze, Presley's father, said at the press conference.
After the shooting, police left Eze's body in the parking lot "to decompose in the hot summer sun" for seven hours, the family asserts.
Bobbie Green, president of the Doña Ana County NAACP, said the shooting was a painful reminder of the state of policing in the United States.
"We cannot have police shoot an unarmed man in the back of the head over beer," she said.
In New Mexico, police rarely face prosecution
Police in New Mexico are among the deadliest in the nation. Last year, only New York, Los Angeles and Houston police shot and killed more people than the Albuquerque Police Department, Searchlight's investigation found.
When police in New Mexico shoot someone, police investigate. The probes are carried out by either the New Mexico State Police or a Multi-Agency Task Force composed of several local law enforcement agencies. Critics have likened that approach to letting the fox guard the henhouse.
In the interest of fairness, Torrez has called on the state legislature to fund a permanent team of investigators and prosecutors to probe police shootings, rather than continue to rely on the findings of other police officers.
He used Tuesday's press conference to stress the importance of "truly, truly, truly independent" investigators and prosecutors while acknowledging the inherent difficulties of prosecuting a police officer. District attorneys and the special prosecutors they hire to review deadly law enforcement shootings often find that they justifiably occurred in the line of duty. That's because state law says deadly force is justified if the officer "has probable cause to believe he or another is threatened with serious harm or deadly force" while performing his or her job.
"It's always a difficult thing" to charge officers after they've fatally shot someone, Torrez acknowledged, "but it's necessary."
Both Lunsford and Arbogast have been involved in other police shootings, according to a review of Las Cruces Police Department records.
In 2014, Lunsford shot at Davalous Brown, a Black man who was fleeing from police, a police report shows. Brown later received a nearly 10-year sentence after being convicted of battery on a peace officer, battery on a household member and false imprisonment.
In 2017, Lunsford also shot a pit bull that he said was attacking him, according to police reports. The dog was later "euthanized due to the injuries," the reports say.
And in 2019, Arbogast was cleared of wrongdoing in a fatal police shooting. In September 2018, Arbogast and three other officers shot Juan Angel Pinedo to death on the Las Cruces High School campus. Pinedo was fleeing on foot from officers and reached for a handgun in the moments before they fired. The shooting was justified, the 3rd Judicial District Attorney found.
---
Joshua Bowling Searchlight's criminal justice reporter, spent nearly six years covering local government, the environment and other issues at the Arizona Republic. His accountability reporting exposed unsustainable growth, water scarcity, costly forest management and injustice in a historically Black community that was overrun by industrialization. Raised in the Southwest, he graduated from Arizona State University's Walter Cronkite School of Journalism and Mass Communication.
Searchlight New Mexico is a nonpartisan, nonprofit news organization dedicated to investigative reporting in New Mexico.