By Shane Farias / NM News Port
Tourism in Santa Fe hit an all-time low over the last 10 months as a result of coronavirus restrictions, which caused the normally substantial number of visitors to drop significantly, affecting local businesses, events and overall revenue for the city. 
The first positive COVID-19 case was reported in March of last year by Gov. Michelle Lujan Grisham and the New Mexico Department of Health. As of early February this year, the number of cases in NM has risen to more than 175,000, resulting in some 3310 deaths. 
Since the state's first "stay-at-home" order in March 2020, the overall recovery effort for many has been one comprised of several ups and downs as well as spikes in virus warnings that have carried on into 2021.
While the Covid cases have begun to decline as of late, the quest for normalcy still looms large for the capital of New Mexico.  
Randy Randall, the executive director of the Santa Fe tourism department, remains pessimistic for 2021, expecting visitors and revenues similar to that of 2020. 
"I don't see much improvement," Randall said. "I think we'll be just as bad. We'll start to see a little upkick in May and June, but we rarely do think that we'll start to see some improvements in the summertime." 
Randall remains optimistic for the following years as he predicts normal business and regular event attendance by no later than 2023.
In 2019, the city saw more than 2.1 million unique visitors from March to November. However the number was nearly cut in half during the same time frame in 2020.  Hotel occupancy and revenue took a significant hit from 2019 to 2020 as well, according to santafedata.org.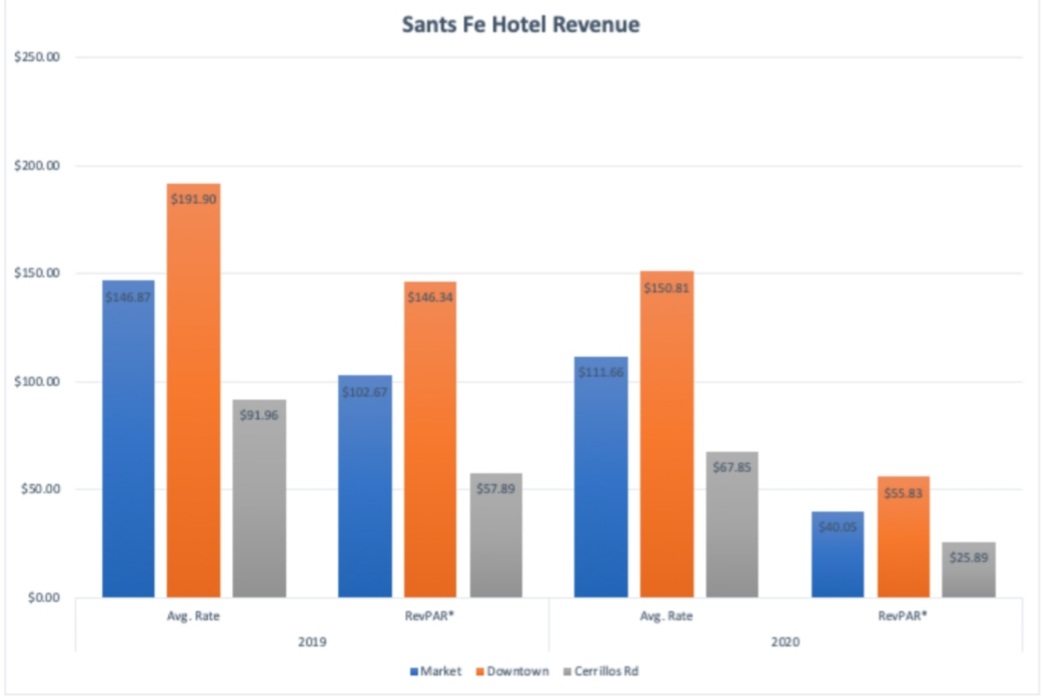 Due to the tourism decline, several acclaimed eateries around the downtown plaza have opted to either shut down completely or wait out the pandemic, causing other restaurants in the plaza like the popular Thunderbird Bar & Grill to reap the benefits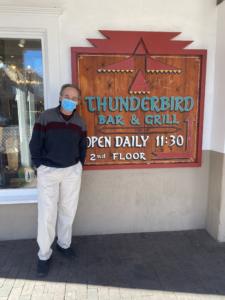 "The supply around us (like) San Francisco Bar & Grill have shut down. Plaza Cafe shut down in the fall. It's a very unfortunate thing, where (some) people's misfortune becomes (an) other people's fortune," general manager Rick Galligan said. "If those restaurants were still open, we'd all be splitting the same pie (but) there's less people taking slices (now) because they've closed their restaurants, leaving more of the pie for us to capture."
Galligan reports fluctuating patron numbers since March of last year; however, business has still been profitable even when limited to just 25% outdoor-only capacity. In fact, last month Thunderbird saw an increase in visitors compared to the pre-Covid month of Jan. 2020. 
"Our location helps us, and our upstairs patio truly is the best heated venue in Santa Fe," Galligan said. "We have radiant heat upstairs on that patio and we can adjust what we open and close with our (encompassing) flaps."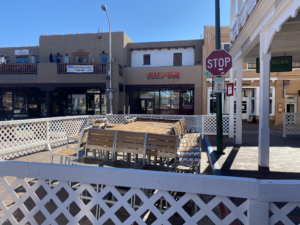 Since the state requires patios to be primarily open to outside air, Thunderbird has an upper hand because of its particular heating system and patio design, which allows the place to operate with a 75% open air patio and accommodate its 40 total seats.
In addition to the upstairs patio, Thunderbird operates a street-side dining downstairs on weekends, which also increases visitors and revenue for the beginning of the year. Meanwhile, the restaurant finished last year at 50% occupancy, despite being closed for the entirety of April and May and succumbing to limited seating the other 10 months.
"When you go from 154 seats to 40 seats and all your events — Indian Market, Spanish Market, Fiesta, the opera — every tourism-demand generator goes away, to even get to 60% our prior year is somewhat spectacular," Galligan said.
On Dec. 2, the Gov. Grisham issued a county-by-county measurement system referred to as the "Red-to-Green" framework in order to determine the severity of virus risks throughout the state and Santa Fe County is currently in the red.
"I'm looking at a 25-30% improvement," Randall said, estimating his tourism prospects this year. "But then next year we'll see another 50% come back and finally, in 2023, we'll start to get back to the pre-Covid 2019 levels. A lot relates to the restrictions that the governor has in (place), but we're seeing quite a bit of pent-up demand for travel, and a lot of pent-up demand for regional travel. I think starting in July we're going to see improvement."
Follow Shane Farias on Twitter