The New Mexico Tech Council last month held a Women in Technology event to highlight Albuquerque's efforts to boost the local film industry and to celebrate Ann Lerner, a film liaison in the city's Economic Development Department.
Lerner has worked in film for 20 years. But that wasn't always the case.
"My undergraduate is elementary education, because I am a certain age where women were teachers or nurses," Lerner said.
Lerner said she got into the industry when her ex husband opened up a production company in Albuquerque called New Mexico Film Works. Once they divorced, Lerner says she began working on commercials. While working on multiple projects in the Albuquerque, she made friends with Martin Chávez, who was Albuquerque's then-mayor.
"In the summer of 2003 mayor Chavez asked me if I would like to run a film office," Lerner said. "So I thought 'yeah why not' and the first six months I did it on a contract because I didn't want to give up my lucrative business of making TV commercials, but very quickly I was so inundated with work."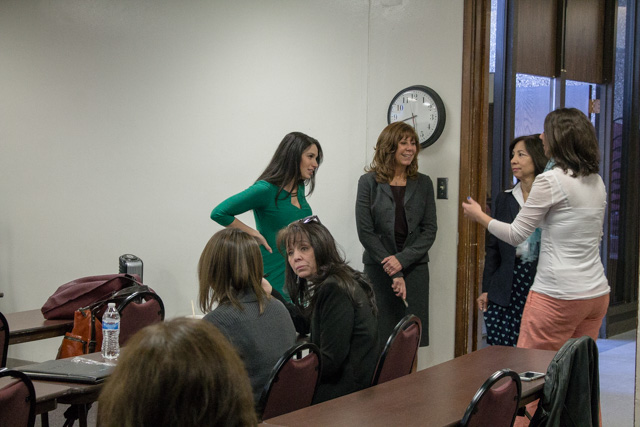 Tax incentives
New Mexico was the first state to offer tax incentives for film, and Lerner was a driving force behind that decision. She said in 1990 the Screen Actors Guild went on strike which shut down a lot of filming in the United States. As a result, Canada began offering tax incentives to encourage filming.
"Canada said 'I got an idea, why don't you guys come up to Canada film here. We look like you, we talk like you, our cities look like yours and we'll give you money back," Lerner said.
She said after she went and filmed a commercial in Toronto, many continents were starting to offer tax incentives for film.
After that experience, she lobbied then-New Mexico Gov. Gary Johnson to create a tax incentive for filming in New Mexico.
"There was a group of people who were getting together a package to offer film incentives to have people come and film in New Mexico, and I went and lobbied Governor Johnson. I said 'I think we can get this built through our legislature, will you sign it?'" Lerner said.
Breaking Bad
Tax breaks weren't the only big idea Lerner had during her time at the Albuquerque Film Office. In 2008, she says she received the script for Breaking Bad. Lerner liked the idea and brought it to the Mayor in hopes that it could be filmed in Albuquerque
Mayor Chavez liked the idea, and Lerner said the show has had a positive impact on the state.
"An episode is shot in eight days. The direct spend to the city of Albuquerque in those eight days is somewhere between $1 million and $1.5 million of new money coming in that wouldn't have been here otherwise," Lerner said.
She said filming brings in even more money through indirect spending.
"Stuart Lyons, who's the producer for Breaking Bad, drives a $65,000 BMW. Did he buy it in L.A. where he lives? No he bought it here," Lerner said.
Lerner said smaller business also benefitted from Breaking Bad filming in New Mexico. For example, she says several antique stores and galleries made money renting out props.
Establishing Nighttime Filming Guidelines
Lerner has also helped create rules and regulations to ensure positive public opinion towards filming in Albuquerque. Lerner said that during the filming of Gamer starring Gerard Butler, the director wanted to film explosions for three nights near the Isotopes Field in Albuquerque.
She said that she instituted nighttime regulations which would restrict certain nighttime filming activities without consent of people who lived nearby.
"They hired production assistants to go out and notify the neighbors. They had to get approval and they had to offer to put them up in hotels," Lerner said. "It took them months but they ended up doing it for two nights all night long."
Get involved
Lerner said that offering your home as a set for filming is one of the many ways to get involved in film.
"One person will come in and take pictures of the exterior and the interior and they'll take it back to the director and the director will either say 'I don't like that' or 'that's great let's go'," Lerner said.
She said if the director decides to film in the house, the owner will stay in a hotel for free for the duration of filming and any changes to the house will be restored.
"They give you a certificate of insurance listing you as additionally insured. You get paid upfront, and you do a walkthrough before the shoot. And then you do a walkthrough afterwards, so that if there is any problem you call me and I help you," Lerner said.
Lerner said they are looking to expand the New Mexico Film Office database, a website that shows internal and external photos of homes available for filming.
"And just like we need people of all sizes shapes etc we need homes of all shapes sizes and shapes," Lerner said.