Food trucks teach culinary students entrepreneurial skills
The streets of Albuquerque are coming alive as culinary students serve innovative and sizzling local fare out of their food trucks.
The students are part of the Street Food Institute (SFI). The culinary arts school helps students develop business and technical skills for an entrepreneurial start within the food industry. For the past three years, SFI partnered with Central New Mexico Community College (CNM) and trained students on SFI's food trucks.
SFI students take an entrepreneurial training class, a mobile food operations class teaching business practices and cooking techniques. Upon finishing students have an option of doing an internship on their food trucks, said Julian Griego, SFI's lead instructor.
"That's really where they get the practical application, they get customer-service training, they get cash-handling training, and they get food training as well…so students who take all aspects of the program benefit the most," Griego said.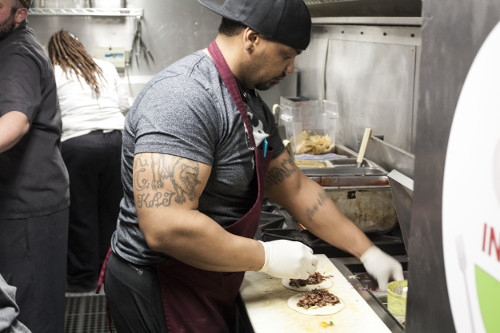 Expansion into the community
SFI expanded its core program to other schools and added a couple of other classes. During the Spring 2016 semester SFI partnered with Santa Fe Community College(SFCC), Robert F. Kennedy Charter High School(RFK) and South Valley Economic Development Center (SVEDC).
"Our recruitment pool is much larger now…so we got students coming from CNM, students who come from RFK High School, and we also reach out to community members," Griego said.
With SFI classes students learn the business aspects of starting a food service business with lessons in  marketing, licensing and financing, Griego said.
"We chose the food truck as our business model because it's a good option for students who want to start a business at a lower cost versus a brick and mortar restaurant," Griego said.
As of March 2016, SFI has 12 food-truck interns, and 20 students in each of the two sections of the spring semester program. The students have 12 weeks to finish 135 hours on the truck. After finishing their hours SFI students receive a certificate of completion.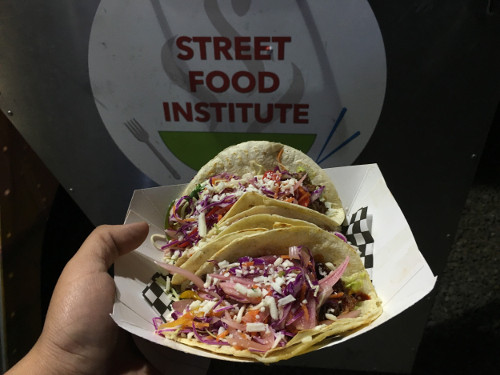 'Real world setting'
"I've had a lot of fun so far…this is only my third shift on the truck, but so far it's been super fun," said Erik Kill, 19, a SFI student.
Kill said he is still unsure what he will do after graduation but would like to continue learning and absorbing everything he can while on the truck.
"This program definitely exposes you to a very real world setting, it's a whole different environment than just going to school," Kill said.
It's been a nice kind of change of pace from what I'm used to….working on trucks is an experience unique to itself, it's kind of it's own thing," said Robin Dibble, 33, a SFI student.
"I've been kind of wanting to venture out into the land of owning my own business so it's kind of a nice experience to be able to kind of see what it takes to run a truck and to see what it takes to operate it everyday," Dibble said. "It takes a lot more wore work that what people give it credit."
The internships are paid, Griego said, and that makes SFI proud.
"We feel passionately about wanting our students to get paid well for their work," Griego said. "I mean not only in our internship, but in the industry, we try to advocate for better wages for food service workers."
SFI provides other culinary and business entrepreneurial resources to their students. In 2016, SFI created a secondary internship allowing students to run their own business idea at the railyard market. The market is community organized and features New Mexican culture. The students will run a food booth instead of a food truck.
"We've rented a booth at the railyard markets, where we're allowing our students to run their concept through the booth," Griego said. "What's really cool about this market internship is that we pay for the first round of food for the students so it's kind of like a scholarship so they can get started…if they balance their money correctly…they can have some start-up capital to pay for things like their health permit, their business license, and maybe buy small equipment."
Spending locally
So far there have been four SFI graduates who have ventured out to open their own food trucks, and three of them are still going, Griego said.
Having more local food trucks are better for New Mexico's general economy, Griego said.
"We're trying to provide a pathway for folks to start their businesses, to be their own boss, in turn that helps the economy because there's more money staying here in New Mexico. People are spending money on food trucks instead of fast-food restaurants because the money stays here instead of some big franchise."
Follow John Acosta on Twitter