Students will compete for attention, cash
Students with big business plans will try to take their start-up businesses to the next level in an upcoming competition hosted by the UNM Innovation Academy and STC.  The Student Pitch Competition on April 25 offers funding and mentorship opportunities for the winners.
Any student from the University of New Mexico, New Mexico State University, and New Mexico Tech can compete.
Aspiring student entrepreneurs can pitch their business ideas in short presentations to local business people.  The competition can help them find investors or win cash prizes to further develop their businesses.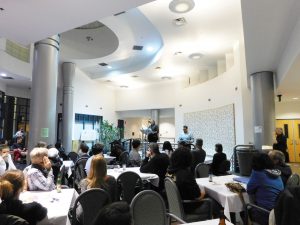 The top five students or teams will split the competition's prize. The total amount will depend on the number of donations received. Last year, the top five winners each received $2,500.
"It's a great opportunity for students to get their ideas out there whether it's a product, service, or technology and get feedback, practice their presentation skills, and network with other entrepreneurs," said Cara Michaliszyn, the university ventures and engagements manager for STC.
The competition is now in its 3rd year, and this is the first time it's been open to all students in New Mexico. Usually, about a dozen students participate. Michaliszyn expects the competition to continue to grow.
"It's really an opportunity to vet your idea without much preparation. Whether you win or not, we want to connect students to the resources available to them whether that is introductions to mentors or informing them of other opportunities in the entrepreneurial community."
The event will take place at the Bow & Arrow Brewing Company from 5:30 to 7:30 p.m. and is free and open to the public.
Students interested in competing need to submit an application with a video submission by April 11th, 2016 here.
To pay for the event, the Innovation Academy and STC are fundraising online. As of April 6, more than $2,200 had been raised.
Follow Angela on Twitter.