Albuquerque's latest commercial plaza features a variety of dining options in brightly colored steel shipping containers.
Green Jeans Farmery, an indoor and outdoor plaza that features nine local eateries as well as a brewing company and fitness studio, celebrated its grand opening last month. The 7,000-square foot brightly colored farmery is located off of I-40 and Carlisle and is made up of six cargo containers.
"My favorite part about coming here would be the atmosphere, very laid back and very chill," said UNM senior Emily Powers. The grand opening on Feb. 19 and 20 featured drink specials and live music from artists such as Eryn Bent, Nocturnal Company, Felix Y Los Gatos, and 'Merican Slang.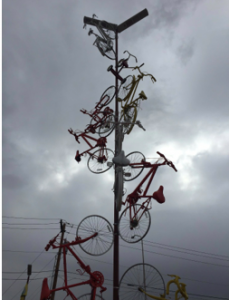 Roy Solomon, the creator and project developer for Green Jeans, began planning the farmery about two years ago after using shipping containers to grow produce using hydroponic farming.
Approved by the ABQ Environmental Planning Commission on July 10, 2014, the development is the first of its kind for the city and includes locally owned businesses such as Santa Fe Brewing Company as well Bocadillos, which was featured on Food Network's show Diners, Drive-Ins and Dives. Santa Fe Brewing Co. was one of Green Jean's first tenants and has been open since September of last year and has grown in popularity ever since.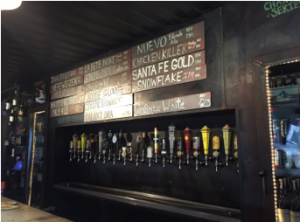 Adelina Prochmow, a bartender at Santa Fe Brewing Co., attributes the development's success to its uniqueness and communal vibe.
"I think the whole concept alone makes it really cool because we're the only shipping container idea out there," Prochmow said.
With an open layout, Green Jeans visitors can order food from a variety of vendors and have it brought to them anywhere within the indoor or outside patio area.
"Everyone just works together and it's super amicable and it's really cool to see it as a community versus individual companies," Prochmow said.
In addition to offering food and drink, the development also features FIT Studio, a training gym, and Fashion Locker, an athletic apparel store.
Follow Allison on Twitter.