[vc_row][vc_column width="1/1″][text_output]
ANSWERED QUESTION
The silent cyclists
As part of our Curious New Mexico project, Jaclyn Younger looked into the question of what ghost bikes are and interviewed family members of a fallen bike rider, a bike advocacy group, and the organization that places the bikes on city corners.
Many Albuquerqueans have seen the white "ghost bikes" on local city streets. Not everyone might know, however that each bike is a tribute to a rider killed while cycling.
Each ghost bike adorned with flowers, pictures and even helmets serves as a public shrine and has story to tell about the bicyclists who lost his or her life.
To families and friends of fallen bikers, the ghost bikes also fulfill a deeper purpose beyond just a form of remembrance. For Michael and Barbara Nord, whose 14-year-old son Reece Nord died in 2002 while riding his bike near the intersection of Montano Road and Golf Course Road, the bikes are a symbol of efforts towards change in bicyclist safety.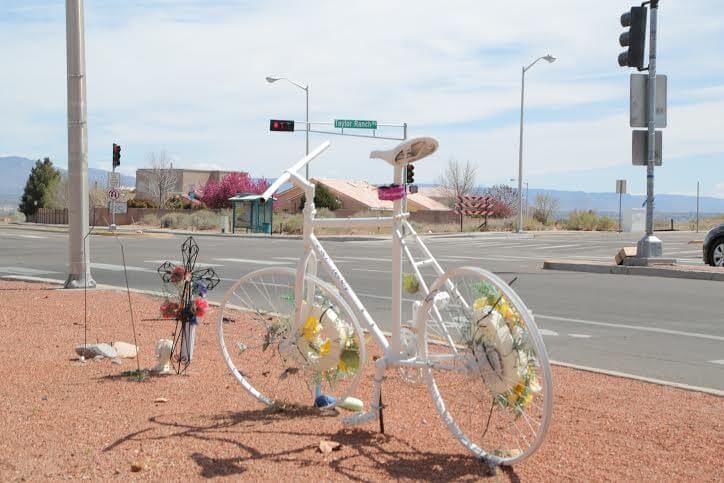 "It reminds people that you need to be careful and that things have happened in the past," Barbara Nord said. "I think people are more vigilant when they see the bikes out there that we need to be aware and alert on our roadways here in Albuquerque."
The ghost bike movement, which is an international phenomenon, is aimed at spreading awareness for all street and roadway commuters. In Albuquerque and the surrounding areas of Tijeras and Rio Rancho, the bikes are donated by community members, painted by JTC Coatings for durability and then decorated and placed near the site of an accident by the non-profit organization Duke City Wheelmen.
According to Jennifer Buntz, president of Duke City Wheelmen, the installation of ghost bikes is a solemn reminder of previous accidents generally occurring between motor vehicles and bicyclists.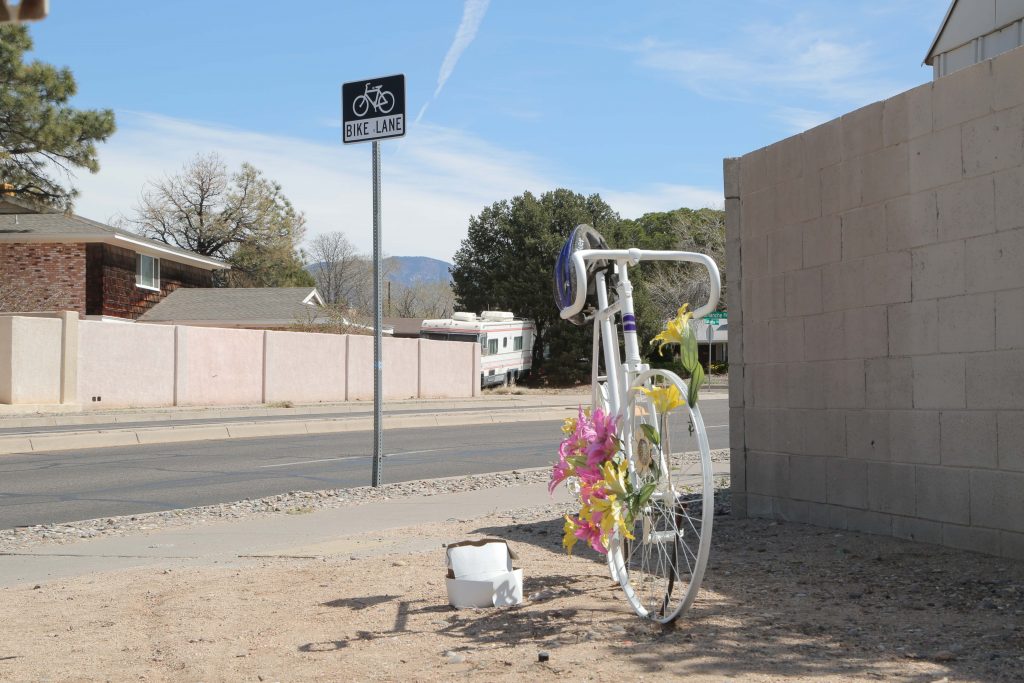 "We place them as close as we can to the site of a crash that's taken somebody's life while they were riding," said Buntz. "The vast majority has been crashes that happened either for undetermined causes or the cyclist crashed."
Buntz said that the ghost bikes in Albuquerque are also a means of pushing the community towards first steps of change. For her, the improvement of safety on the roads is twofold. The first step is increased attention from bicyclists.
"We need cyclist awareness of the laws they're supposed to follow, we need cyclist awareness of how to interact positively with motor vehicle drivers," Buntz said. "Everybody needs to up their game of being attentive to who else is out there."
Buntz also said that in line with cyclist understanding of the rules of the road, motor vehicle drivers need to be educated on how to drive alongside not only bicyclists, but motorcyclists and pedestrians as well.
In order to order to improve conditions for bicyclists and other commuters, the City of Albuquerque developed the Complete Streets Ordinance, which was passed by city council in January of 2015. It is a plan that works towards updating infrastructure such as creating more bike lanes and helping to alleviate congestion in high traffic areas.
Austin Wetsch, president of the bike advocacy group Bike ABQ, said the legislation is a much needed plan for all commuters as the city moves forward in projected construction projects across Albuquerque.
"The Complete Streets Ordinance basically says that any future projects for roadways have to take into consideration not just the motorists, but cyclists, pedestrians, handicapped individuals," said Wetsch.
Wetsch also said that Mayor Richard Barry and City Councilor Isaac Benton have embraced the plan for the improvement of infrastructure as the city works towards being a more risk-free community for all residents.
"We have a lot of support within the city council," Wetsch said. "It's good to see the mayor starting to realize this especially after New Mexico was named the second worst for bicycle accidents in the country."
In addition to the Complete Streets Ordinance, Albuquerque has also taken up the Mayor's Challenge which is a nationwide effort set up by the U.S. Department of Transportation that aims for safer streets across the country through a seven step process.
However, Buntz said that the new bike safety plan does not have the enforcement power with it in order for it to be effective. Additionally, for Buntz improvement on roads is simply not enough to prevent accidents among and between the different types of commuters.
"At the heart of bicycle safety is not infrastructure, but rather driver education," Buntz said.
Michael Nord agreed with Buntz and said better education and understanding for drivers could have prevented many fatal accidents in the city.
"I think if you don't require an education component to this that's very proactive with teenagers, young adults and of course everybody that's decided that drinking and driving and DUI issues are important, then I don't know you can correct the action," Michael Nord said.
As the City of Albuquerque continues to develop its plans for the safety of all citizens, drivers, bicyclists and pedestrians are left with ghost bikes as reflections of the past and how such accidents can be prevented in the future.
"Ghost bikes are probably another important aspect in communities trying to raise that awareness factor," Michael Nord said. "It's nice to know those entities are out there, but they're delicate and they're fragile."

[/text_output][share title="Share this post" facebook="true" twitter="true" google_plus="true" linkedin="true" pinterest="true"][/vc_column][/vc_row]