Republican Gregory Baca is now the state senator from District 29 — an area including Valencia County, Los Lunas, Belen, Bosque Farms and the Isleta Indian Reservation. Baca benefited from a bombardment of campaign advertisements attacking long-time incumbent Michael Sanchez, the Democrat.
The race attracted a lot of money for Baca — much of it from various third parties — resulting in the heavy ad-driven campaign. Baca, Republicans and Political Action Committees invested over $500,000 into Baca's campaign. In particular, the ads attacked Sanchez for blocking tougher penalties on crime. The investment paid off for Baca and succeeded in sidelining a powerful veteran of New Mexico politics.
Sanchez leaves a legacy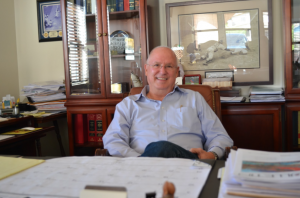 Sanchez was in the NM Senate for 24 years and was its Majority Leader for more than 10 years. Sanchez says he enjoyed every minute.
"I think that I may have been able to help people in a lot of different ways," Sanchez said.
Sanchez says he is proud of the Lottery Scholarship he championed, which helps pay the tuition of many New Mexicans attending college in the state.  Sanchez sponsored and has supported the bill since it passed in 2011.
Sanchez said that although he does have some concerns about the Lottery Scholarship in his absence, he believes the current legislators care about it as much as he does. He says he thinks they will work hard to maintain the integrity of the program and hopefully find a more stable revenue source for it.
Sanchez says it is special to him when young people come up to him and tell him how the scholarship has improved their lives.
"It makes a difference in my life when I see how successful the people who have used the Lottery Scholarship have become" Sanchez said. "It makes me feel great. I think that's the most important thing that I have done."
Sanchez says he got started in politics because his family had always been involved with them. He says this family tradition started with his grandfather, then his father and his brother. Sanchez says he always knew he wanted to help people. Politics was a way he could make a difference in people's lives and it fit with being a lawyer. Sanchez and his son, Joshua Sanchez, continue to help people in their community at their Law Offices in Los Lunas.
Sanchez said having the office located in Los Lunas makes it accessible for people from Albuquerque, Los Lunas, Belen and other surrounding areas. He said it was important to him to serve the people in the community he grew up in.
"We don't represent any big corporations, we don't represent any insurance companies, we don't represent any big entities," Sanchez said. "We represent people who walk in the door and need help."
Sanchez has lived in and served Valencia County for most of his life. He said he was born and raised in Belen. He graduated from Belen High School in 1968 and left New Mexico for only a brief period after high school. He said he came back to attend the University of New Mexico and proceeded to graduate from UNM Law School.
Sanchez says he thinks Valencia county is one of the best counties in New Mexico. He says he is forever grateful to the people there, who have been good to him and his family.
"Valencia county is just a great place," Sanchez said. "I wouldn't live anywhere else."  
Now that Sanchez is no longer a senator he said he will be practicing law full time. He said he looks forward to spending more time with his family.  
Greg Baca and What's Next for NM
According to the Secretary of State's office, Republican Greg Baca beat incumbent Michael Sanchez by just over 1,600 votes.
During  his campaign, Baca spent time going door-to-door to about 4,000 homes, talking to voters and advocating for better schools and economic efforts in Valencia County. Baca said he had a lot of third parties supporting him because they wanted Sanchez out of the office he held for 24 years.
Baca ran as a Republican but says he didn't want people to focus on his political party. He wanted New Mexicans to see that his platform was about changing the quality of their life.
"It's up to us, the people of New Mexico, to improve this state," Baca said.
When asked why he decided to run for Senate in Valencia County, he said because his entire life is established there, and he saw first-hand the things that needed to be improved.
"I didn't really chose it," Baca said. "It more so chose me."
Baca attended UNM Law School and served for six years in the U.S. military. He is a Gulf War Veteran and received a honorable discharge.
Los Lunas residents have high hopes for Greg Baca's recent win. Resident Raquel Lopez explained that she was excited to see a Republican take office even after the number of years Sanchez has been Senator. She hopes that Baca will do well for her hometown.
"I am super excited to see Baca win, and I have high expectations. I am going to keep an eye on him and the things he votes on," Lopez said.
Follow Maya Holt, Natalie Baca and Vanessa Espinoza on Twitter