When Liz Stefanics got to the voting booth in San Miguel County on Election Day, she was met with a sour twist. Outside the polling station, Stefanics, the Democratic candidate for NM Senate District 39, encountered a fellow Democrat carrying a sign. The sign read, "Democrats for Barela." Ted Barela was her Republican opponent, an incumbent — who she ended up beating later that night.
The protest sign was waved by none other than Phil Griego, the former state senator who twice defeated Stefanics in District 39. Griego was dislodged from office last year by an ethics violation. His governor-appointed replacement was the Republican Barela.
Why would another Democrat carry a sign endorsing Stefanics opponent? Stefanics, "torqued" by the incident, chalks it up to the rural — and macho male — mindset of some of her constituents.
"There's been a lot of articles about how I do not meet the profile of the cowboy Democrat to represent these rural areas," Stefanics said.
Stefanics is openly gay and her win on November 8th — by a mere 372 votes — was actually the second time she's won the seat.
Stefanics won the election, however more than 9,000 people voted against her.
"I will not change the person I am, but what I will do is extend to everyone and give everyone the opportunity to express their views to me," Stefanics said.
It was a sweet victory for Stefanics who had been bypassed by Governor Susana Martinez when it came time to replace the disgraced Griego. Stefanics announced she would run for Senate soon after Barela was appointed.
"For the governor to presume that she could flip the seat to a Republican, I felt an obligation to run because this is a Democratic district," Stefanics said.
According to the NM Secretary of State website, there are 19 percent more registered Democratic voters than Republican in Senate District 39.
Liz Stefanics was born on Nov. 9, 1950 in Dayton, OH.
She moved to New Mexico more than 30 years ago to teach at the University of New Mexico in 1982.
Stefanics became the first openly LGBT New Mexico Senate member when she won election of District-39 in 1992.
In running for election in 2016, Stefanics said the general election became nasty in regards to her sexual orientation. Stefanics said her opponent (Barela) made personal attacks about her and her partner Linda Siegal.
"I was outnumbered as far as Democrat voters versus Republican voters," Barela said. "I wasn't able to reach out to enough people."
Stefanics has not spoken to Barela since winning and says she has not received a phone call from him.
"In the primary I sent a note to all my opponents saying, thanks for a good race regardless of what happens, but I didn't do that in general because it was too nasty," Stefanics said.
The race was very close and as of 1 a.m. on election night, the winner had not been announced.
Early Wed. morning Stefanics was announced the winner but the race was so close that it appeared there would be a recount.
As of Nov. 18 Stefanics said that the count is now being called above one percent, meaning that there will be no recount of the race.
The 2016 general election resulted in the Democrats maintaining control of the New Mexico Senate and the Republicans gaining control of the House.
New Mexico faces a budget crisis unlike anything that the state has ever faced.
"The Senate and the House will both have new leadership and if there can be more serious dialogue then maybe more serious action can occur," Stefanics said.
According to Stefanics, the Senate members, whether Democrat or Republican, can all work together to get bills passed but the current Governor is likely to veto anything that derives from the Senate.
As for Stefanics position she said that the people are already seeking help.
"People have already been calling me to ask for my help," Stefanics said.
As Stefanics walked into a small local coffee house in Santa Fe for a NM News Port interview, she was stopped by a lady sitting at a table. After a few minutes of discussion Stefanics told the lady to give her a call so that they could discuss the issue further.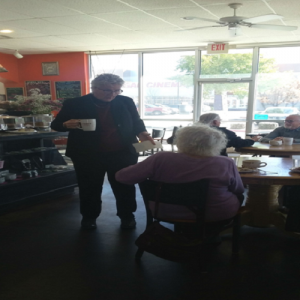 Stefanics will take oath on the first day of the legislative session. However, that has not stopped people from already reaching out to her.
"I have an open phone line and I am happy to have people call me with ideas," Stefanics said. "I will also be hosting town hall meeting in areas of the district to listen to what the people have to say."
While Stefanics admits she may not be the ideal "cowboy" Democrat for the district, she has promised to listen to everyone.
Follow Jacob Leyba on Twitter.