Dean Smith is breathing a sigh of relief. Smith directs the Albuquerque Bernalillo County Public Library, where users have been borrowing some four million items a year.
"They like libraries and they use their libraries," Smith said.
Smith's relief comes thanks to voter approval of the Library Bond B on the November ballot. The measure passed with 62 percent of the vote.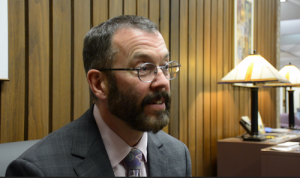 Bond B will allow state expenditures up to $10.1 million dollars under the 2016 Capital Projects General Obligation Bond Act, to improve public, tribal and educational libraries including those in K-12 schools, as well as higher educational institutions.
Libraries within Bernalillo County will receive $1.5 million dollars in order to update outdated library equipment.
To Smith, his libraries get a new lease on life — allowing them to purchase new books, computers, DVDs and CDs and other resources.
Heather Norman is an Albuquerque resident who says the library could use that money for newer technology.
"One or two more computer stations is always a good idea," Norman said.
Norman may use the computers, but she primarily uses the library for art books. She says she often prefers hard-copy research materials.
"The sources from a public library are more credible than any image or wikipedia that anyone can update or title," Norman said. "You're always going to have a better citation of a source when you go to a book."
In a technology based world, many citizens rely on public libraries for their online news and entertainment. Albuquerque resident Marty Remaly uses various library sites and appreciates the free access.
"Affordability. I can't afford internet services. I'm dependent on the library to do the research here," Remaly said.
Users are not just visiting their public libraries for information and technology, but some come for the sense of community.
Larry Arnoldi said he enjoys the personal touch of library staff.
"It's a really nice community feel," Arnoldi said. "I know the different crews, or teams, of the libraries. They go that extra yard to help, if I need to order a book or a CD."
With the new library funding, Heather Norman would like to see more art books, CDs and movies — but she would like to see the money going towards the librarians as well.
"I really like the self-checkout stations employed — any equipment that helps the librarians do their job faster and more efficiently," Norman said.
Dean Smith says, the future bond money for Bernalillo County will be used to replace, expand or upgrade a wide variety of materials.
"They're used for our books, our paperbacks, our e-books, our e-audio books, our databases, our online services — like our tutoring and our Lynda.com," Smith said.
Voters can expect to see an increase in their property taxes similar to 2015, as stated by the Board of County Commissioners AR 2016-56.
It is unknown when the tax with take effect but since all four statewide bonds passed, the average annual property tax bill will rise to $9.34 over a ten-year period.
Bond A accounts for $0.78;Bond B accounts for $0.51;Bond C accounts for $7.14;Bond D accounts for $0.91. Altogether that's a tax increase of approximately $9.34 per $100,000 of property value.
In Sandoval County, the library bonds will provide $3.25 million to 15 public and tribal libraries.
One of those is the Loma Colorado Library in Rio Rancho. It opened in 2006, the result of a $5.5 million construction bond that was passed in 2004.
Rena Jackson is the Loma Colorado Library Circulation Supervisor. She says the passage of Bond B will make a big difference in making patrons happy.
"Lots of people come into the library looking for specific books and we unfortunately have to explain that we do not carry the book in this library, ultimately sending them elsewhere," Jackson said.
Jackson says the coming upgrades can help turnaround a recent trend. She says, despite having thousands of users in the first few years of the new library, lately usage has been tapering off.
"Lately, we haven't been making the money we need to pay for the automated system to check-out and check-in items that people borrow," Jackson said. "Not to mention we also have to pay for the public use of computers and printers, which believe it or not is kind of tough to cover these costs at times," Jackson added.
In order to raise funds, the Loma Colorado Library has held workshops, meetings, shows and other events. Examples include the recent Holiday Wreath Workshop and a Friends of the Library of Rio Rancho Book Sale.
"When all is said and done, my main hope is that the money helps the library but at the same time brings the city a little bit closer together," Jackson said.
Marcus Encinias is a regular visitor of the Loma Colorado Library.
"I am happy to hear that this library is getting some money to help them with the place," Encinias said. "Everyone deserves it here."
Encinias has a fond connection to the library, something he hopes to pass on to the next generation.
"My mother used to bring me to the library when I was young, and honestly, it helped me to have a place to go and gain knowledge," Encinias said. "I figure since my daughter is getting older now, I should provide her with the same opportunity."
Nathan Barnes contributed to this report.
Follow Ricky, Allison, and Kyra on Twitter.