Joey Wagner / NM News Port
As a state that gets the vast majority of its revenues from oil and gas, New Mexico is a leading contributor to climate change. That begs the question, which of the candidates for NM governor — incumbent Democrat Michelle Lujan Grisham or her Republican challenger Mark Ronchetti — would be good for the environment?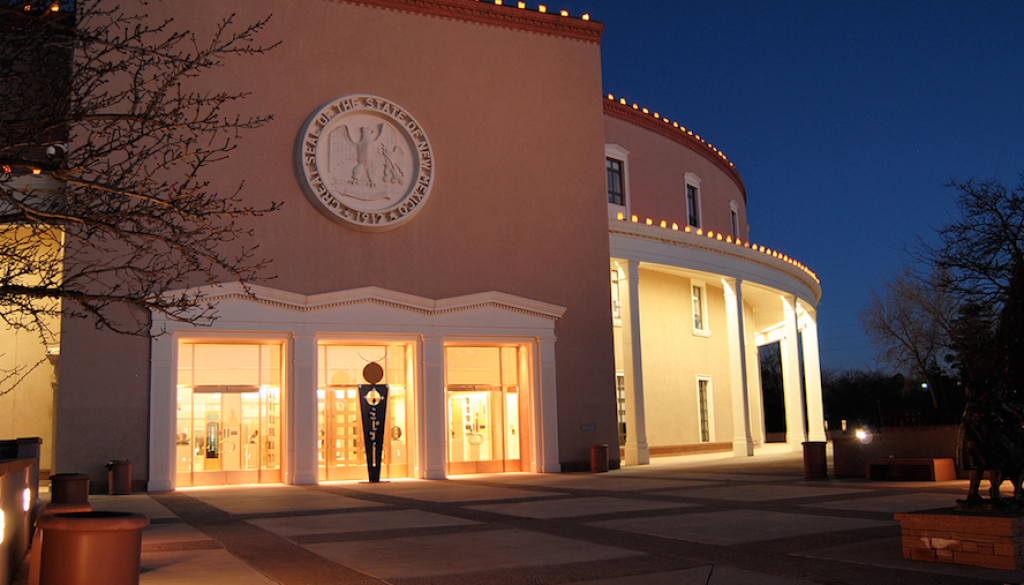 "The oil and gas industry this year is contributing something like two and a half billion dollars, that's what the State Land Office has received." said Michael Jensen, Communications Director for Conservation Voters New Mexico.
"We need the government — our cities, our states — we need them to take the climate emergency seriously" said Feleecia Guillan, Director of Finance for UNM Leaf.
Mark Ronchetti: Former meteorologist standing by oil and gas industry
Mark Ronchetti has one pdf file on his campaign website about the environment. It specifically mentions his stance concerning oil and gas production in New Mexico.
"By rebating a portion of the tax revenues generated by the oil and gas industry back to the people of New Mexico, hardworking taxpayers will benefit directly from a healthy, strong energy industry, while simultaneously making our state budgeting process more fiscally responsible," Rochetti's site explains, promising direct payments to New Mexico residents.
"That is not an environmental position, that is a tax position" said former state senator Dede Feldman, a Democrat and a backer of Lujan Grisham.
Jensen also criticizes the plan, favoring smarter investment of the estimated $200 million Ronchetti would give directly to residents.
"I don't know that getting a $250 check is a better investment than taking that money and putting it into programs that will last a long time," he said, suggesting such things as staffing for environmental agencies and switching to cleaner sources of energy.
Ronchetti, a trained meteorologist and career TV weatherman, is also on record saying, "you know climate change doesn't cause wildfires, come on," while elsewhere he took a more informed stance speaking to the students and researchers of the UNM Department of Earth and Planetary Sciences.
Michelle Lujan Grisham: Balancing between dirty power and clean energy
Lujan Grisham can claim progress toward making New Mexico switch to cleaner energy. In particular, in 2019, she signed the Energy Transition Act, which would require public utilities to switch to wind and solar power.
Last month, under the act, the biggest coal burning plant in New Mexico, the San Juan power plant, shut down. It was one of the biggest sources of green house gas emissions in the state.
During her first term as governor, Grisham's environmental department, led by James Kenney, demonstrated results in cleaning up the state's air, water and land.
She also formed New Mexico's Climate Change Bureau.
Grisham has also contributed, what she called, "millions of dollars in shoring up our water infrastructure."
"Renewable energy is a part of water conservation in a number of innovative ways," Grisham said during the Sept 30 debate with Ronchetti.
" We require oil and gas to recycle their water," she said. "They're not allowed to use fresh water because of the changes that I made as governor."
"It's very clear that we'll only make progress on the climate if Michelle Lujan Grisham continues as governor," Jensen said. "There has been more climate change action during the Michelle Lujan Grisham administration than any other time in the state."
Protecting our water
In the candidates' first debate, Ronchetti declared: "Water is a precious resource and we have to do everything possible to get as much of it as we can and hold on to it as much as we can."
"The governor's policies have been lacking," Ronchetti said.
"My opponent doesn't believe in climate change," Lujan Grisham rebutted. "He also doesn't support the inflation reduction act. It's got $20 billion to address the lack of water from the Colorado River, which is basically where we get our water."
"She lost a great state engineer about a year ago," Ronchetti criticized. "There is no commitment to investing money into our water future…the way we capture has to change…we have to go after desalination…the way we transport water as well…we can meet the needs of the people in this state but it will take significant commitment."
Grisham agreed with some of that.
"We need conservation, we need better innovation and better management," Grisham said. "We've invested millions of dollars in shoring up our water infrastructure so that desalination, conservation, and delivering water wherever it goes can actually occur."
"We're going to work to make sure that both surface and groundwater gets addressed for the state for the next hundreds of years," Grisham added.
A Future with Hydrogen?
Earlier this year, Lujan Grisham proposed taking money from the Bipartisan Infrastructure Law, and use that to build out four "hydrogen hubs" for New Mexico.
"This is New Mexico's chance to reap the vast economic and environmental benefits of clean hydrogen, and I urge legislators to think boldly and support the Hydrogen Hub Development Act," Grisham argued at the time.
This, however, was ultimately denied due to objections over the process's heavy reliance on fossil fuels.
"I wish she would not be pursuing this hydrogen misstep," said Feldman. "I think that it's actually going to pollute as much as it might promote the economy."
"These types of hubs would impact front line communities," said Guillen. Hydrogen, despite Grisham's efforts, would end up increasing the amount of greenhouse gases going into the atmosphere.
"We and many other environmental organizations have pushed back on the idea that turning to methane fueled hydrogen would benefit climate change," Jensen said.
Follow Joey Wagner on Twitter @jdwunmcj