This the first in a series of articles that ask students in New Mexico how they feel about school during the pandemic. What has online learning been like? What do they think about returning to the classroom? Today we hear from a 9-year-old and a 5-year-old in Albuquerque. (The comments have been lightly edited.)
By Alicia Inez Guzmán | Searchlight NM
Every Thursday and Friday, Amelia McMahan, 9, and Anthony Lester, 3, wait for their sister to get home from "in-person school." At 3:30, give or take five minutes, 5-year-old Adamina hops off the bus and runs to give them both a hug.
Since December, Adamina has been on this schedule — an unusual one at a time when most students have been stuck at home for remote online classes. Two days a week, Adamina attends a pre-K program at PB&J Family Services, where she can play with her friends, and three days a week she stays home and logs in to classes at Helen Cordero Primary School, both on Albuquerque's west side.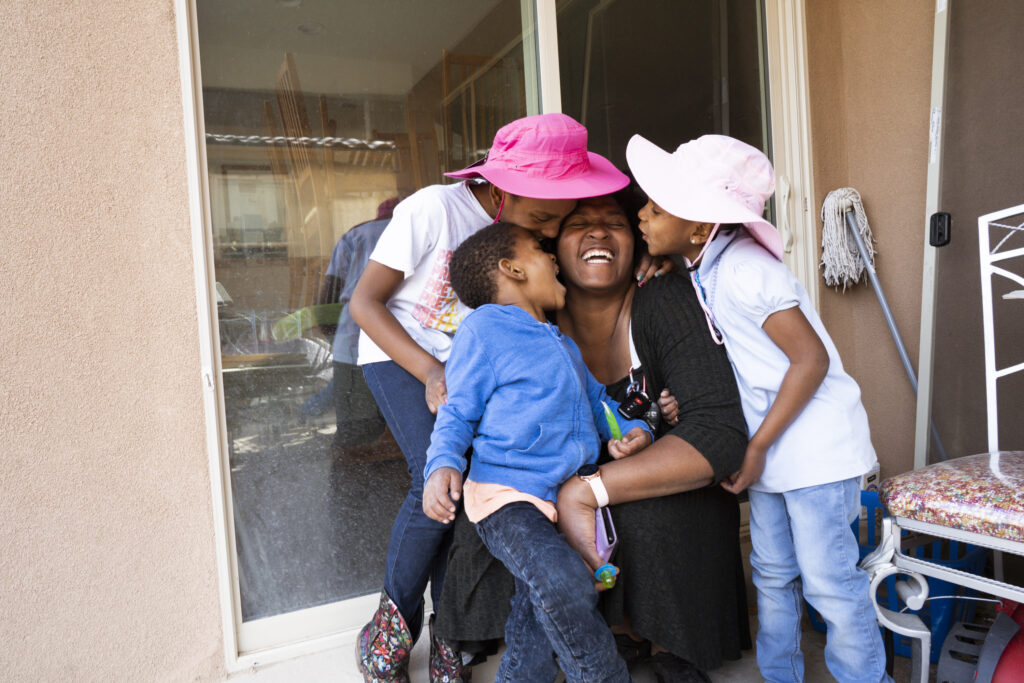 Adamina's mom, Terri Williams, pieced together her daughter's schedule all on her own, long before there was any certainty about whether schools would reopen and at a time when less than 20 percent of New Mexico's public-school students had transitioned into hybrid environments. "Adamina needed socialization" to help her prepare for kindergarten in the fall, Williams says.
Under the hybrid system she created, Adamina's teacher at Helen Cordero records the two days of missed lessons, and Adamina watches them on the weekend. It's a lot to keep track of, but Williams felt that Adamina needed to be around kids her age at least a couple of days a week. A U.S. Army veteran who recently received her master's in social work from Western New Mexico University, Williams is now a social worker with PB&J, working remotely to help parents of infants and toddlers develop positive parenting skills.
Amelia, for her part, attends Tres Volcanes Community Collaborative School. She thrives as an online learner because she enjoys taking charge of her own schedule. And she likes how virtual school allows her to finish her schoolwork early, so she can "run downstairs and play" with her siblings.
But like many students who were excited to stay home in the first few months of the pandemic, Amelia is feeling the malaise that comes with only getting to see her classmates as squares on a screen, day in and day out. The hours feel repetitive. Her siblings keep her company, but learning this way, without recess and friends, has generated palpable fatigue.
Here is how the two sisters describe their experiences.
Amelia
"They call me AJ," Amelia says, referring to the nickname her siblings use for her. "It's for Amelia Jean," she explains on a recent day at a park near home, as her brother perches next to her at a picnic table. Tall for her age, Amelia comes off as serious, even introspective. An avid reader, she keeps books beneath her pillow for nighttime reading. One of her favorite "pillow books," as she calls them, is "The Girl Who Saved Christmas" — all 320 pages of it — never mind that it's already spring. The book's main character, who shares her name, eventually does save Christmas, Amelia explains. She also loves reading "Charlie and the Chocolate Factory," the current book for online school. And she "loves doing cartwheels," she continues, before showing off what a good one looks like.
To get ready for school, Amelia sets an alarm to go off a few minutes before each class. It allows her "to go a few minutes early, so when it's time to start I'm already there."
Right now, her favorite school topics are "earthquakes and natural disasters — tsunamis, tornados, hurricanes," she says. "We're answering questions, like which one is the biggest disaster. There's these things called breakout rooms and we can work together in small groups and talk about them.
"I kind of don't like online school because I don't get to interact with my classmates and give them high fives," she continues. "I wanna go back to in-person school because there's a playground and we get to play on it. There's a basketball court and a field where I can dribble the ball."
What's the most frustrating thing about online school?
"If there's too much wind, the internet can go out. And sometimes if the internet goes out, it won't let me join class. I get frustrated because I have stuff to work on."
Her last class ends at 2:35 p.m., which gives her time to play. On the days when Adamina is at PB&J, Amelia waits at the door for her to get home and picks her up for a hug when she sees her. "I miss her when she's gone."
Adamina
To introduce herself, Adamina points to the shape her shadow casts against a rock in the front yard. "That's me," she says, moving from side to side. Her favorite cartoon character, she adds, looking down at her pink shirt proudly, is Vampirina, a little girl who is also a vampire. "It's a TV show, not a movie," she declares before skipping off. Her mom directs her to look both ways as she walks across the street to the local park, shepherded by her older sister.
"In online school, I have morning meeting, two small groups, and goodbye circle. My teacher reads us stories," continues Adamina, who heads to a picnic table and begins eating a treat the PB&J bus driver gave her that day.
What are her favorite stories?
"My favorites are the stories that aren't about the coronavirus," she says. Pausing to point at her younger brother running in circles around the slide at the park near their house, she observes, "Next year when my brother turns four, he gets to ride my bus."
"Are you going to talk about the oobleck?" Amelia asks, prodding her sister to say more about school.
"In online school we made oobleck. It's sticky," Adamina says, obediently. (The name comes from the Dr. Seuss story "Bartholomew and the Oobleck.")
"They had a science experiment," her mom chimes in.
"It's like slime and if you pick it up, it acts like liquid, but when it's in the bowl it acts like a solid," Adamina says. "We kept adding color. A lot of green makes dark green and a little bit of green makes light green. My mom put goggles on me and she watched."
Adamina says her favorite thing at PB&J is to "go outside and play on the pretend circus, the playground that looks like a real circus. I get to swing."
There are 11 children in her class, her "in-person friends," she says. The best part of seeing them? Playing dinosaurs together. "I made three dinosaurs out of clay — a raptor, a dinosaur with plates on its back, and a shape that was like a heart."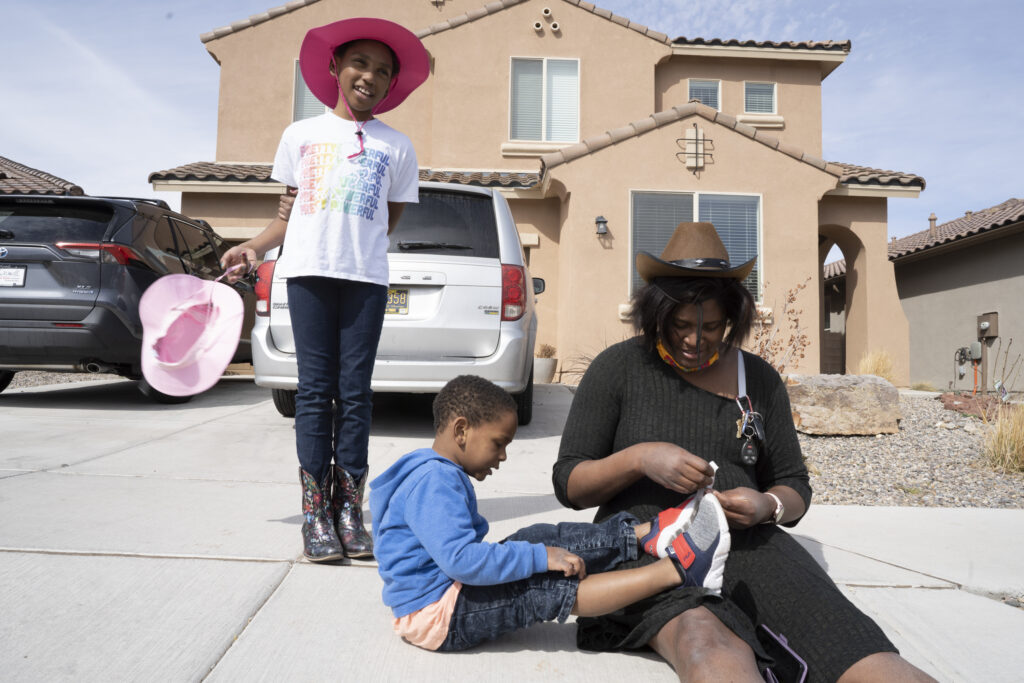 Alicia Inez Guzmán Raised in the northern New Mexican village of Truchas, Alicia Inez Guzmán has written about histories of place, identity, and land use in New Mexico. She brings this knowledge to her current role as education reporter at Searchlight, where she focuses on the lived experiences of New Mexico's students and the role that equity and cultural literacy should play in the classroom and educational policymaking. The former senior editor of New Mexico Magazine, Alicia holds a Ph.D. in Visual and Cultural Studies from the University of Rochester in New York.