By Spencer Butler, Tyler Braunhardt, Jeanette DeDios, Noah Solomon / NM News Port
A large turnout of Albuquerque voters chose to send their mayor back to city hall for another four years, but they also used Tuesday's election to soundly reject the stadium funding package the mayor had endorsed.
Those same voters did say yes to a long list of other bond measures, but they were grudging when it came to reelecting city council incumbents. Some were defeated and some will have to campaign again in a run-off.
Meanwhile, the Albuquerque school board will see a lot of new faces.
Mayors reelected in Albuquerque & Santa Fe
Two mayoral contests on Tuesday, November 2, saw incumbent victories as Tim Keller of Albuquerque and Alan Webber of Santa Fe defeated their challengers and avoided runoffs in New Mexico's two largest cities.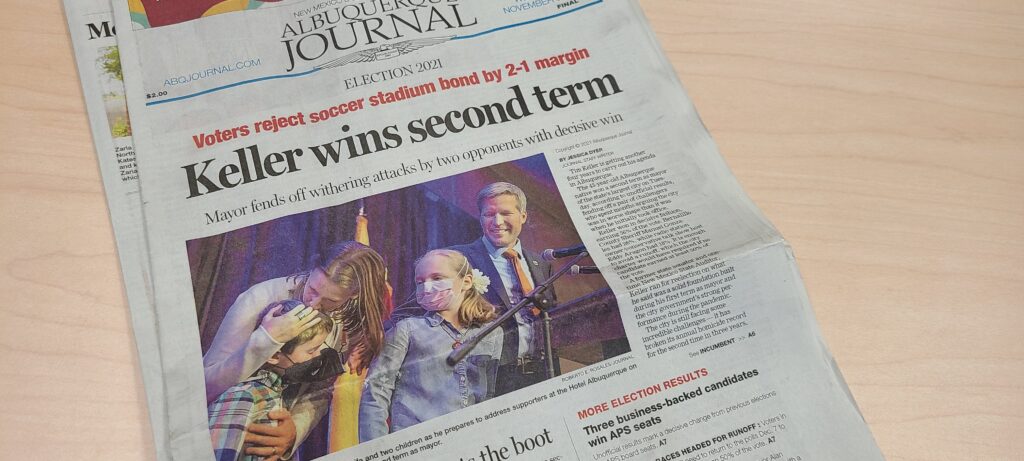 In Albuquerque, Keller won 56 percent of the vote, while challenger Manny Gonzales got 26% and Eddy Aragon got 18%.
The race was initially called by KRQE at 8:48 pm.
Keller campaigned on having successfully guided the city through tough times, including the pandemic. His challengers pointed to the main issues that defined the campaign — the city's high crime rate and an increasing homeless population.
Keller delivered a victory speech at Hotel Albuquerque to numerous city officials and supporters, in which he thanked Albuquerque voters for sticking with him during these hard times.
"The voters showed that they are with us in that vision — that we are going to do this together, that we have the strength and the courage to face our toughest challenges. That is what tonight is truly a referendum on," he said.

Gonzales, who also had a watch party inside the conference room of a liquor distribution warehouse in the South Valley, did concede the race to Keller and said that it was an honor to run.
Gonzales added, "I'm still the sheriff and I'm looking forward to continuing to serve the people of Bernalillo County."
Aragon, as of this article, had made no public statements either conceding the race or stating what his plans are.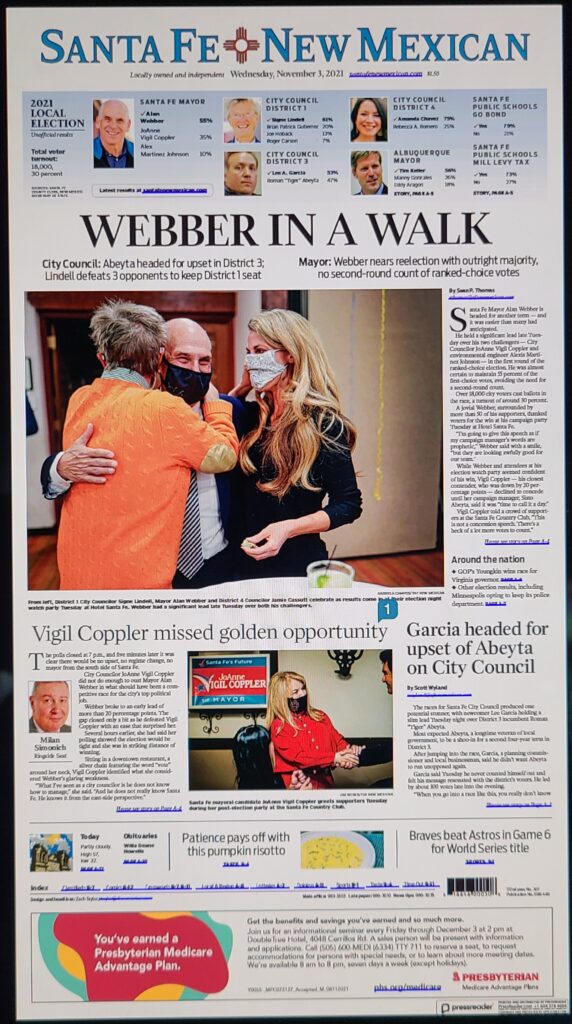 Meanwhile, to the north of Albuquerque, Santa Fe Mayor Alan Webber defeated City Councilor JoAnne Vigil Coppler and environmental engineer Alexis Martinez Johnson.Webber obtained 55 percent of the vote.
Coppler received 35% and Johnson 10% of the votes cast in the contest. Both have conceded to Webber.
Stadium bond receives emphatic rejection at the polls
Albuquerque voters made their decision on the $50 million stadium bond Tuesday night, rejecting the proposal by a large margin.
The proposed gross receipts tax bond would have funded a new stadium that would mainly be used to house Albuquerque's second-tier professional soccer team, New Mexico United, although other uses were also envisioned.
According to the New Mexico Secretary of State data:
35% (40,581) said yes
65% (76,799) said no
In July of this year, Mayor Tim Keller took to the United field during a game to say, "You all have earned a stadium. We're going to build a new home for the United right here in the Duke City!" A month later, the Albuquerque City Council voted to place the stadium bond question on the ballot, though a location was never pinned down.
As Election Day got closer, United ran advertisements on local television stations to gain support, while various community members held rallies and press conferences arguing that the money could be better used elsewhere, in areas such as education, homelessness or housing.
Thank you to everyone who made their voices heard. We move forward together. #SomosUnidos pic.twitter.com/Eg0Ru0bmr3

— New Mexico United (@NewMexicoUTD) November 3, 2021
United released a statement Tuesday night via their social media accounts, stating "While United will continue its pursuit of a multi-use facility… we will not be actively pursuing the proposed sites. United has said from day one we will only support a location where the local community is behind the project."
Mayor Keller issued his own statement on the stadium: "In considering a publicly owned, multi-use stadium for affordable fun for Albuquerque families, we felt it was important to let voters choose if they supported bonding, that would not increase taxes. Tonight, we respect the voters' decision not to do so."
ABQ City Council adds a conservative member, still has races to decide
The hotly contested Albuquerque City Council will have two seats on the ballot again December 7, as no candidate for those seats was able to garner a 50% majority. So now the top two vote-getters will face each other in the runoff.
District 7 had six candidates vying to fill the vacancy left by Diane Gibson after she announced she will leave office. Contestants Lori Lee Robertson and Tammy L. Fiebelkorn will meet again at the polls.
District 9 had three candidates running for the seat vacated by Don Harris, who also chose to quit after his term is up. Contestants Reneé Grout and Robert C Grilley, Jr. will face each other in the runoff.
Meanwhile, two incumbent council members were beaten in their reelection efforts:
District 1 saw incumbent Lan Sena lose to challenger Louie Sanchez. Sena got 45% of the vote, Sanchez 55%.
In District 5, the incumbent Democrat Cynthia Borrego lost to challenger Dan Lewis. The Republican Lewis secured 52% of the vote..
As for District 3, Klarissa Pena was reelected without any opposition in the race.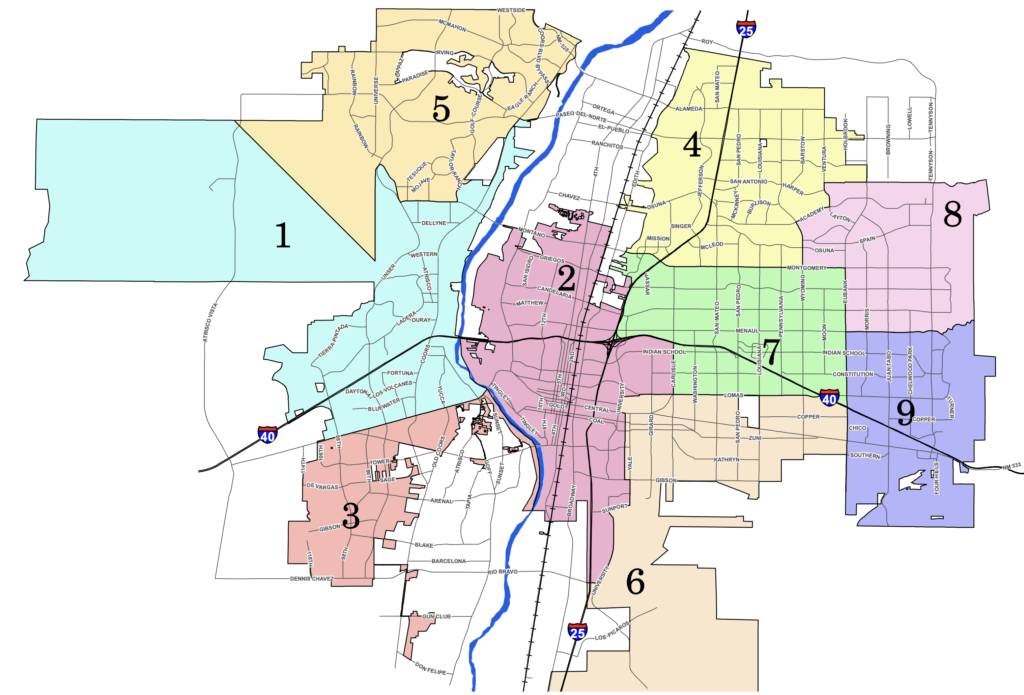 Albuquerque School Board tilts away from union-backed office-holders
There were four open seats on the Albuquerque Public Schools Board decided on Election Day. Analysis from the Albuquerque Journal indicates that three of those winners were backed by business interests and diametrically opposed to the candidates supported by the teachers union. The only union-backed candidate to win was in District 6.
The winners are:
District 3: Danielle Marie Gonzales with 42% of the vote
District 5: Crystal Elaine Tapia-Romero with 53% of the vote
District 6: Josefina Elizabet Dominguez with 56% of the vote
District 7: Courtney Jackson with 48% of the vote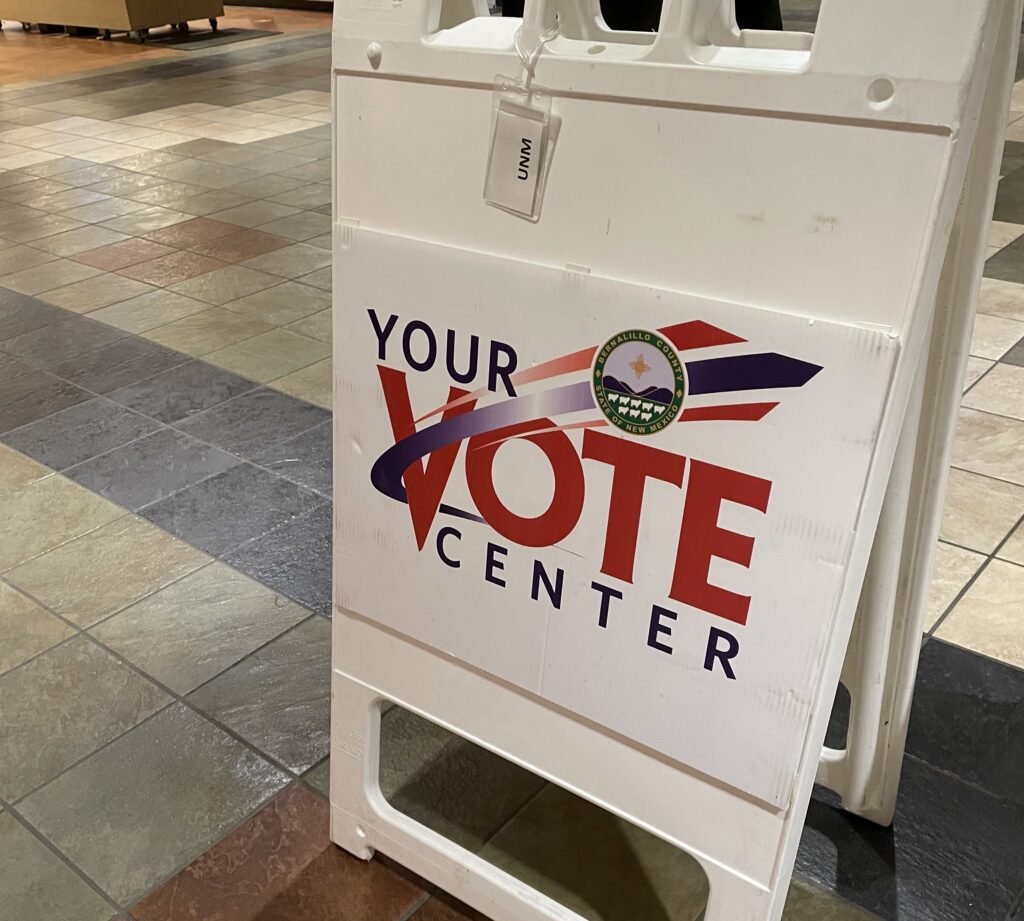 Voters approve school and city bond measures by mostly wide margins
There were bond measures worth more than $600 million up for consideration on Tuesday's ballot — not counting the defeated stadium measure — all of which passed with relatively high levels of voter support, although the school property tax levy passed by a somewhat narrow margin.
School Bonds:
$302 million — The Public School Building Tax Act:
$200 million — The General Obligation Bond:
City Bonds:
$50 million Gross Receipts Tax Revenue Bond for Multi-Use Public Stadium:
$28.4 million Senior, Family, Community Center, Homeless, and Community Enhancement Bond:
$27.3 million Parks and Recreation Bond:
$27.2 million Public Safety Bond:
$21.8 million Street Bonds:
$15.9 million Energy and Water Conservation, Public Facilities, and System Modernization Bond:
$4.6 million Storm Sewer System Bond:
$4.5 million Metropolitan Redevelopment Bond:
$4.1 million Library Bond:
$3.9 million Museum and Cultural Facilities Bond:
$3.3 million Affordable Housing Bonds:
$1.1 million Public Transportation Bond: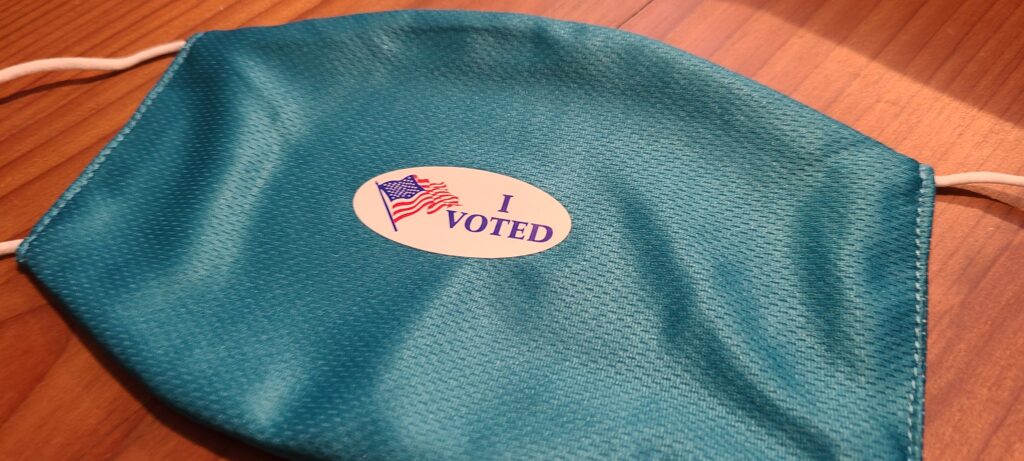 Strong voter turnout for an off-year election
According to the election officials, the voter turnout for the Albuquerque 2021 election was a strong 118,403 voters, or 32.74% of registered voters.
This surpasses the 29% voter turnout of the 2017 election, when Tim Keller first threw his hat into the mayor's race.
The highest reported voter turnout was in 2001 at 42%, when former Mayor Marty Chavez ran for a second term.
All election results can be viewed at the New Mexico Secretary of State website.
---
On Twitter, follow us:
Noah @NASolomon_01
Tyler @tbraundhart
Jeanette @jeanettededios
Spencer @SpencerButler48