By Hayley Estrada and Steven DeAnda/ NM News Port
This year, the New Mexico film industry has put a record amount of money into New Mexico's economy- a total of $525.5 million – according to the New Mexico State Film Office. 
Recently enacted Legislation raised the cap of refunded money on what the state of New Mexico  refunds to all film and TV productions in a single year from $50 million to $110 million. 
According to the New Mexico State Film Office statistics page the increase in the film cap is credited with bringing the record high spending to the state. That record in 2019 is up from $234 million spent in 2018 and $505.9 million spent in 2017.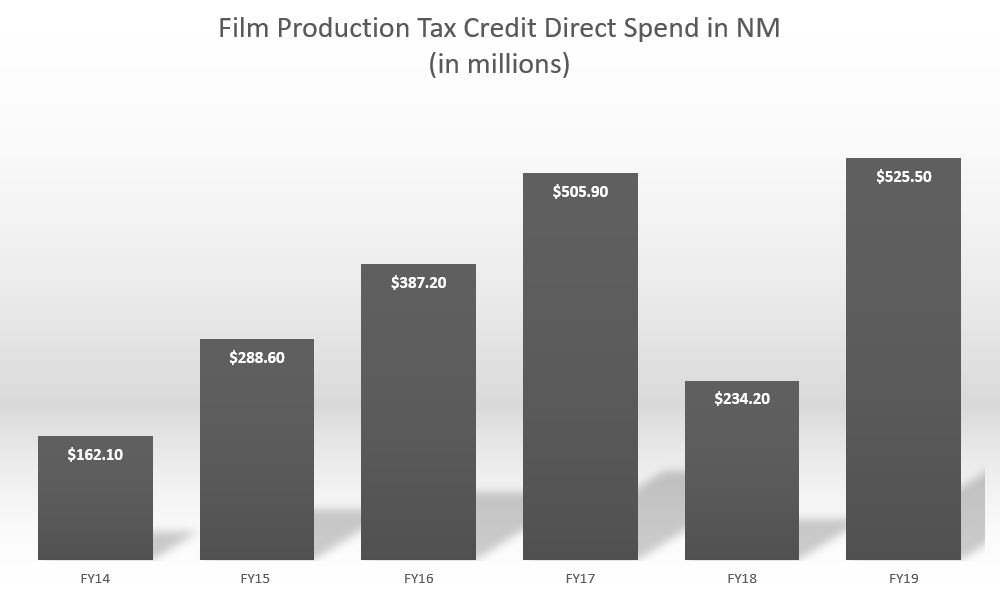 "A year ago versus now… the incentive and the cap being raised has really streamlined and as a result we now have Netflix and NBC Studios as well as other production support business," City of Albuquerque film liaison Amber Dodson said.  
There is an incentive provided by the state  to encourage film companies to spend their money in New Mexico. Currently there is a 25% rebate on local goods and services purchased locally, while some ongoing television shows get up to a 30% rebate.
There is also an additional 5% tax credit provided companies that take production 60 miles outside of the Albuquerque and Santa Fe metro areas.
"We saw a lot of our crew members moving to places like Atlanta, Los Angeles, and New York to find jobs and now we are seeing a lot of them coming back," said Dodson. "We just had Army of the Dead wrap here and that was a $100 million movie, they also had 501 New Mexico crew members." 
While several other states offer a rebate program similar to New Mexico, there are only a few states that have caps higher than New Mexico's California currently has a cap of $330 million. New York is capped at $420 million per year. 
"For film companies, it is a no brainer. They can get up to 35% of their money back," Dodson said. "For those outside companies it is a win-win." 
According to the state film office, there are about 15 projects currently filming throughout the state. These include the TV series "Better Call Saul" and "Roswell, New Mexico" as well as the films "Wander" and "Half Brothers."
"I moved here with the expectation that Albuquerque would become a mecca for film because of the new incentives," said local film enthusiast Barry Thomas. "Many productions have moved here from Atlanta and I anticipate the arrival of Marvel within the next few years."  
Netflix and NBC Universal have both made Albuquerque a hub for production within the past year. However, the productions for both companies are not subject to the $110 million cap since they each have their own contracts with the state. 
NBC Universal has a deal that includes a goal for the company to spend $500 million on productions in New Mexico over the next 10 years. Dodson said the Universal studios is planning to produce almost 800 new positions, creating a sustainable industry for local companies to thrive, and provide steady job opportunities.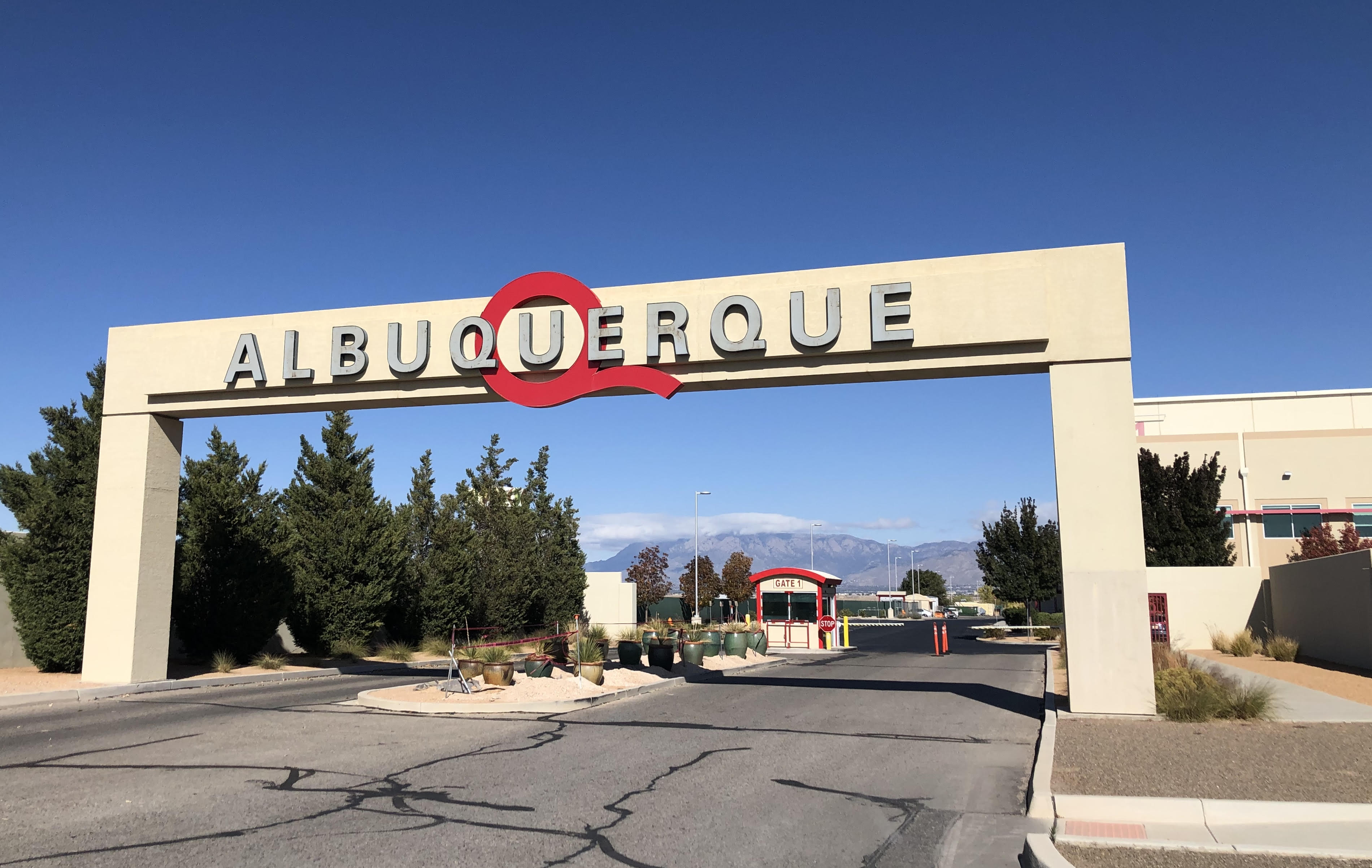 Netflix must spend $1 billion over the next decade to meet the requirements of the state's economic development funding agreement. This while creating 1,000 production jobs a year at the facility formerly known as Albuquerque Studios. 
Marvel's "The Avengers" and "Thor" have previously been filmed in New Mexico and currently the TV series "Agents of S.H.I.E.L.D." is filming in the state. Both the on and off set locations that Albuquerque offers are a centerpiece for what attracts high scale productions to New Mexico.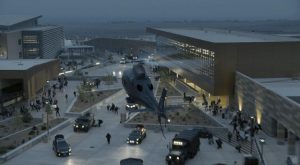 "I thoroughly enjoy the barren landscape that Albuquerque has to offer," said Thomas. "It allows for the cinematic mind to visualize a scene and create it from scratch."   
Thomas said the environment in  New Mexico is able to mimic a variety of landscapes across the world. The natural and manmade filming locations can be used for almost any film genre or type of production.
All this economic activity from film production is causing a response by local training programs. 
Programs such as the Native American film program, started to support the voices of Indigenous artists, is beginning to take part in more events. In October, The Santa Fe Independent Film Festival celebrated their 11th anniversary. This is the first year the Institute of American Indian Arts has sponsored the Native film program and the Indigenous Film Program sidebar. 
The Institute of American Indian Arts is located in Santa Fe, the public tribal college focuses on Native American art and has created several opportunities for Indigenous artists. Several Native films have been showcased during this years SFIFF due to the sponsored support of the Institute. 
The state is also working with educational outlets to develop more programs for students to have their own cinematography courses and curriculum.
"CNM has an incredible film technician program, they are very engaged with our film office so they can pivot and engage the students appropriately," Dodson said. "While UNM has revamped their school for Film and Digital Arts, they are creating the fresh blood that we need in our crews."
While New Mexico's film and TV industry has grown immensely in recent years, the build-up of crews, facilities and vendors is still short of what production teams can get in Hollywood. 
"We have a lot of projects in the pipeline, there are so many great things that we offer and this year has been a game changer for Albuquerque being one of the premiere production agencies in the country," said Dodson. 
Hayley Estrada is a reporter for the New Mexico News Port. She can be reached on Twitter @Est3Hayley or at nmnewsport@gmail.com. 
Steven DeAnda is a reporter for the New Mexico News Port. He can be reached on Twitter @stevendeanda15 or at nmnewsport@gmail.com.