By Abby Matanis and Destiny Munoz / News Port
The Sandia Ski Patrol's annual Ski Swap raised about $35,000 this year to ensure that ski patrol personnel have access to training and equipment. The event, held during the last weekend of October, attracted more than 2,500 people.
Sandia Peak Ski Patrol has been a non-profit organization since 1940. It provides rescue and medical care to skiers and snowboarders on the Sandia slopes, a popular winter recreation area in the mountains east of Albuquerque.
The money made during the Ski Swap funds the cost of training ski patrollers, purchasing equipment, and medical supplies.
"It's this event that funds all our operations up at the Sandia Peak," Ski Swap director Jason Li said.
The Ski Swap is the largest winter sports sale in New Mexico with over 17,000 items available for purchase, he said. This year's three-day event was held at Expo New Mexico, Albuquerque's state fairgrounds.
Attendees pay two dollars for access to all 14 commercial vendors, 230 private individuals consigning personal items for sale, eight ski area booths and lowered prices on new and used ski equipment. People can also choose to snag early bird tickets for $20 and start their shopping on Friday.
"We offer the opportunity to buy and sell new or used gear at a lower rate than what you find in the commercial sector," Li said.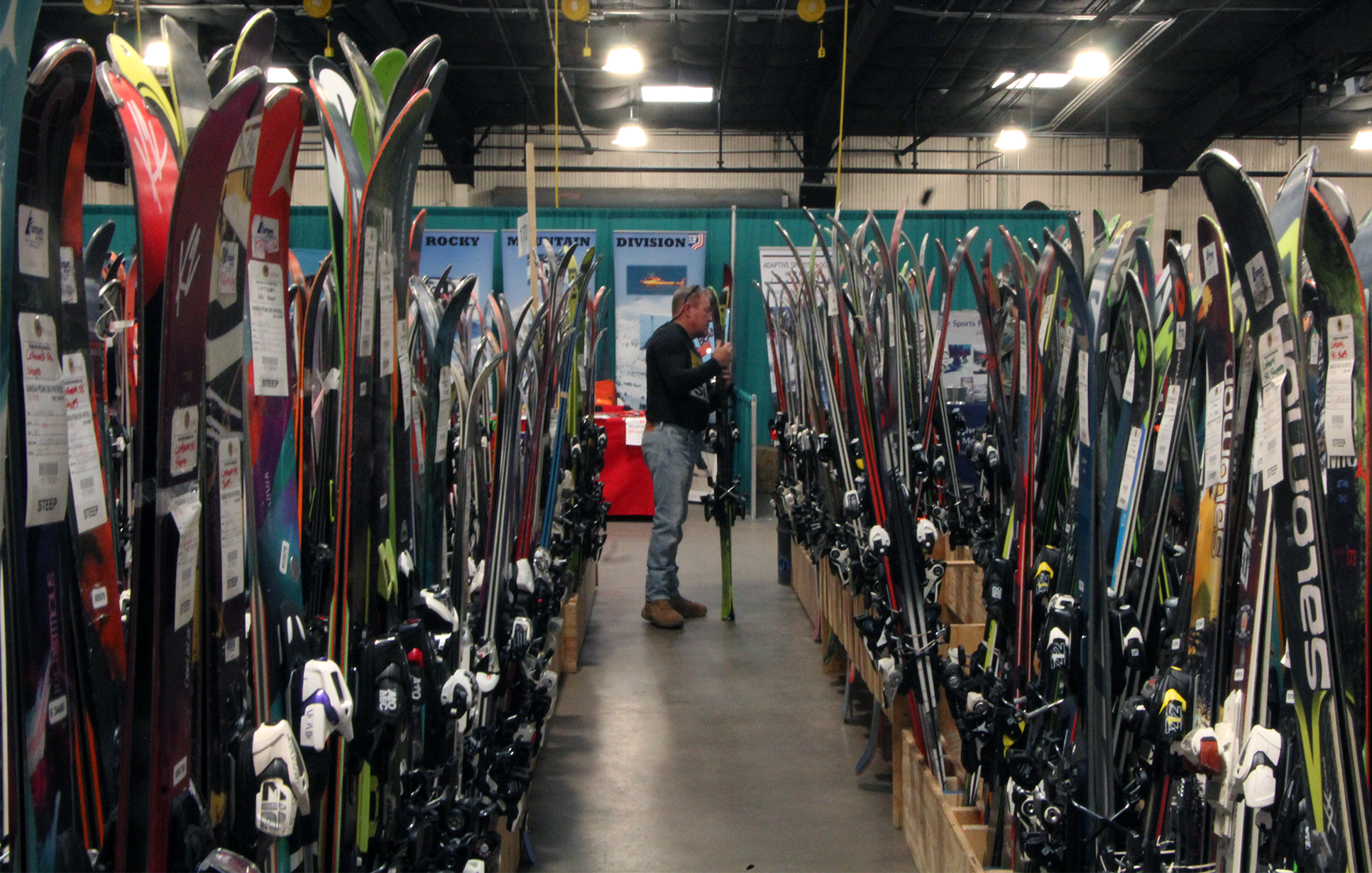 The Sandia Peak Ski Patrol earns commissions on the equipment sold. It's the largest fundraiser for the ski patrol.
Li said the swap generated more than $350,000 in sales this year, most of which went back to the vendors, but the ski patrol's percentage came to around $35,000.
At the event, there are also opportunities to volunteer with the ski patrol.
Bruce Bowles, a Sandia Peak Ski Patrol volunteer, worked on the ski patrol for four years and has been the patrol Director for three years. He said the Ski Swap is how he became interested.
"I joined the patrol and it has been a positive experience," he said. "I've learned lots on the snow and, now, working down here."
Though patrolling the peak isn't too dangerous, Bowles said, there is always a risk when transporting someone down the mountain.
Volunteers that join the organization are required to have training in several areas. According to the ski swap website, training includes first aid, evacuation, toboggan handling, search and rescue, avalanche safety and winter mountain travel. Bowles said there is also a 12-week course called Outdoor Emergency Care that all volunteers must take. The information covered in the Outdoor Emergency Care course is similar to those of an EMT course. Basic emergency skills like using medical equipment and managing patient transport are taught.
Volunteers don't have to know how to ski or snowboard, either.
"We have skiers and boarders, but we also have people who are just in our lower patrol who treat patients," Bowles said.
The patrol is responsible for implementing safety practices at the ski area. They also transport people that become injured and provide first aid to them.
Bowles said Sandia Ski Patrol is always looking for more volunteers — active people who want to learn and use emergency care skills, enjoy the outdoors and the camaraderie of fellow patrollers, and most importantly, help make mountain recreation safer. The Sandia Peak Ski Patrol website provides more information.
Abby Matanis is a reporter for the New Mexico News Port. She can be reached on Twitter @abbymatanis at nmnewsport@gmail.com.
Destiny Munoz is a reporter for the New Mexico News Port. She can be reached on Twitter @DestinyAMunoz12 or at nmnewsport@gmail.com.