By Bodie "Bo" Russell / NM News Port
Fossil fuel versus renewable energy is a topic of debate this election cycle as climate change looms large. House and Senate candidates hoping to represent New Mexico aim to protect local jobs, state funding and the environment. 
Both presidential candidates have said they will not ban fracking. President Donald Trump drove home his message that it is necessary for the energy sector in Pennsylvania during an Oct. 26 rally. 
Fracking is the process of extracting fossil fuels by blasting water, sand and chemicals to fracture rock and shale under the earth's surface. 
Trump claims that former Vice President Joe Biden will destroy the oil and gas industry. Meanwhile, Biden has not entirely ruled out fracking from his energy plan.
His campaign, and running mate Sen. Kamala Harris, have since clarified that he will not ban fracking, only new oil and gas permits. Biden wants to transition away from oil energy, but not fossil fuels entirely. 
While these candidates hold rallies in energy-rich states like Pennsylvania, here in New Mexico, most U.S. Congressional candidates support fracking. Others take a more environmental approach, wanting to move to renewable sources. Some consider the need for both.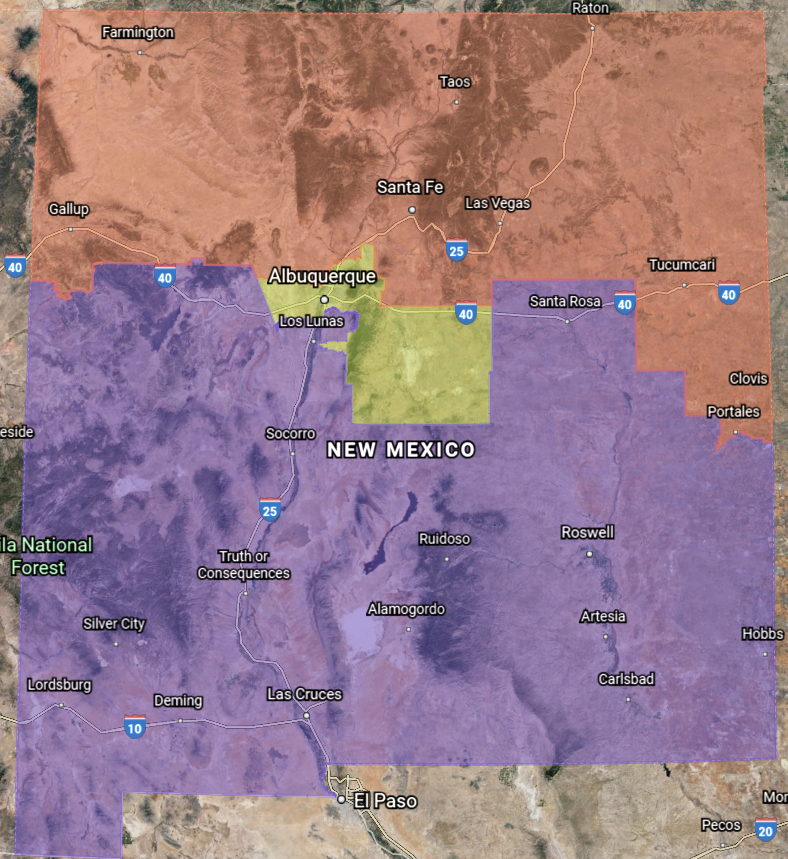 Congressional District 2:
The oil and gas industry is based in southern New Mexico, where the Congressional candidates know communities rely on those industry jobs. 
Democratic incumbent Rep. Xochitl Torres Small aligns with Biden and does not want to ban fracking. 
"I've fought to protect our state's energy industry from a complete ban on fracking because I know that if we stop fracking today we'll have to close our schools tomorrow. It is critical for New Mexico's future that we remain a net energy exporter," her website states.
Her challenger, Republican Yvette Herrell, supports energy producers extracting gas and oil in what Herrell considers a safe and efficient manner. Herrell will support Trump's "America First" energy policies, which place emphasis on fossil fuels. 
"Yvette Herrell is a strong supporter of fracking because it has created thousands of good-paying jobs for New Mexicans, driven down energy costs for our families, and made America energy independent," Michael Horanburg, Herrell's campaign manager, said in an email.
Torres Small gained $37,280 in campaign contributions from what OpenSecrets.org describes as the energy/natural resource sector. Herrell raked in $168,700. 
Of the three congressional district races in New Mexico, the second district is considered the most contentious. In 2018, Torres Small beat Herrell by a narrow margin when the seat was vacated by Republican Steve Pearce. 
Congressional District 1: 
Democratic incumbent Rep. Debra Haaland, the first Native American woman elected to Congress and whose district includes Albuquerque, has stated that water pollution from fracking is an issue that needs to be closely watched. 
In an Aug. 31 keynote address, Haaland criticized Trump for being "intent on selling off our public lands to his friends for fracking and drilling," since cutting the size of Bears Ears National Monument in 2019. 
On the issues of energy and the environment, Haaland's website states, "I pledge to vote against all new fossil fuel infrastructure, and to fight instead for 100% clean energy." Haaland co-signed Rep. Alexandria Ocasio-Cortez's Green New Deal. 
The Green New Deal is a House resolution that was introduced on Feb. 7, 2019 and includes goals like "achieving net-zero greenhouse gas emissions" and "securing clean air and water," among others. The resolution seeks for these goals to be implemented over a 10 year period. 
Haaland's challenger in this year's election, Republican Michelle Garcia Holmes, wants to keep the country energy independent, reducing the need for foreign gas and oil. The Carlsbad Current Argus reported that she has said a ban would eliminate jobs and revenue.
In a Q&A with the Albuquerque Journal, Holmes advocated for Trump's America First Energy Plan, adding, however, that she also believes in protecting Chaco Canyon from energy development. 
Congressional District 3:
In the race for the open U.S. House seat representing northern New Mexico, Democrat Teresa Leger Fernandez plans to bring clean energy jobs to the state. She wants to invest in renewable energy resources and renewable energy tax incentives.
In a candidate profile with the Albuquerque Journal, Fernandez said she supports the Green New Deal. She believes that shifting from fossil fuels to renewable energy is the way to go, with a focus on helping those with oil and gas jobs to transition into the renewable energy sector. 
Republican candidate Alexis Martinez Johnson has worked in the energy industry before and has a background in environmental engineering. 
"I have learned what it takes in order to provide the proper balance between protecting the environment while also maximizing the economic benefit of our Natural Resources," her website states. 
According to a New Mexico Oil and Gas Association (NMOGA) report, oil and gas contributed $3.1 billion to the state budget in the fiscal year 2019. Of that, $1.1 billion came from federal mineral leasing. 
According to the NMOGA, oil and gas industry job salaries average out at $71,505 in the state.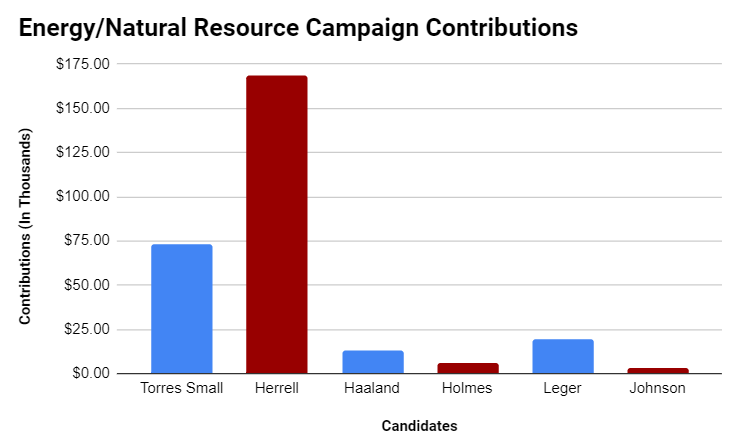 U.S. Senate: 
The leading candidates for the open U.S. Senate seat in New Mexico seem to more closely align with their presidential candidates at the top of their party tickets, while also aligning closely with their party candidates for the House. 
Democrat Ben Ray Luján has no official stance posted on his website. His focus is on oil and gas workers and protecting their jobs, but he also wants to focus on creating renewable energy jobs. 
He also believes in protecting Chaco Canyon from oil and gas drilling. 
Republican Mark Ronchetti supports fracking. Jeff Glassburner, his campaign manager, said that Ronchetti will support the oil and gas industry at the national level.
"Mark fully supports our oil and gas industry and fracking and the prosperity it brings our state. He will always advocate for the industry in D.C., and hopes to serve on the Senate Energy and Natural Resources committee," Glassburner said in an email.
According to NOAA's Global Climate Dashboard, carbon dioxide levels and sea levels are rising. Sea levels have been rising since 1993, at a rate of 3.2 millimeters per year. Glaciers and sea ice are shrinking, and have been since 1979.
In 2018, the United Nations Intergovernmental Panel on Climate Change warned that urgent changes are needed in the next decade to limit catastrophic climate change.
Each candidate and their campaign were contacted for comment in this report. 
Bodie "Bo" Russell is a reporter for the New Mexico News Port. They can be contacted on Twitter @b0dier or at nmnewsport@gmail.com.