By Gabrielle Hockstra-Johnson / NM News Port  
COVID-19 has taken out sporting events, concerts and other gatherings during its long stay in New Mexico, but the Albuquerque Artwalk has adapted to all the restrictions that come with the pandemic. The next monthly art walk is scheduled for Nov. 6.
Gabriel Gallegos, the ABQ Artwalk program manager, said it is important to continue holding the Artwalk because it supports a lot of artists and they help the local economy. 
"It is our duty as community organizers to keep providing some sort of service to the artists, but also for the community," Gallegos said.
Albuquerque Artwalk is an independent art organization that brings businesses and artists together, where artists can perform or sell their art at booths in or near downtown businesses. The public is invited to spend one night a month — every first Friday of the month — going from business to business, or booth to booth. Many locales also have DJs and food trucks in the mix. 
Since the implementation of COVID-19 restrictions last March, masks are mandatory at all the venues, contact tracing has been employed and organizers ensure that hand sanitizer is provided and vendors are six feet apart.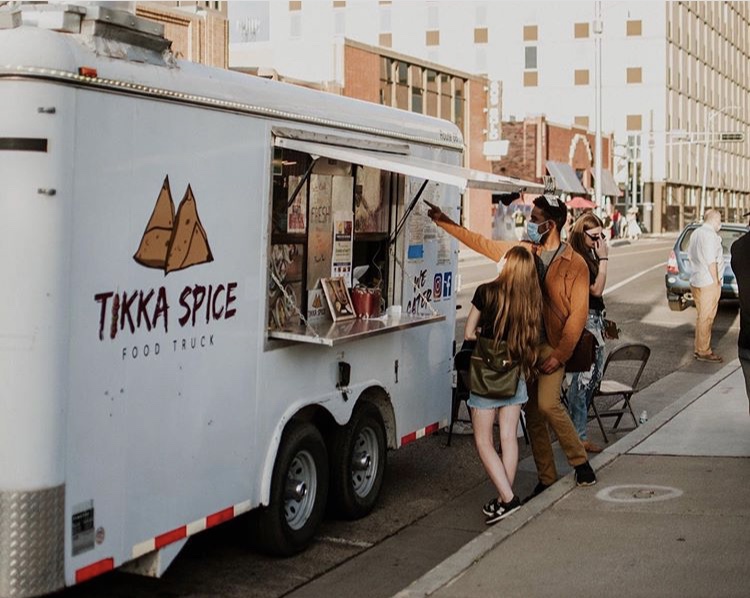 By June, organizers had moved Artwalk to the sidewalk with a few locations operating inside. 
They also introduced ordering via an online store.  
"What makes the website different from other websites, is that not only does it represent an array of artists from New Mexico, but it provides curbside pickup, because we want them to engage," Gallegos said.
 Artwalk faces more changes to come. Organizers hesitate to continue operating Artwalk outside during colder months and face occupancy restrictions when hosting inside. 
Gallegos said the plan for ABQ Artwalk is still undecided for the upcoming winter months as the virus is a growing concern again and added restrictions may be put into effect. 
"It's kind of a tricky situation," Gallegos said. "I'm proud of the ABQ Artwalk because it's one of the few arts organizations that's really doing anything right now."
Artwalk not only helps local artists reach more of an audience, but it helps businesses as well. For some businesses, ABQ Artwalk is their busiest night of the month. 
Modities, a vintage furniture store, opened during the June Artwalk and has benefited from  the increased customer traffic, agreeing to stay a part of the Artwalk every month since. 
Owner Kim Zuidema said that each month the event just keeps getting bigger and better and they commonly have people waiting outside the store to come in. 
"The array of artists that it brings, not only the people who are selling outside of our shop but the people who come, they're a wild bunch," Zuidema said. 
Brady LaVigne is Modities featured artist for the upcoming month. Nov. 6 will be LaVigne's first time showcasing during Artwalk. LaVigne is an architectural photographer who typically travels the southwest, but the pandemic has limited the scope of his work this year to New Mexico. 
"I think this is one of Albuquerque's most exciting and rewarding events one can do as both an artist and participant," LaVigne said. "It is one of Albuquerque's hidden gems." 
Artwalk officially began in 2018 with the purpose "to discover or rediscover downtown Albuquerque." Each year has involved some 50 to 100 artists and performers who otherwise might be competing for public attention. ABQ Artwalk maps help participants find their way around the expansive event.  
While the program has been a win-win for merchants and artists, the short-term situation is still a challenge.
"Going forward, we'll make a judgment call, if our focus is going to be in person or public art," Gallegos said.
Gabrielle Hockstra-Johnson is a reporter for the New Mexico News Port. She can be reached on Twitter @GHockstraJ