"PELIGRO: PUEDE CAUSAR MUERTE, CÁNCER, O DEFECTOS DE NACIMIENTO" reads the eight foot tall inflatable radioactive waste canister. (Translation: "DANGER: CAN CAUSE DEATH, CANCER, OR BIRTH DEFECTS") There's a banner tethered to the bottom: "NO NUKES!"
The inflatable canister has been traveling across New Mexico: from Albuquerque to Roswell, Carlsbad, Hobbs, Artesia, Gallup, and Santa Fe. On April 19th, it was at the 10th Annual Sustainability Expo at Cornell Mall on the University of New Mexico campus.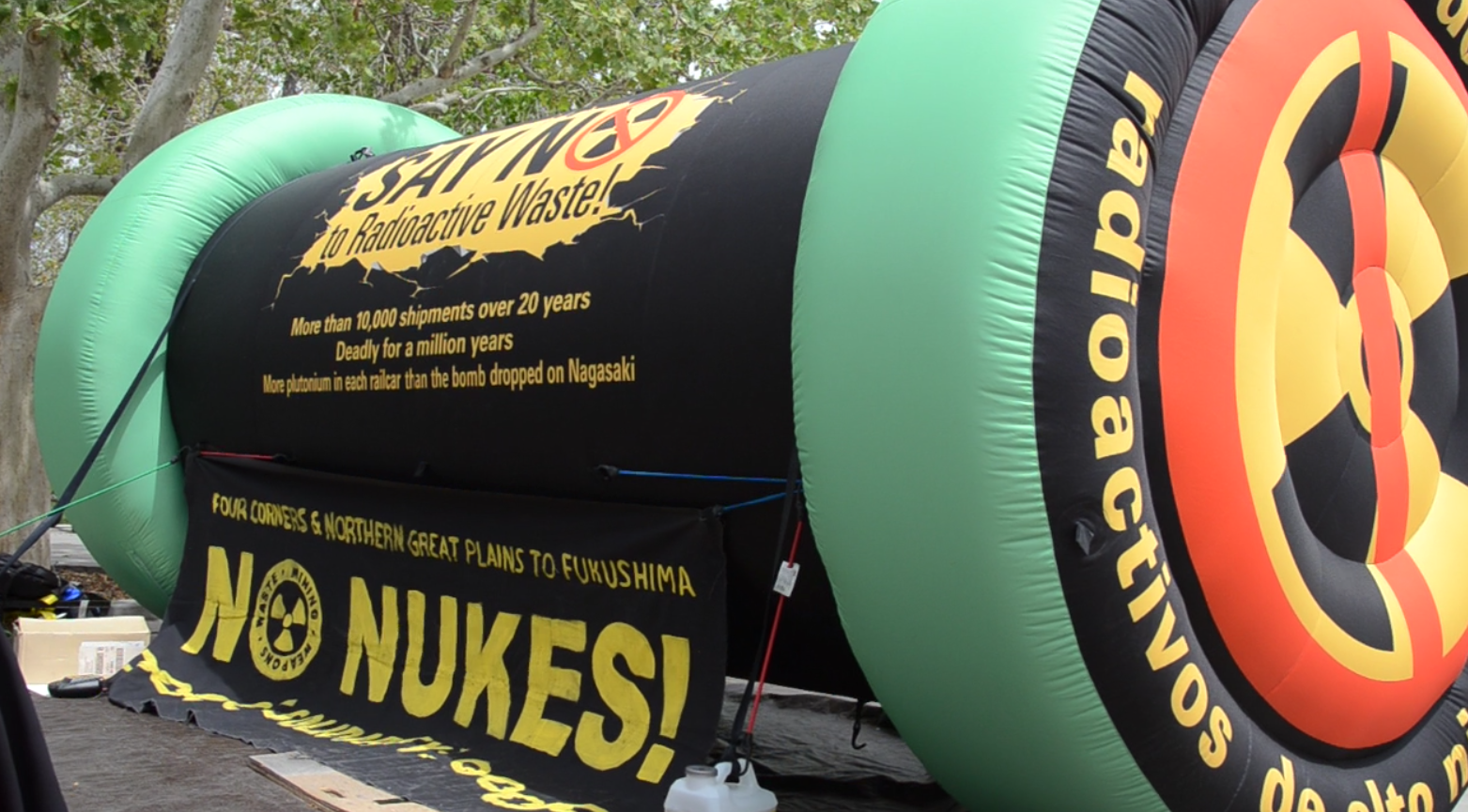 The inflatable canister is within inches of the size of the real radioactive waste canisters that could be sent to a newly proposed nuclear-reactor waste center between Carlsbad and Hobbs. Holtec International is a New-Jersey based nuclear manufacturer behind the proposed plan. Holtec wants to send 100,000 tons of nuclear reactor waste to be stored for as long as 120 years at the site.
The Nuclear Regulatory Commission (NRC) has been holding public meetings about the proposal, as well as accepting written comments.
In response, community members and students of the University of New Mexico are calling attention to this issue, and the legacy of nuclearism: through art, education, and activism.
"Each one of these cars contains as much plutonium as the bomb that was dropped on Nagasaki in 1945," said Eileen Shaughnessy, who leads a Sustainability Studies class at UNM titled "Nuclear New Mexico." The class is focused on both environmental justice and social justice in relationship to nuclearism.
The Nuclear New Mexico students have been finding ways to take the content learned from the course and share it outside the classroom. Recently, the students toured the Paguate-Jackpile uranium mine,  about 40 miles west of Albuquerque, one of the world's largest open-pit uranium mines.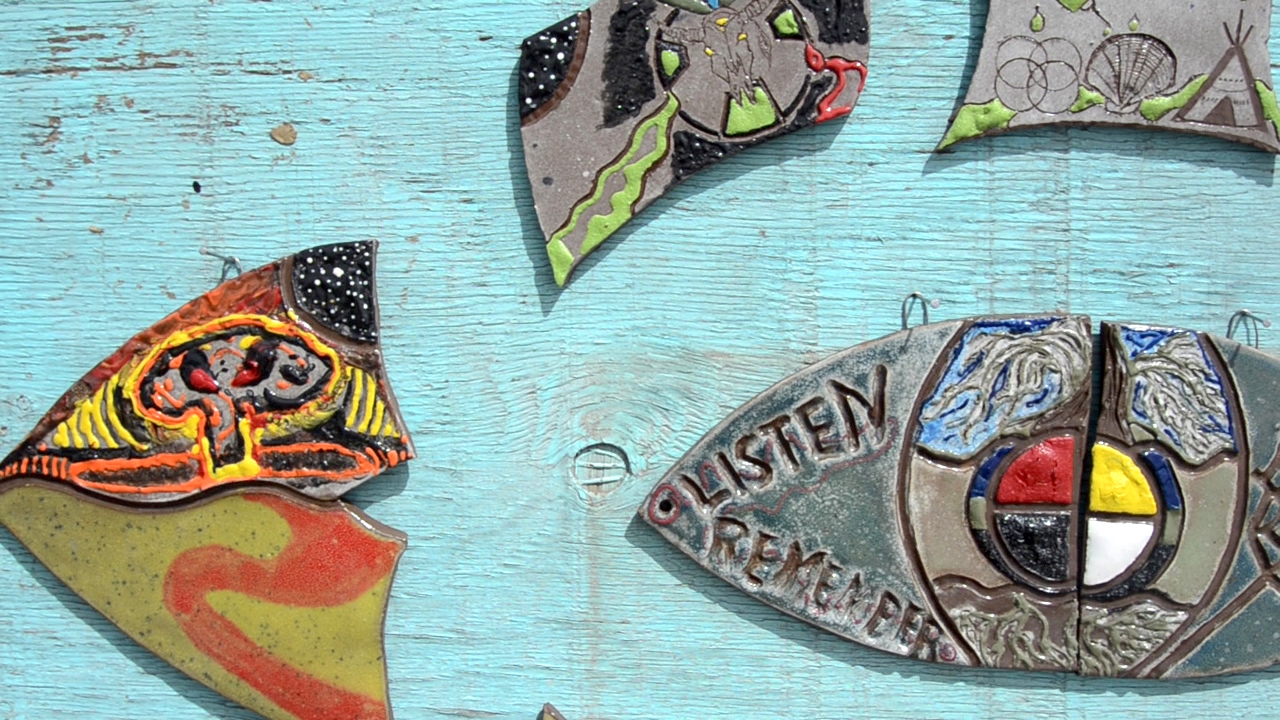 UNM student Vincent Laroza had an interactive art exhibit at the Sustainability Expo, titled "Radioactive Colonialism, Desecration, and My Way to Wholeness."
"I think I offer hope in my art, to help me figure out how I can deal with these feelings of despair and chaos that we've incurred from learning about nuclearism. The only solution for me is hope, and tangible actions that I can make in my own life," Laroza said.
Laroza's installation included ten clay panels, etched and painted to signify the different stages of the nuclear/radioactive colonialism. He also set up a painting space for others to contribute to the dialogue.
"I made the project interactive in order to get people to relate to what's sacred and wholesome within themselves, instead of just hearing about it from another person, and to think about what's important to them, and how they can take steps to protect what they hold sacred," Laroza said.  
"Here in New Mexico, I look at this place as the birthplace of nuclear colonialism," Leona Morgan, co-founder of the Nuclear Issues Study Group (NISG), said. NISG, founded in 2016, strives to protect New Mexico from all things nuclear.
"New Mexico has been targeted far too long as national sacrifice zone for radioactive contamination," Morgan said. The waste in Holtec's proposed plan would consist of fuel rods from more than 100 nuclear reactors across the U.S. They would contain most of the original uranium, along with plutonium, cesium, and strontium.
"People have been colonized through mining. People have been sacrificed through experimentation. There's been death and destruction, and there are still people invested in this industry that is not sustainable or fair," Laroza said.  
The NRC will be accepting public comments through May 29.
You can follow Christina on Twitter. 
Editor's Note: This story was updated May 18, 2018 to remove a Shaughnessy quote and revise a photo caption in order to clarify those activities and statements resulting from the UNM Sustainability Expo and those connected to a separate event, the Halt Holtec kick-off and news conference.