Local artists are helping revitalize the Nob Hill community with large outdoor murals. With support from residents, businesses and preservation groups like Nob Hill Main Street, these artists are also affirming Nob Hill's historical place in Albuquerque.
Meet the Artist: Aaron Stromberg
For Nob Hill's 100th birthday in 2016, Nob Hill Main Street and the Nob Hill Neighborhood Association sponsored a contest to find an artist to create a mural celebrating the occasion. Nob Hill found its muralist in Aaron Stromberg.
Stromberg said he's been creating artwork ever since he can remember and said art is something he just loves doing.
"I do more sketching. It's just kind of how my brain works," Stromberg said. "My brain thinks more visually about things and connects more emotionally with visual imagery."
Stromberg was born in Rochester, New York but moved to New Mexico with his family when he was young.
"After going through a couple of years of speech therapy so people could understand me without having a New York accent I pretty much grew up here," he said.
Stromberg moved to Nob Hill while he attended the University of New Mexico where he received a Bachelor's in Fine Arts.
After college Stromberg remained a resident of Nob Hill  because, he said, he enjoys biking and walking and viewed Nob Hill as one of the few areas in Albuquerque he feels is very pedestrian friendly.
"It leads to some pretty expensive dog walks because I usually walk my dogs to a coffee shop or a bar," Stromberg said, "because I walk my dogs everyday that adds up a little bit — but I enjoy it."
When Nob Hill Mainstreet put out a call for artists, Stromberg knew the project was for him, he said.
"Of course whenever you apply for something you really hope you get the opportunity to do it and it was really neat to see something that fit me so perfectly," he said. "Whenever you create art or create anything, you want it to speak to an audience — to be as direct to the specific audience as you want — and I was that audience they were looking for."
Stromberg said Nob Hill Mainstreet and the mural organizers appreciated his love for New Mexico muralist who have created very complex and historical murals. Stromberg naturally draws inspiration from these murals, he said
"In my own artwork I kind of come from it in a research standpoint," Stromberg said.
While there are times Stromberg create just fun but things he really likes to create art that means  something or are requires research to create it, he said.
"That's really what this mural is about," he said. "It's about researching Nob Hill and understanding what Nob Hill is becoming and trying to convey that."
Currently Stromberg is working on an art for Nob Hill's Haven Skate Shop where the owner  is printing one of Stromberg's designs for her shopboard.
Stromberg had an art show for the release of the art on Cinco De Mayo, he said.
"I'm working on this new skeleton thing with ravens on it and it's pretty neat," Stromberg said.
Meet the Artist: Larry Bob Phillips
Much like Stromberg, artist Larry Bob Phillips had deep connections with Albuquerque before creating his Nob Hill mural. Phillips received his degree from UNM and with partners he showed contemporary and experimental work in a gallery across the street from the Barelas coffee house, he said.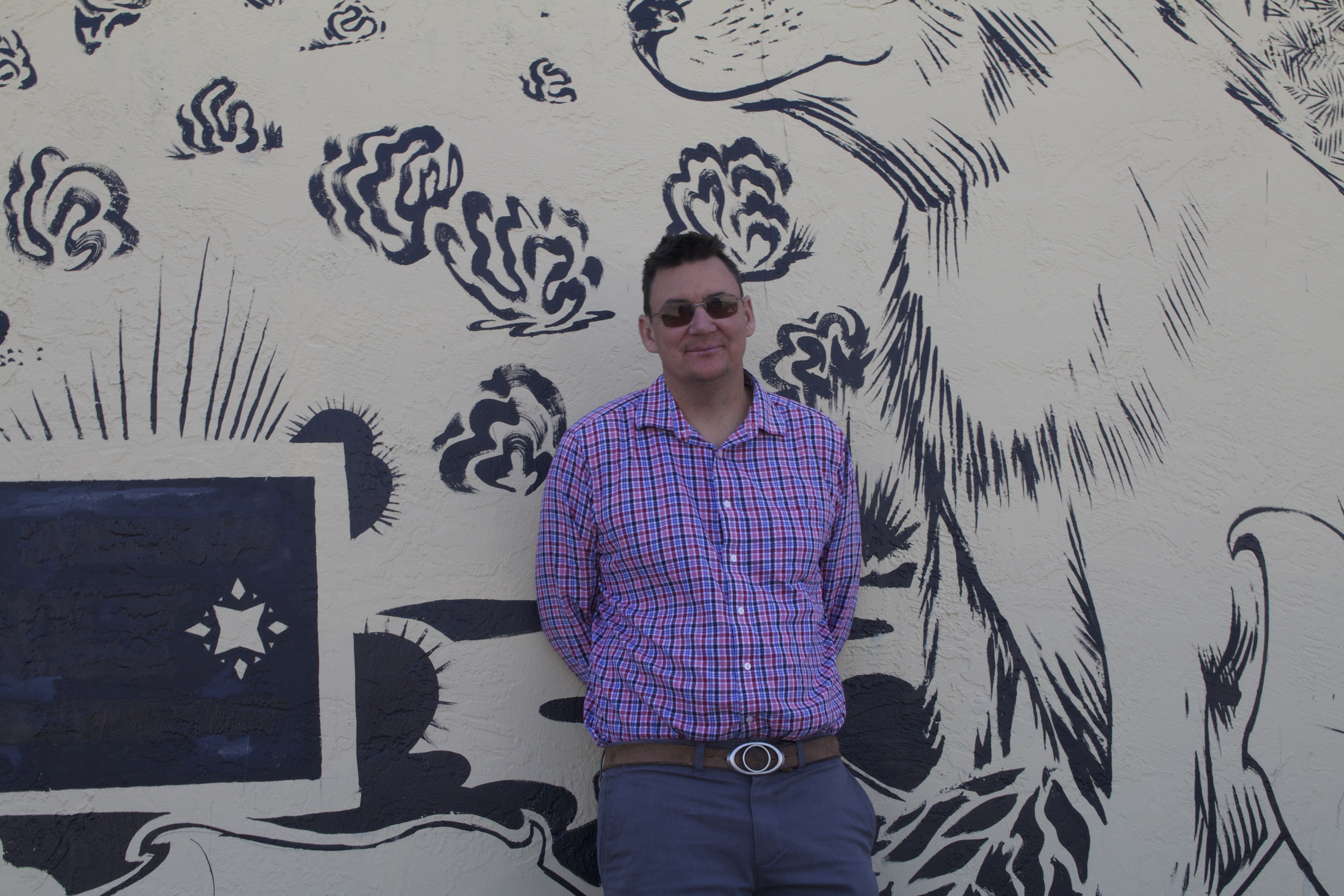 Phillips taught at Central New Mexico Community College which lead to studies that deepened Phillips understanding of traditions in New Mexico, he said.
"I realized we lived in one of the most layered and beautifully rich and diverse places in the United States," Phillips said.
Phillips' art has absolutely been influenced by New Mexican culture, he said.
" More than the stylistic attributes of those arts, the sort of intention, the sort of depth of meaning and how they reference place is really powerful for a western artist," Phillips said.
Phillips' interaction with Nob Hill Mainstreet differed from Stromberg as a few years went by after giving presentations to Nob Hill Main Street before things really got rolling, he said.
Initially Phillips was brought in for a different wall painting, however Phillips' vision for the wall differed from the owners, he said.
"They wanted a more Wizard of Oz yellow brick road Americana Route 66 mural and I feel like that's a classic American theme but there are strong New Mexican themes that I think are ultimately more compelling, more complicated and more true for us," he said.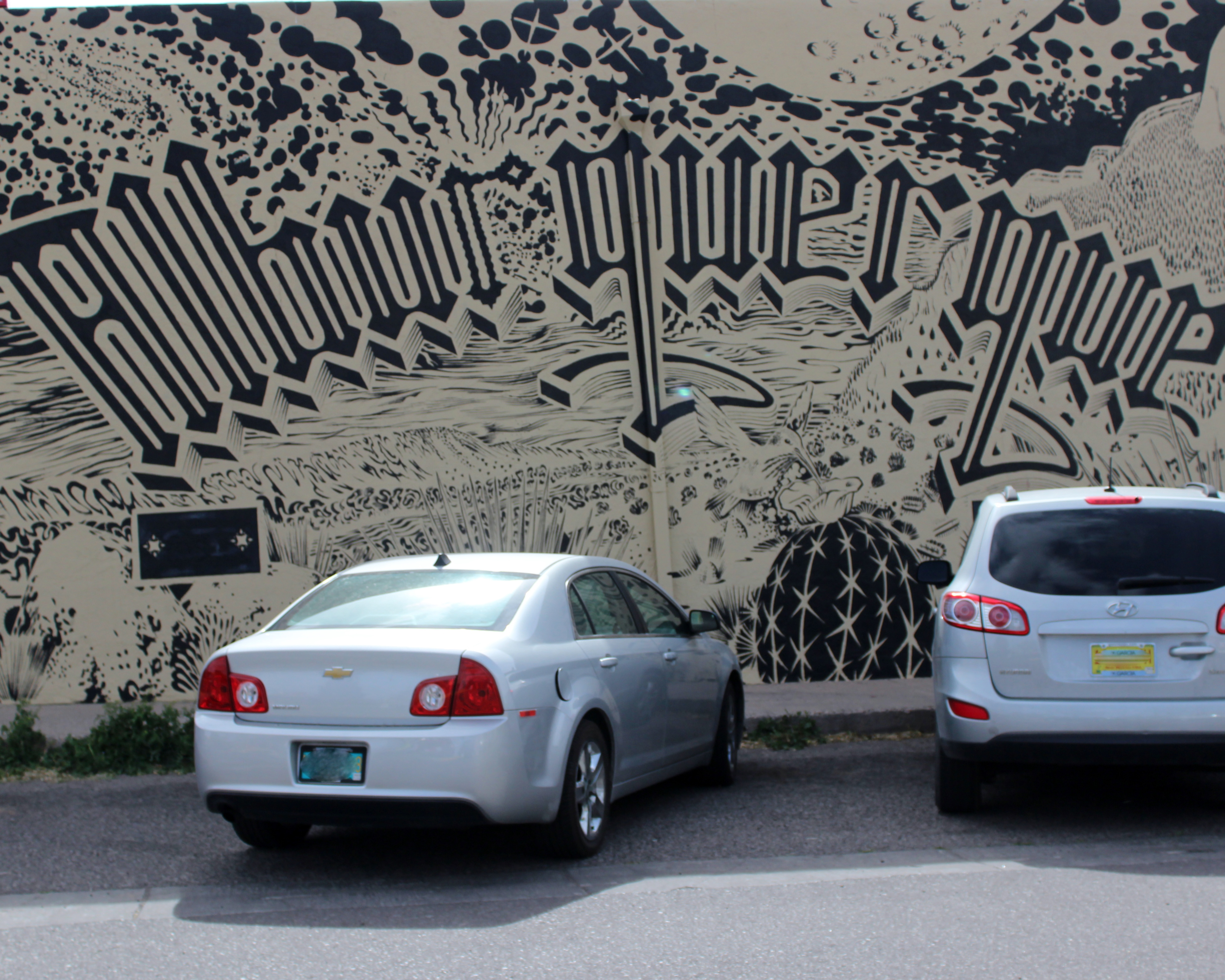 Nob Hill Main Street then stepped in and started looking for what would be a good fit for Phillips' art and because he was already known to the owners of the new business's wall Artisan it was a very short negotiation process, he said.
Nob Hill Main Street was definitely enthusiastic and work hard to find a good fit, Phillips said.
A lot of Phillips' work is trying to marry American tradition of comic book art with the grand American landscape tradition, he said.
"Painting the West has always been an activity that's sort of like a quasi sort of European eye thats cast over the landscape which ascribes with different spiritual, religious and political overtones," Phillips said.
In a graphic sense Phillip said he is trying to understand the natural world as it has organic forms and self organizing geometries.
"Those can't be depicted literally always," Phillips said. "So you need a graphic analogy. A brush stroke some kind of vibrating lines, some kind of series of dots that can speak to an infinite, complex biological reality."
As an artist with strong ties to Albuquerque whose work has gone beyond New Mexico, Phillips said it feels really good to have a piece of his work in Nob Hill.
"Murals are always hard because they are high stakes, they're permanent, they're super visible and in my regular drawing practice probably only 10 or 20 or 30 percent of what I make even gets on Instagram much less being architecturally available forever or for a long time," Phillips said. "So it's intense and it's a lot fun to watch and add to your body of work as your contemporaries and peers add to their body of work."
Nob Hill Mainstreet
Nob Hill Main Street is part of a grassroots nationwide collaboration called the Main Street Program which focuses on the revitalization of blighted areas. Nob Hill Main Street was established in Albuquerque in 2009.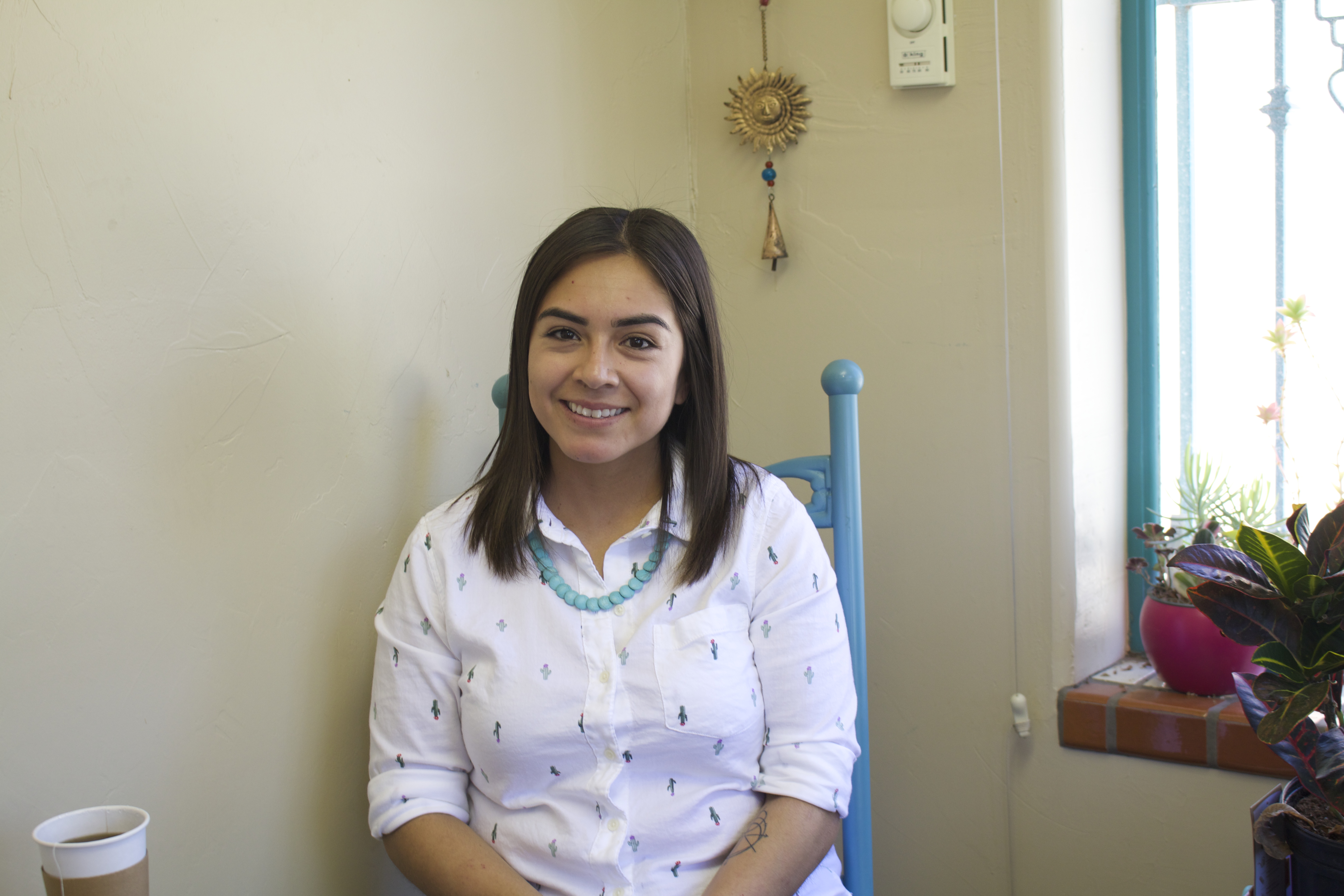 Executive Director of Nob Hill Main Street Omega Delgado said Nob Hill Main Street is a nonprofit that works in the Nob Hill District within the boundaries of Girard to Washington.
This is done by hosting events that draw people to the district as well as through infrastructure design projects such as murals, she said.
"The way that we get our mural work done is we seek grant funding. We apply for grants through the county or any other organization. The most recent one that was conducted was on Morningside and Central (located on the east wall of Abitha's Apothecary)," she said.
As an organization, Nob Hill Mainstreet has preset guidelines on what type of work they will fund, she said.
This work includes pieces focusing on the history of Route 66, the culture off Nob Hill, the general  culture of Albuquerque, landscapes and mostly historical pieces," Delgado said.
"Anything that creates that sense of place, the identifier," she said.
The creation of a mural goes through multiple parties including entering into a contract with both muralist and property owners, Delgado said.
In regards to the mural commemorating Nob Hill turning 100, Nob Hill Mainstreet worked in conjunction with the neighborhood association and put together a committee which included members of the association as well as artists and created a bidding to search for artists in the greater Albuquerque area.
"They sent in sketches and what we were really looking for was a historical piece and so everyone submitted their different takes on what that is and they put their artistic creativity into that," she said.
The decision to select Aaron Stromberg by the committee was due to how important the history was represented in the mural based on the appreciation of how he captured Nob Hill history in his sketch., Delgado said.
A lot had to happen to provide funds for the project including a grant from Bernalillo county and a Go Fund me campaign created by Stromberg to cover labor costs, Delgado said.
"So Aaron would go out there every morning and work on the mural and when the whole thing was done we had our own little ribbon cutting type ceremony where we brought in the sponsors, the community members and recognized him for his work and what the piece meant to the district," she said.
The same system was in place for the artist Larry Bob Phillips' piece with the exception of the same guidelines being put in place such as the subject matter of the mural, she said.
Despite this the work the artist did put significant Albuquerque culture in his mural while also using his familiar style, Omega said.
Currently one of Nob Hill Main Street's committees is looking to participate in the 508 Mural Fest, Omega said.
508 Mural Fest is a free public art mural festival which takes place in Albuquerque and is produced by Warehouse 508 and Worldwide UnderGround.
"508 is really connected with the artist community, so with us jumping in with them we could extend that fest into the district and connect with artists in that way," Omega said. "So what we're really working on is site location and bringing together the resources for funding."
This would be the first year Nob Hill Main Street partnered with the 508 Mural Fest, Delgado said.
"We're hoping that we are fully funded and if not at least partially funded," she said. "The goal is to get three murals in the district."
For more follow Nichole on Twitter.