By Jamesha Begay / New Mexico News Port
Officials from New Mexico's Native communities asked for help and understanding from state officials on COVID-19 during a virtual town hall meeting April 19.
New Mexico Gov. Michelle Lujan Grisham was among the guests with U.S. Congresswomen Debra Haaland, Navajo Nation President Jonathan Nez, and Lynn Trujillo, Secretary of the New Mexico Department of Indian Affairs.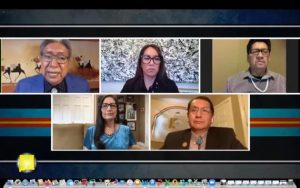 The number of cases on the Navajo Nation is a prime example in talks of how COVID-19 impacts Native American communities around the country. The Navajo Nation in particular has been hard hit by the virus.
"It makes it much harder particularly for sovereign nations in my opinion, like the Navajo Nation who are navigating the federal government, Utah, Arizona, and the New Mexican State governments," Grisham said.
The biggest Native American reservation in the country, the Navajo Nation has a reported more than 1,540 positive cases, including 58 deaths as of April 24th.
With more tests given across the reservation, the need for funding and equipment is rising, officials said.
"We're awaiting federal dollars to come to our tribes and we just can't wait, the Navajo Nation had to reach into our own pocket, just like many other tribes throughout the nation, to help out," Nez said.
Willfred Herrera Jr, a vice chairman for the All Pueblo Council of Governors said the virus is also hitting Native Americans economically.
"There was already decisions made by some pueblos to voluntarily close their casinos." Herrera said. "This wasn't an easy decision because as we know, this is the revenue base for a lot of pueblos and tribes across the country."
New Mexico pueblos generate income in a variety of ways including through casinos.
Economic relief for native people has been a mission for Haaland, who said she understands the hardships.
"I was calling leadership nearly every single day to make sure we had a set aside for tribes. We started with 20 billion and we ended up with eight and so that is money that will go to directly to tribal governments," Haaland said during the event.
Nez emphasized Navajo Nation's need for assistance in its fight against COVID-19.
"These type of segments and interviews have really highlighted the underfunding of the Indian Health Services throughout the county," Nez said on the Virtual Town Hall meeting. 
Valerie Bitsilly, who was born in Gallup, New Mexico and now lives in Mexican Springs, said she knows about the challenges Navajo's face on the reservation.
"In the heart of the [reservation], people are still living in like old times, they have no running water, they don't have no electricity, and some of them have to travel a long distance to get their needs, it is a challenge for them," Bitsilly said.
Employed as an accountant with the Navajo Nation, Bitsilly also agrees with Nez' stance on underfunding in Navajo Nation's fight against the pandemic.
"I totally agree with him because this is a life-threatening situation that's taking place and because of that I think that certain criteria should be lifted for that reason," Bitsilly said. "and when he said we don't have time to wait, we don't, we don't have time to wait."
Kathyleen Kunkel, Cabinet Secretary for the NM Department of Health, provided insights into the recent surge of COVID-19 cases in tribal lands.
"The reason I believe we saw the spike is that tribal communities live in largely rural areas, in large family units, multiple family units and they engage in community support and community activities," Kunkel said.
General testing began in late February and early March across  before seeing any early cases of COVID-19, including in some tribal communities, according to Kunkel.
"We are testing very, very rapidly," Kunkel said. "We are trying to get to every tribal community, there has been a lot of collaboration with the Indian Health Service."
Not only was the meeting about impact reports and leadership efforts, it was also intermingled with hope.
"I have real hope for getting through this in a way that shows that we are stronger and more resilient as a community as a state if you will, by working together and I don't want people to be afraid and I know they are," Grisham said. "I want to them to be concerned in a way that helps us address this problem to the highest degree,"
Jamesha Begay is a reporter for the New Mexico News Port. She can be reached on Twitter @Mesha_Randomnes or at nmnewsport@gmail.com.