By Rayes Gallegos / NM News port
Despite businesses offering incentives to recruit workers, unemployment rates remain high in New Mexico and restaurants, in particular, are struggling to find enough employees.
Right now, "90% of New Mexico restaurants are short-staffed," said Carol Wight, chief executive officer of the New Mexico Restaurant Association.
In July of 2020, New Mexico's unemployment rate reached an all-time high of 12.5% while the national average was 10.2 %. In August, the national average was 5.2% while New Mexico's was 7.2%.
New Mexico is one of the states that endured several pandemic-related shutdowns. In July 2020, New Mexico restaurants shut down four times due to high Covid-19 cases, contributing to an overall loss of 25,200 jobs in the leisure and hospitality industry, according to the New Mexico Department of Workforce Solutions.
The New Mexico Restaurant Association launched a recruitment campaign called Hungry for Success.
Wight summed up the theme this way:
"If you have been out of the workforce for a while, we would love to have you back."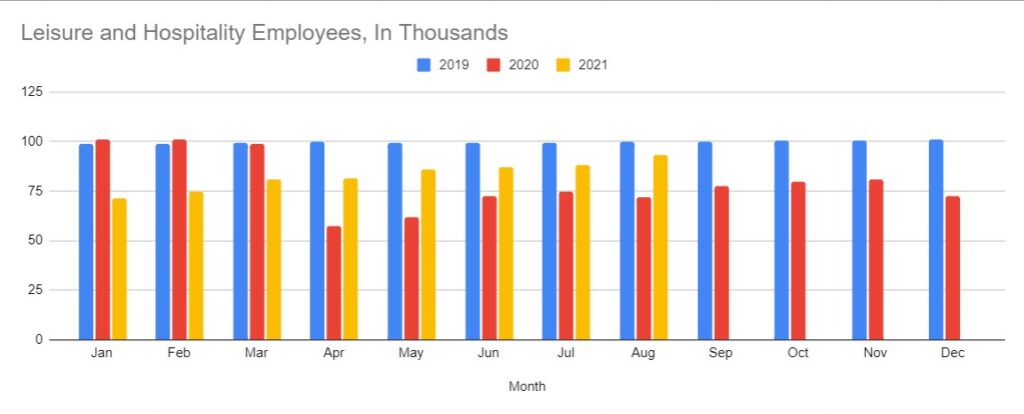 Restaurants have struggled financially during the pandemic leading Congress to implement the Restaurant Revitalization Fund. The fund promised to reimburse restaurants money lost during the pandemic.
The $28.6 billion fund quickly ran out of money as 601 out of 1,529 New Mexico applicants received federal aid.
"It was first come, first served, and if you didn't get in right away you didn't get money," Wight said.
Nationally, fast food chains such as McDonald's, Chipotle and Taco Bell have been offering incentives such as higher starting pay, paid time off and flexible schedules to recruit workers.
Locally owned companies are not following this strategy leaning towards flexible schedules and friendly work environments.
El Pinto restaurant general manager Ronnie Padilla said he needs to hire another 35 employees but is not using incentives to lure them.
"We treat our employees with respect, appreciate our employees and feed them breakfast on Saturdays," Padilla said.
Padilla also said he recently interviewed a young woman he chose not to hire because she wanted $13.50 an hour as a host, $2 an hour more than he was offering.
James Armijo, State Farm Insurance agent, says two potential hires have ghosted him during the process similar to what Padilla experienced at El Pinto. Four of Armijo's new hires this year have already quit saying the job was too stressful.
To keep and recruit workers, Armijo raised the starting wage to $15 an hour plus commission but he said that has not yielded any positive results. This summer he implemented a more flexible schedule, which he hopes will attract and keep workers.
"As employers, we have to decide how to make things work," Armijo said.
Armijo and Padilla both said they hoped flexible schedules and friendly work environments will attract more workers. That's attractive to some workers.
UNM student, Natalie Renfro, said she applied at Costco because of their flexible schedules and friendly work environment.
"Costco has a good reputation as a place to work for employees and everyone that I know who has worked there is happy," Renfro said.
Before the pandemic, Renfro put in 70 hours a week between school and work. With more time at home during the lockdown she decided to focus on work-life balance.
"I had all this time to think about how many hours I was working and the fact that I hardly ever saw my friends," Renfro said.
Rayes Gallegos is a journalism student and reporter for New Mexico News Port. Rayes can be reached on Twitter @Anthony15778035.