By Tyler Braunhardt, Spencer Butler, Jeanette DeDios, Noah Solomon / NM News Port
The Class of 2021 has had a long time to think about what they'll do after graduation, but many didn't count on the lingering effects of the coronavirus pandemic.
COVID-19 has changed the economic landscape in New Mexico, leading new college grads to reshape how they approach the job market.
Remember early 2020? What was shaping up as a great time to enter the workforce turned into an abysmal year for the economy. Layoffs, closures, work-from-home, early retirements and overall job uncertainty plagued New Mexico, the country and the world.
This year was supposed to be the rebound — but the Delta variant of the virus caused another great contraction in the economy. By September of this year, the government reported the country was still five million jobs short of pre-pandemic levels and the overall workforce had shriveled due to millions of people opting out one way or another.
Yet, the latest data are encouraging — indicating that a lot of jobs are open and waiting.
At the University of New Mexico, over 1800 employers were approved to recruit on campus this past year, posting almost 45,000 jobs. According to the Career Services office, the top categories for work included healthcare, education, online services, government and nonprofits.
Career Services Director Jenna Crabbe tells NM News Port that the jobs are out there. While the numbers of positions advertised in May 2020 was very low — only 1351 full time jobs — that number had climbed by September this year to a two-year high of 5285 full time positions.
For many who graduated in 2020 or 2021, it's been a tricky decision. Will I be working remotely? Is there risk of another large disruption? If I hold out, will wages rise, as some predict, or will I lose out to the competition now that workers are moving back into the job market?
And if you prepared for a job like teaching or healthcare, you may be in high demand — but what kind of stressed out workplace might you be entering?
Fear not, the experts say. Polish your resume, sharpen your portfolio, and armor up in your best suit: the monster that is the pandemic will not stop the job market and, hopefully, won't stop the newly minted college grad.
New graduates, know your competition: last year's graduates
Erica Proudfoot inspires students approaching graduation because she's a living example of how to navigate the COVID economy and land a good paying position.
Proudfoot graduated from the University of New Mexico in 2020. She credits campus career fairs for helping her land a job at Northwestern Mutual, a job she began the day after she graduated last December.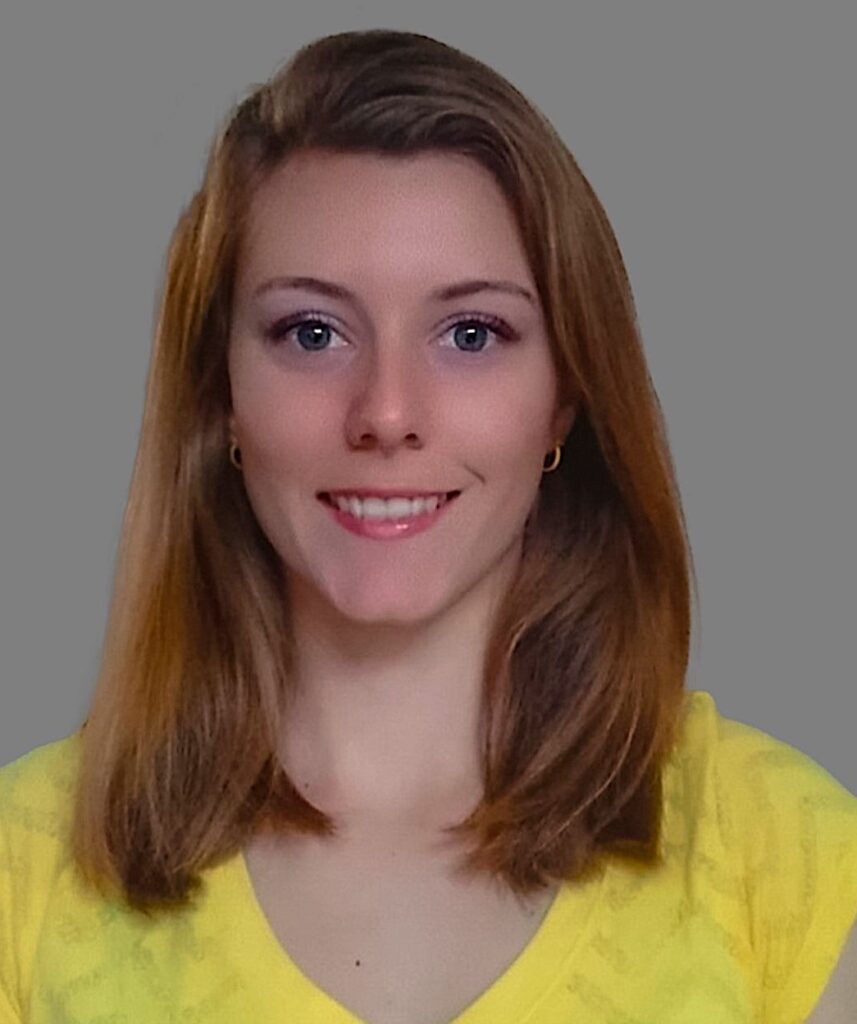 But the onus was on her to land the job.
"You have to call people. And that's what I started doing during the career fairs," Proudfoot said. "Once you call one person and somebody's got something to say about that: you're getting the ball rolling."
She said she started her job seeking process in October of her final semester and didn't get her offer until December.
With COVID wreaking havoc around the country, Proudfoot said job hunting was terrifying at best.
"For all the places that I reviewed with, I made sure that these were companies that were not going to shut down," she said, "that were adapting to the ever changing career (field) and things could be done virtually."
Proudfoot is now Director of Selection at Northwestern Mutual's Albuquerque office. She is now giving student interviews instead of receiving them.
In her new recruiter role, she was recently talking with UNM students at a fall 2021 job fair — part in-person, part virtual — in which she had some surprising moments.
"I felt as [if] the students, from my perspective, they were not interested, they were not very talkative, they weren't as professional," Proudfoot said.
"A lot of students were walking around in pajamas, and in sweatpants, and not dressed for meeting a potential future career employer," she said.
Proudfoot said not every student showed such a lack of enthusiasm, but still it was an eye-opening experience to be on the hiring side of the table.
Despite the lackadaisical approach by some students, career fairs continue to provide good job-hunting opportunities, even during the pandemic. The Collegiate Employment Research Institute shows an upward trend of virtual fairs more than in-person fairs, a trend expected to continue in the coming years.
That's good news for potential 2021-and-beyond graduates: as career fairs adapt to the virtual presentation, they also provide more on-line resources and increase interactivity among fair-goers and potential employers, providing an even playing field to help students stand out from the competition.
For the Class of 2021, the competition includes the graduating class of 2020. Both sets of graduates are experiencing the wake of one of the worst recessions in United States history, akin to The Great Recession of 2009. And while the job openings are increasing, the competition for them is becoming fierce.
"A lot of the people I graduated [with] I've actually tried to hire on, because they didn't have job offers and they are still looking for work," said Proudfoot. "I've had people reaching out to me asking for career opportunities because not everybody was as fortunate and prepared."
A surge in retirements means ample job opportunities for new teachers.
For student teachers, finding employment in New Mexico isn't the biggest issue they face. It's how to teach while a pandemic continues.
"It's been really hard with having masks," said Taneke Callahan.
Callahan is serving as an elementary social studies teacher while she completes her degree at UNM's College of Education and Human Sciences (COEHS).
"Students need to see your mouth and see how you pronounce when you teach vocabulary," she said, "but that's not possible right now."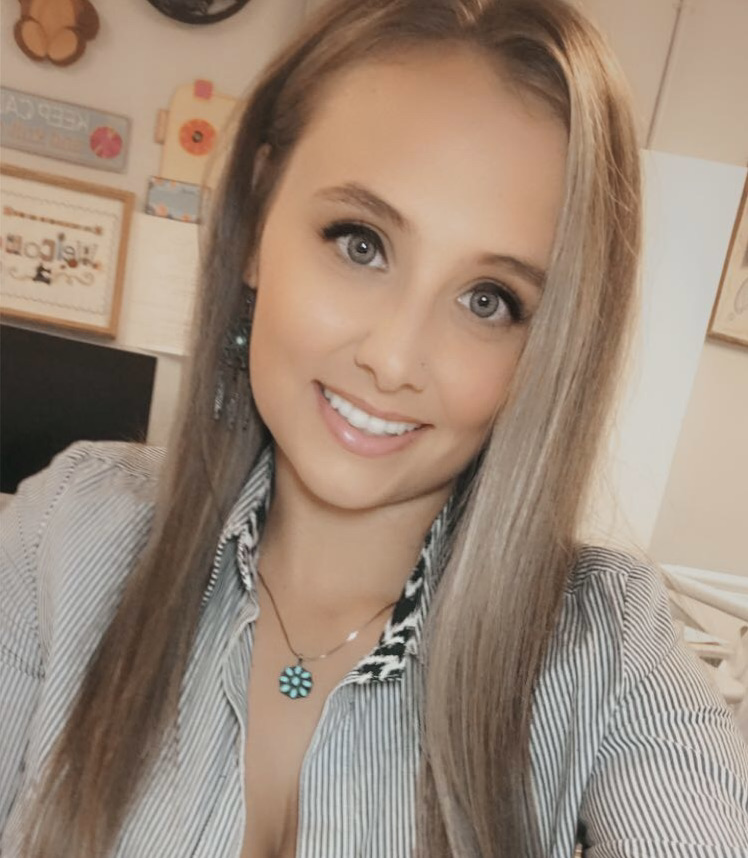 "A lot of kids are having major distractions from where they should be," added Kendal Paul, an elementary mathematics student teacher at COEHS. "So getting kids back to where they need to be and reassessing the standards and roles of a teacher will be an important issue in the next few years."
Callahan and Paul are typical of those at UNM who will graduate soon and will have no problem stepping into a post-college teaching career, but the schoolhouse landscape they will occupy is rocky, made more unstable by an exodus of seasoned educators taking early retirement.
A recent report from the Albuquerque Journal shows a 40% increase in New Mexico teacher retirements. In just one year, 1269 retirement claims were reported in contrast to the 906 from last year.
Graph: Number of New Mexican education employee retirements per year. (Data courtesy of the NM Educational Retirement Board as reported in Albuquerque Journal) Graphic by Tyler Braunhardt / NM News Port
"Teachers who were experienced veteran teachers are just kind of done," said Susan Copeland, Program Coordinator and Professor for Special Education at COEHS. "Some of them have retired or they're worried about their health. They're not feeling comfortable being in a situation where they're working with children who aren't old enough to be vaccinated."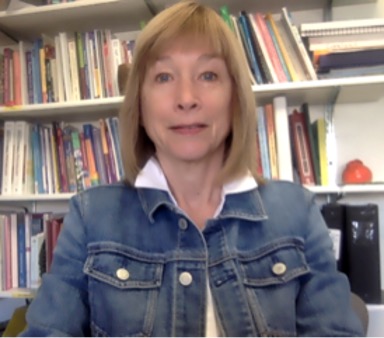 "The pandemic shot a lot of teachers out of the classroom real quick," Paul said. "There's just more that you need to do to be considered a teacher now."
There are currently 1,727 educational positions open in New Mexico according to the 2021 New Mexico Educator Vacancy Report.
While jobs for teachers may be plentiful, salaries have not risen accordingly and may be a factor in the teacher shortage.
According to the National Education Association, New Mexico ranks 32nd for average teacher salaries, with New Mexico educators earning a starting average of $41,214 a year.
"Teachers do not get paid enough for what they do," said Copeland. "People tell me that they would love to be a teacher, but they can't. They can't afford it because they have kids or they have a mortgage."
That doesn't dissuade Callahan, who will graduate from UNM in Spring 2022 and pursue teaching as a career.
"Wages are important but at the same time, that's not what drives me to be a teacher," said Callahan.
Callahan says she is looking to build authentic connections with students and help those who are less fortunate.
"Now that we're back in the classroom, it's been a big difference," she said.
Should I stay or should I go? COVID-19 highlights deeper economic problems in the state
The COVID-19 pandemic has affected New Mexico in more ways than one over the past eighteen months — unemployment being a big one.
Reilly White, an Associate Professor at UNM's Anderson School of Management, says even before COVID, the state lagged behind the national average.
"New Mexico traditionally has had a higher than average unemployment rate," White said. He attributes this to a "complex series of factors," including a high number of people working in cyclical industries like oil and gas mining.
""We actually have the fewest number of publicly traded companies in the United States of any state," White added. "Publicly traded companies can hire a lot of people and fire a lot of people very quickly depending on economic circumstances."
New Mexico unemployment numbers over the past five Januarys compared to the rest of the United States. Data courtesy of New Mexico Department of Workforce Solutions. Graphic by Tyler Braunhardt / NM News Port
White says it's important to remember that the unemployment rate fails to account for people who dropped out of the job market, thus New Mexico's unemployment situation is even worse than the numbers imply.
"[New Mexico's] labor force size actually shrunk slightly the same month that our unemployment rate went down, which indicates that one of the frustrating parts about this is our participation rate," White said. "The amount of people of working age who are actually working in the economy has not really recovered pre-pandemic'."
In a COVID status press conference in early October 2021, Ricky Serna, Acting Secretary for the Department of Workforce Solutions in the state, echoed the challenge employers face.
"We're having discussions with employers… and they [are] still struggling to find the workforce to come in and work," Serna said. "Even though they have made several attempts to add additional perks from healthcare benefits to increased wages."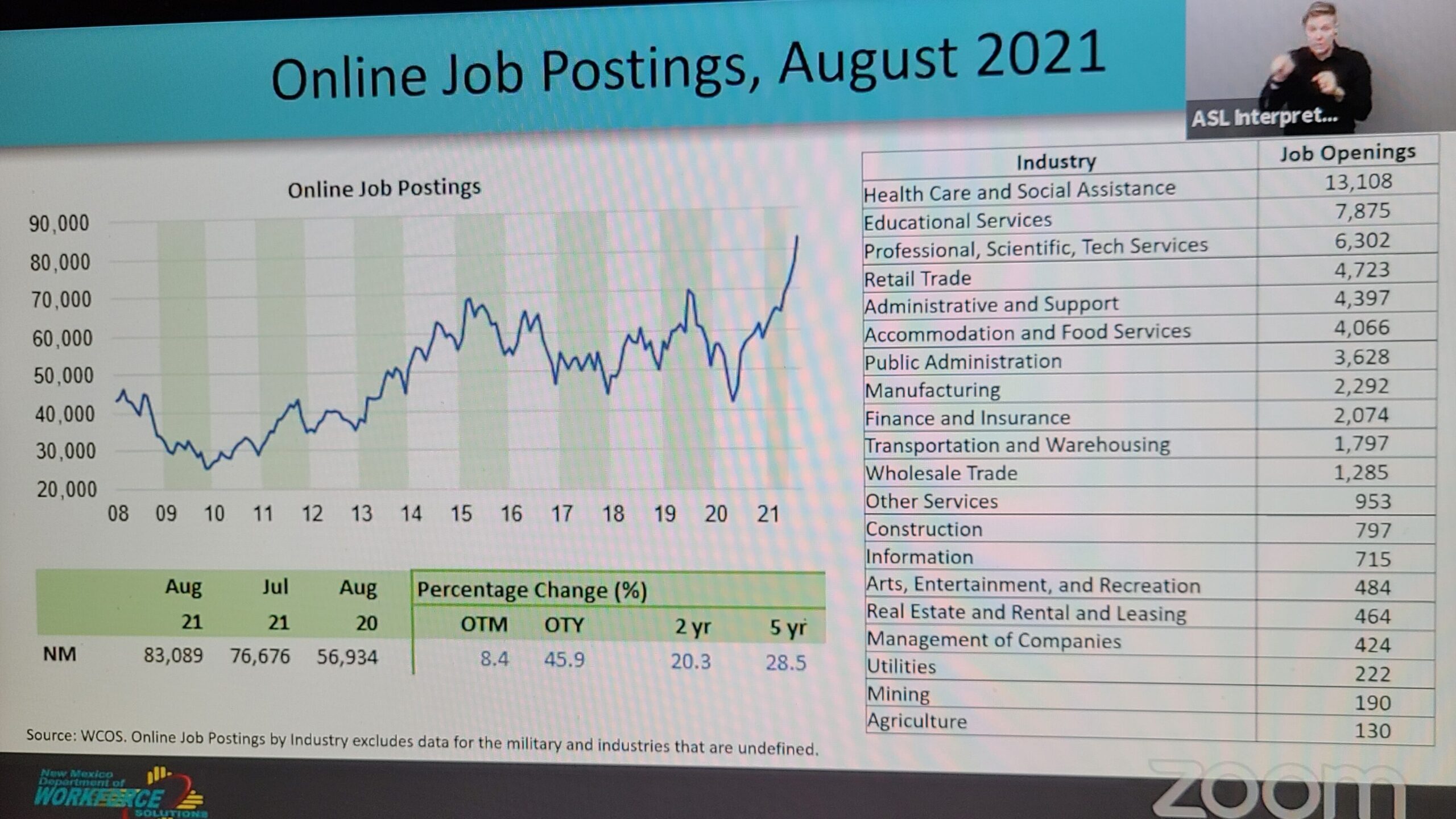 The most recent time the U.S. economy collectively went through a rough patch like this was the "Great Recession," which began in 2008 and for most of the country recovered around 2012 or so.
When that hit, state and local budgets really took a hit and — because New Mexico has a disproportionately large share of its workforce based in government jobs — New Mexico had a more difficult time bouncing back than other states did.
That's according to Michael O'Donnell, the acting director of The Bureau of Business and Economic Research at the University of New Mexico.
"[New Mexico] has been relatively insulated when there's been a recession, while other states that have a greater share of their workforce supported by the private sector have been hit harder. In the past, the Great Recession came and federal funding got cut, state and local budgets really took a hit, and we sort of flatlined," he said.
O'Donnell says we are seeing the same sort of "flatline" now in New Mexico with the COVID effect on the economy.
"You have federal government, state government, and local government. State government includes people that, for example, work for UNM, UNM Hospitals, state agencies. Local government includes… APS teachers… the city, county, and municipal government. We have a lot of people that work in those sorts of industries," he said.
O'Donnell explains that these long standing economic issues, such as heavy reliance on government jobs, overreliance on mining, and having few publicly traded companies, were never really solved.
"Moving forward to the pandemic and post-pandemic… the question is, what are we going to do to get us out of that situation, because we never really corrected that," he said.
Experts offer helpful advice for college graduates hoping to land a job in the post-pandemic economy
While the job market for college graduates continues to gyrate with the fluctuating economy, there are ways that newly minted graduates can try and better position themselves for career entry and future success.
The Anderson School's Reilly White said jobs once held for decades aren't around anymore and graduates should adapt to what's emerging.
"I would say be flexible," White said. "Be open to jobs you would not normally consider but normally have an advantage for."
Above: UNM Professor Reilly White tells NM News Port that corporations are seeking younger workers for their fresh skills and perspectives.
The BBER's Michael O'Donnell agreed that graduates need to be adaptive to the changing job market, but he also stressed looking towards the distant horizon.
"My message is not only deal with what's right here in front of you now, but think long term, in terms of skill acquisition, that you can apply over the course of your career," O'Donnell said.
Sheena Hollander, the director of corporate communications and PR for Express Employment Professionals, stated that one way that college graduates can help themselves is to take advantage of the faculty, staff and others with connections in your area of interest.
"Building professional relationships with people within the university system can help you find employment once you are finished with school," she said.
Hollander also emphasizes the importance of optimizing one's résumé, keeping it current, along with being wary of social media.
That warning is echoed by Heather Ver Brugge, a career development facilitator at UNM.
"Employers will Google your name," Brugge says, knowingly. "(Job candidates) should get their name associated with themselves as a professional."
A way to do this is to make sure that you have a LinkedIn profile, Brugge said, but also to balance what you post as an individual and as a professional.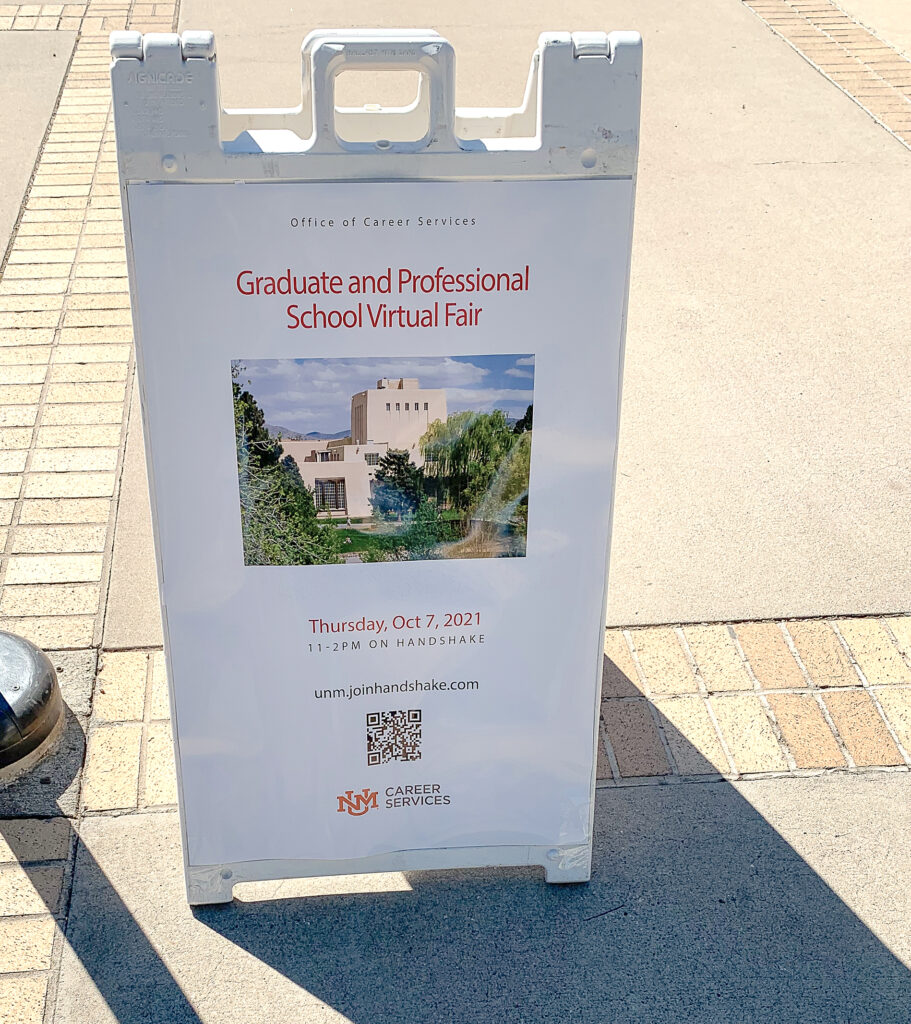 Brugge also stressed the need for graduates to gain experience within the given field they are trying to enter.
"Take steps to get that exposure," she said. "Seek out experiences where you can see if you want to enter that field."
The one thing that Brugge said is the most important thing a college grad could do is seek informational interviewing — a way to meet and seek advice from professionals that are within your field of interest.
Brugge emphasized that these practices would be the same even if there wasn't a pandemic raging, though they may be online instead of in-person.
"A lot of things definitely have changed since COVID, and a lot of things are the same and those strategies are the same — but done in a different way," she said.
Brugge works in UNM's Career Services office, which exists to help students take their education into the workforce. She said that while hardly anyone used the office during the initial wave of the pandemic in 2020, the pace of people using career services has ramped up, especially online.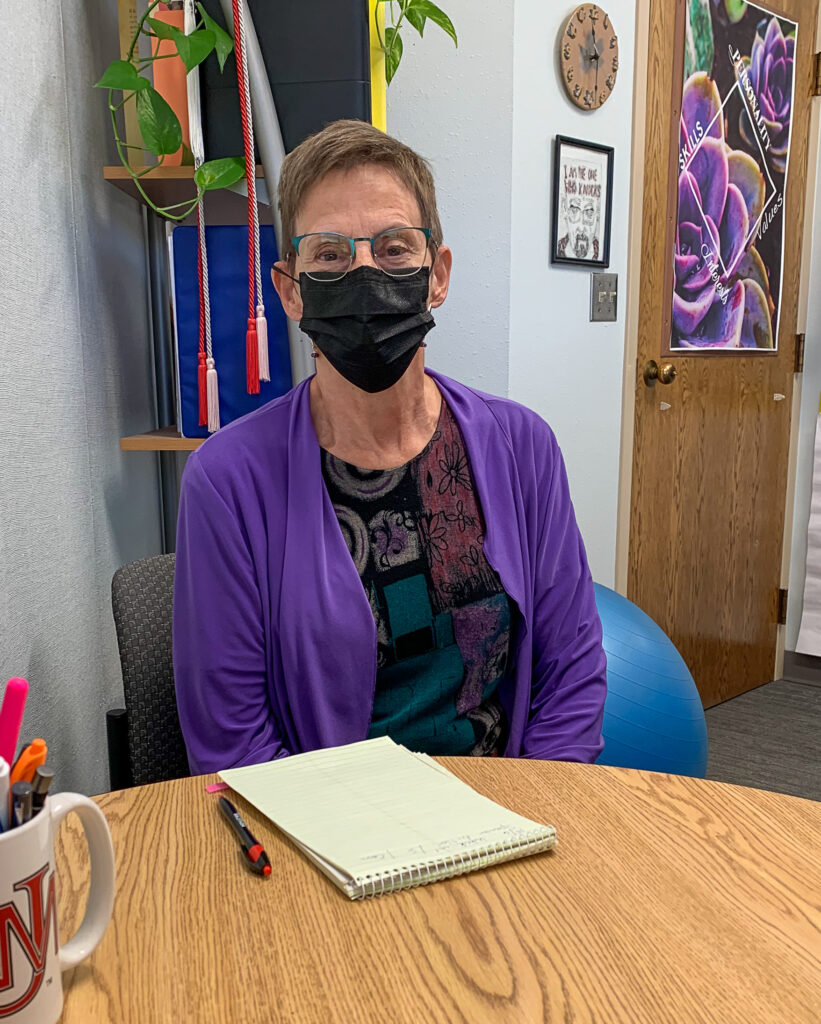 Here are some of the resources provided by UNM:
Finally, Brugge says while student approaches to career choices may change over time, she's not seen anything quite like the contrast between job hunters of 2021 versus those of 2020
"Last year, people were desperate for work and in a panic," she said. "This year, there has been a shift in that 'you know what, maybe, I'm not just going down this path without question anymore — maybe I'm taking a minute to figure out if this is the direction I want to go.'"
---
On Twitter, follow us:
Noah at @NASolomon_01
Tyler @tbraundhart
Jeanette @jeanettededios
Spencer @SpencerButler48