Sports Analysis by Shane Farias / NM News Port
Both the University of New Mexico men's and women's basketball seasons are in the books, and while both teams dealt with the same COVID-19 restrictions, their results were much different. The Lady Lobos strove to a 15-4 record, winning the Mountain West Conference regular-season title outright, while the men's squad finished last in the MWC at 6-16, capping off its worst season since 1980.
The New Mexico men averaged 65.3 points per game this season – more than 10 points fewer than the previous year and nearly 20 points less than its 2017-18 campaign. That season was Paul Weir's first as head coach. This year would prove to be his last. 
Large events — like college basketball — were banned in New Mexico under the virus rules issued by the state. Ultimately, the Lobos and the Lady Lobos took up residency at junior colleges in Texas – the women in Amarillo and the men in Lubbock.The majority of the UNM men's home games would be played at the Rip Griffin Center in Lubbock and the Clune Arena in Colorado Springs – home of the Air Force Academy. The women played every game in different locations until March 4 when, under lighter restrictions, they were allowed to host Colorado State at Dreamstyle Arena – aka "The Pit," in Albuquerque.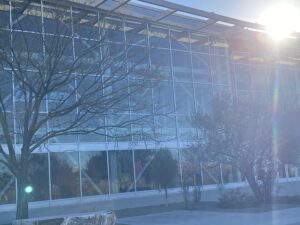 Can the men's team blame COVID-19 for its abysmal season? Considering the women thrived in similar circumstances, it is difficult to point the finger of blame toward anything other than coaching issues as well as those within the program and department.
"I'm so glad Weir is gone," Eldorado High School Teacher Matt Dixson, a long time fan, said. "I was super jazzed about him at the beginning. He said some things and I thought he was really smart, but it just never showed up on the court, did it?"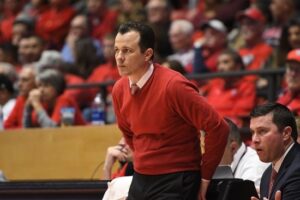 Weir announced his departure and mutual parting of ways with UNM's athletic director Eddie Nunez one week before the MWC tournament in Las Vegas. "Paul and I agree that a change of leadership in our men's basketball program is in our best interest at this time," Nunez stated per golobos.com. "While this year has certainly been challenging for Coach Weir … after evaluating the overall program, it is the appropriate time for a new beginning."
Three postponed games were unable  to be rescheduled this year, augmenting the mystery of a seemingly nonexistent season and an exit of a four-year-coach who many thought would bring the Lobos back into the national rankings and NCAA Tournament.
Weir was signed to a six-year contract and was due to receive a $700,000 buyout, which would pay $350,000 per year in lieu of his last two seasons. However, because of the mutual agreement to part ways, Weir also agreed to a deduction in pay, leaving the buyout at $490,000 that will  be paid over a two-year period. According to the Albuquerque Journal, the only comment made by Nunez about the source of the buyout was that it would be paid in full by "private funds."
"I'm just happy that the year is over; it was hard to watch." – Kevin Araiza
Time for a new guy — with another multi-million dollar contract. Less than two weeks after Weir's last game, Nunez announced the hiring of former Minnesota Golden Gophers head coach Richard Pitino, who closed his eight-season stint at the university with a 54-96 record. 
"I really liked Paul Weir and I kept wanting to give him the benefit of the doubt," said Los Puentes Charter School educator Bob Kindel, another long-time fan. "He's so cerebral. He's the doctor and he's well read … but he never had any consistency. Then, this, year, I think (that) it's such a crazy year to be playing in New Mexico, but then I look at the Lady Lobos and I'm like, 'wait' … so, I was pretty stoked to see him go."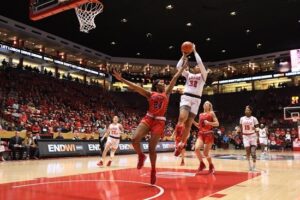 The Lady Lobos averaged 81.2 points per game this season and surpassed the men in nearly every other statistical category. The women were arguably also cheated out of an NCAA Tournament bid after falling to Fresno State in the second round of the MWC Tournament, and then again to California Baptist in the first round of the Women's National Invitation Tournament (WNIT). However, that does not make the Lady Lobos' season any less impressive – nor does it make Weir's departure any clearer.
There is no direct evidence to support whether the virus and subsequent prohibition of New Mexico sports was the sole cause for the Lobos' men's team play, but since practice times were severely limited, it seemed logical to expect a decline in performance. However, much like the unprecedented virus itself, this statewide process that began one year ago comes with no guarantees other than an arguable disinclination for high hopes.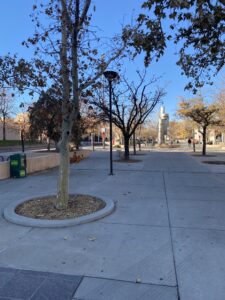 And the virus toils had been no different for the state's only other Division I school, New Mexico State University. Both UNM and NMSU's athletic organizations are highly regarded in their respective cities. After spending some time in New Mexican limbo, each program decided to venture elsewhere when Gov. Michelle Lujan Grisham placed a ban on all statewide sports for the fall and looked for other suitable facilities to hold practices.
"No contact sports are going to be permitted this fall," Lujan Grisham said, during a press conference on July 9 of last year. "This is a decision that we have been doing a fair amount of handling on because sports are incredibly important to the individuals who play them, and we are clear about that."
"So high school kids can't even play, [which] I understand with Covid and everything, but it still just seems like New Mexico went on a whole other level with this," said former NM resident and Coast Guard Admiral Kevin Araiza. " I'm just happy that the year is over; it was hard to watch."
While every state enacted different sets of restrictions in an attempt to curb the virus, many were not as strict as some of the ones – namely the contact sports ban – posed in New Mexico.
The dagger to the impact of New Mexico's contact sports ban was the tumultuous season held by UNM's men's basketball team, with the nail in the coffin being the stepping down of head coach Paul Weir one week before the end of the season.
"Here's the crazy thing, is that each year we've gotten worse," Dixson said. "It might be one of the 20-worst programs in college basketball right now. What I think is working against [Weir], is how well the women did with the same set of circumstances."
Follow Shane Farias on Twitter